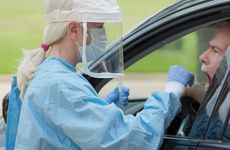 NEW YORK – After reporting on Thursday a near-quadrupling year over year in its third quarter revenues, Quidel CEO Douglas Bryant said on a conference call that the company continues to increase its manufacturing capacities for tests and instruments, and it expects high demand is likely to continue through 2022.
Bryant further provided details about the number of current customers and installed base for the firm's various diagnostic tests and instruments, as the company recorded a twelvefold increase in revenues in molecular diagnostics and a sevenfold increase for its rapid immunoassays driven by sales of SARS-CoV-2 tests and testing instruments for the three months ended Sept. 30..
Quidel said it expects to launch at least four new products over the next year. These include a combination influenza and SARS-CoV-2 RT-qPCR test kit, a rapid isothermal molecular SARS-CoV-2 test on the Solana instrument, a rapid finger stick serology assay on the Sofia 2 analyzer, and an instrument-free antigen test on the QuickVue line. The latter will initially be for clinical use but the firm anticipates an imminent home-use claim as well.
For many investment analysts, the sanguine financial results were a surprise. The firm's total revenues in the quarter increased 276 percent year over year to $476.1 million, surpassing the consensus Wall Street estimate of $450.4 million for the quarter.
Craig-Hallum analyst Alex Nowak called Quidel's Q3 earnings "stunning."
William Blair's Brian Weinstein, meanwhile, described Quidel's revenue growth as "simply unprecedented in this industry" and added that the firm should still "see expansion of revenue and earnings even from these levels." In a research note, he suggested a billion-dollar quarter could be in play for Quidel in 2021.
In contrast, JP Morgan'sTycho Petersen told investors that he remains cautious about Quidel's stock, "given continued questions around the perceived accuracy of antigen [versus] PCR, an increasingly competitive market with the addition of larger scale, low-cost competitive tests ... as well as what will inevitably be headwinds once a vaccine emerges and is scaled in [approximately] 12 months."
Earlier in October, Quidel said that it expected fourth quarter revenues to be $800 million or more. On Quidel's call on Thursday, Bryant updated the guidance, saying the firm anticipates Q4 revenues will be more than $800 million but shy of $900 million.
Bryant and Quidel Chief Financial Officer Randy Steward broke down their revenue estimate –  the firm's now-stabilized cardiometabolic testing business is anticipate to generate $65 million in revenues, while the Lyra assay business is expected to generate revenues of $80 million. 
The firm also anticipates contributions from its QuickVue rapid, readerless SARS-CoV-2 antigen test that is under Emergency Use Authorization review at the US Food and Drug Administration. 
Steward said on the call that the firm anticipates ending 2020 with "an excess of $500 million in cash on the balance sheet, no convertible debt outstanding, and no outstanding balance on our revolving credit facility."
Quidel plans to apply this windfall to increasing research and development investment, strengthening and expanding its supply chain, ramping up manufacturing capacity, and pursuing mergers and acquisitions.
"I realize some of our larger competitors dismiss us and think we are punching way above our weight, but this company was built for what we are doing today," Bryant said. "We have extraordinary strategic, technical, and commercial competencies, and the ability to scale to much greater heights. And most important: we are happy."
MDx Snapshot
The sharp spike in molecular diagnostics sales — which grew to $63.0 million from $4.7 million a year ago — was due mainly to $57.8 million in sales of the firm's Lyra SARS-CoV-2 assays, the firm reported. Bryant said these sales were driven by "just over 120 North American customers and a handful of international sites."
Quidel has two US FDA Emergency Use Authorized tests in its Lyra line. One tests uses viral genomic material extracted from patient nasopharyngeal swabs, while the other tests for virus directly from patient samples without the need for extraction. The Lyra tests are essentially RT-qPCR kits, and do not require any proprietary instrumentation.
Bryant said on the call that the firm expects to launch a Lyra combined influenza A, influenza B, and SARS-CoV-2 test in Q4 which it will sell for approximately $35 per test.
Although the US Centers for Medicare and Medicaid Services reimbursement for COVID testing has recently changed — decreasing from $100 to $75 with a $25 performance bonus if tests are completed within two days — Bryant commented that he does not see this change impacting Quidel's customers.
This is in part because the firm is selling the Sofia SARS-CoV-2 antigen assay for $23 per test, and its Lyra PCR tests are priced in the ballpark of $30, he said.
Quidel also expects EUA and a meaningful contribution to Q4 revenues for SARS-CoV-2 assays on its Solana molecular diagnostic system, with production of the tests poised to ramp up following EUA.
The Solana instrument runs 12 isothermal tests in 25 minutes using the firm's proprietary helicase-dependent amplification (HDA) chemistry, as previously described. The projected Q4 Solana contribution, which the firm did not describe in detail, is based on anticipated demand from existing Solana customers. Bryant said these comprise an installed base of 700 instruments.
"The data generated by the Solana SARS isothermal molecular assay show remarkable agreement with extracted PCR," he said. "We expect that demand for a [moderately] complex assay with this speed and performance to be quite high."
Also within the MDx division, Quidel provided an update on its multiplex PCR Savanna instrument that has been in development since approximately 2011. The firm has created seven mini-panels, as previously reported, and the system can run tests using either PCR or the firm's HDA chemistry. Quidel previously described Savanna as a low-cost, fully integrated, sample-to-answer molecular diagnostic system, with target cartridge cost of below $5 and instrument cost of $10,000.
On the call, Bryant said the firm's engineers recently overcame a challenge involving the actuated motor and the force required to close the cartridge drawer of the beta instrument. The team is now building 73 alpha instruments for use in clinical trials early in Q1.
Viral antigen testing continuing to ramp
Quidel's revenues have historically been somewhat dependent on the severity of the US flu season, as a significant part of its diagnostics business involved rapid antigen flu testing.
In May, Quidel was the first test developer to receive EUA for a rapid SARS-CoV-2 viral antigen test, and it subsequently inked contracts to supply the test to US State and Federal agencies. In the SARS-CoV-2 antigen space, Quidel is now competing with other major players like Becton Dickinson and Abbott. There are a total of seven FDA authorized SARS-CoV-2 viral antigen tests, and FDA recently updated its antigen test EUA template to inform developers how they might go about validating tests for an asymptomatic testing claim.
Even with other firms in the rapid SARS-CoV-2 antigen testing space, Quidel believes there is demand enough to go around. Bryant said that while he couldn't calculate the size of the total SARS-CoV-2 antigen testing market, simply supplying the potential customers who have already contacted Quidel and want instruments and antigen tests — including some large employers, as well as sports and entertainment entities — would constitute 685 million tests per year.
Quidel has also recently obtained EUA and launched a combined antigen test dubbed "ABC" that detects and distinguish influenza A, influenza B, and COVID-19-causing SARS-CoV-2 virus.
Bryant said Quidel has expanded its antigen test production lines and the firm is now manufacturing up to 2.1 million SARS-CoV-2 antigen tests per week. He expects 80 percent of production will be dedicated to the ABC test by December, with the remaining 20 percent going to the SARS-CoV-2 antigen test.
As previously reported a contract from the US National Institutes of Health's Rapid Acceleration of Diagnostics - Advanced Technology Platforms (RADx-ATP) program is helping Quidel scale up antigen test manufacturing.
The total contract value is for up to $65 million over one year, beginning July 2020, with "key deliverables and milestones that would directly support the addition of new immunoassay manufacturing lines as well as outfitting a new distribution center," Steward said on the call. The company will also provide an undisclosed number of Sofia 2 instruments and COVID-19 assays to NIH as part of the agreement.
Going forwards, Quidel expects to persuade SARS-CoV-2 antigen test customers who test symptomatic people to buy the ABC test, even if that means "forced conversion," Bryant said. The exceptions would be customers testing patients for COVID-19 prior to performing surgery, as they would not need a flu test for that purpose, as well as customers who still have the first-generation Sofia instrument.
Steward also pointed out that the firm did not realize the September purchasing ramp-up of flu antigen, Strep, and respiratory syncytial virus tests seen in previous years. "We intentionally prioritized our production and shipments toward the SARS antigen test," Steward said. "As a result, influenza rapid immunoassay revenue was $7.9 million, with approximately 90 percent of that revenue derived from the Sofia platform."  
On the call, Bryant also noted that a previously reported swab supply problem has now been resolved for SARS-CoV-2 viral antigen tests.
The Sofia 2 antigen test instruments had themselves been in short supply, limiting test sales to date. Quidel had been focused on supplying its government contracts and selling tests to extant Sofia 2 users. But that issue also seems to be alleviated, and the firm placed 5,000 Sofia 2 instruments in Q3, Bryant said. It expects to exit the year with a total installed base of 7,500 instruments.  
"With recent increases in instrument production, we expect to satisfy most of the pent-up demand from the traditional laboratory segment by the middle of Q1, 2021, and can then begin providing instruments more routinely to newer market segments and opportunities, which are endless," Bryant said.
Specifically, by the end of November Quidel plans to be manufacturing 10,000 Sofia 2 instruments per month, consisting of 2,500 per month made at a site in Australia and 7,500 per month under a new manufacturing contract with Neenah, Wisconsin-based Plexus.
One obvious new market for the instrumented systems would be retail clinics. Bryant said the Sofia product fits in that setting, as does the in-development next-generation immunoassay analyzer Quidel has dubbed Sniffles. But Bryant declined to name any pharmacies or retail chains that Quidel may already be in conversations with.
"We do think there is a robust retail segment. We think we have a product that fits that segment super well, and we will be pleased when we can actually ship them the instruments that they're asking for," Bryant said.
There will likely be increasing routine asymptomatic testing for SARS-CoV-2 in the US going forward, but Bryant did not comment on whether the firm plans to file a specific asymptomatic claim. Still, Quidel has new partnerships with the PAC-12 and the Big Ten college sports conferences to test athletes and support staff at universities, and Bryant noted that this is emblematic of a new level of comfort with routine asymptomatic testing that did not exist before.
The Sofia 2 antigen tests require the reader instrument, but Quidel has also submitted a rapid, visually read SARS-CoV-2 antigen test on its QuickVue product line to the FDA and expects EUA soon.
The firm is aiming to manufacture 50 million QuickVue SARS-CoV-2 tests per month in 2021, Bryant said. Specifically, it expects to get to a rate of 100 million tests per year "quickly," he said, but he declined to name an exact month when he expects to attain the full capacity.
The QuickVue SARS-CoV-2 test will first be authorized for clinical use, but Quidel is also very focused on at-home testing, using QuickVue as its entry point into that market.
Overall, the push for at-home assays marks "a watershed moment in the evolution of diagnostic testing," Bryant said. "I do think moving forward that you will see more and more at-home applications for routine conditions, and we want to be at the forefront of that," he said.
He acknowledged that other firms are also driving for this at-home testing market, although the FDA has repeatedly stated that it has yet to receive an EUA application for a fully at-home SARS-CoV-2 test from any developer.
Bryant suggested an instrumented at-home antigen test is a possibility as well, and said a "very large retailer" has been chatting with the firm about the possibility of, essentially, having consumers purchase Sofia or Sniffles diagnostic test analyzers to keep in the home.
"We are not at the stage yet where we would announce exactly what our intent is, recognizing that our transcript gets rooted around in by every one of our competitors," Bryant said.
Finally, within its immunoassay business, Quidel expects to launch a serology test for antibodies to the SARS-CoV-2 virus on Sofia 2 in the near term. It will be a finger stick test for antibodies to a virus' nucleocapsid domain as well as two domains of the spike protein.
Overall, Bryant commented that he expects a high volume of SARS-CoV-2 testing and screening to be needed in the US for some time.
"There is not enough known yet about this virus, about immunity, and in particular we don't know enough about reinfection — I could say we are certainly being asked by a number of folks, including the government, to ramp up production to really high levels, and so I think it is the expectation that this is going to persist well beyond 2021," Bryant said.
"Whether it is 2022 or 2023, I couldn't say at this stage, but it feels to me that this will not abate — in terms of the levels of tests required — certainly until sometime in 2022 and beyond."