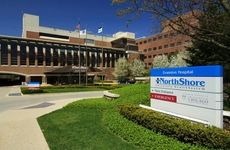 NEW YORK (GenomeWeb) – NorthShore University HealthSystem and Ambry Genetics have teamed up to nationally commercialize a 72-SNP score for assessing prostate cancer risk.
Ahead of the US commercialization of AmbryScore, NorthShore had been offering the test to patients within its health system in Evanston, Illinois for over a year. The score is meant to provide risk information for men who lack mutations in high penetrance genes such as HOXB13, or mutations in genes such as ATM, BRCA1, and BRCA2, which are associated with more aggressive disease. Additionally, not all men with prostate cancer have a family history of the disease, and the SNP score may be a tool that can provide risk information for them.
"Prostate cancer is one of the most, if not the most, heritable of the major solid tumors," said Brian Helfand, a urologist at NorthShore's Center for Personalized Medicine who helped develop the score. "Historically, it's been a little unclear what those genetic components are."
Over the past decades, researchers have identified around 160 prostate cancer risk SNPs, which individually confer a small amount of risk for the disease, but when combined could account for between 35 percent and 40 percent of the heritability. High penetrance genes, comparatively, account for between 2 percent and 5 percent of the heritable risk for prostate cancer.
"I'm getting a lot more utility out of the polygenic risk scores than I am out of the high penetrance genes," Helfand said. He noted that for a man who does not yet have prostate cancer, AmbryScore can provide information about his lifetime risk for the disease, while for a man with prostate cancer, the score can help partly explain why he may have developed the disease.
The polygenic risk score is reported as part of Ambry's NGS cancer risk tests, including the 34-gene CancerNext hereditary cancer risk panel and the 14-gene ProstateNext panel for assessing hereditary risk for prostate cancer specifically. A patient's healthcare provider ordering an NGS cancer risk panel for their male patients can add on AmbryScore if these patients are between 18 and 84 years old, have Northern European ancestry, and don't have a personal or family history of a mutation in a prostate cancer risk gene (ATM, BRCA1, BRCA2, CHEK2, EPCAM, HOXB13, MLH1, MSH2, MSH6, NBN, PALB2, PMS2, RAD51D, TP53).
"Healthcare providers order the NGS panels based on patients' personal or family history of prostate and other cancers, and it depends on factors, such as if they were diagnosed at an early age or if they have metastatic prostate cancer, which can be signs of hereditary prostate cancer," said Jessica Profato, manager of product marketing at Ambry, who is also a genetic counselor. "But we know that most men will test negative [on these gene panels] and then we won't find out any more information about their prostate cancer risk."
If the SNP-based risk score is 1.5 or greater, the patient is expected to have equivalent or higher risk than if they had a family history of prostate cancer. Individuals with a high- risk score may benefit from earlier and more frequent prostate-specific antigen screening and digital rectal exams compared to those at average risk in the general population. Those with a low-risk score, less than 0.5, could see their screening dialed back. Men with scores between 0.5 and 1.5 follow normal screening guidelines.
For men between 55 and 69 years old, the US Preventive Services Task Force recommends doctors factor in patients' preferences when it comes to determining the level of prostate cancer screening to provide, as well as considering the potential for benefits and harms with different screening modalities, patients' family history, race/ethnicity, comorbid medical conditions, and health needs. For men who are 70 years and older, USPSTF recommends against PSA screening.
Among the several hundred men at NorthShore who have received AmbryScore, Helfand and his colleagues found that patients with elevated scores were significantly more likely to undergo a PSA test compared to those with low scores. Anxiety levels were low regardless of the SNP score, though Helfand said that those with higher scores reported "slightly increased worry over prostate cancer," and indicated they were more likely to undergo PSA testing.
Currently, family history is the gold standard for helping discern the level of prostate cancer screening to provide men. "We start screening men differently for prostate cancer based on family history, but we know that's not the best tool to use," Helfand said.
Helfand and his colleagues at NorthShore developed the SNP score hoping to use genetics to improve upon family history in assessing prostate cancer risk. AmbryScore is based on the work of Jianfeng Xu, NorthShore's VP of translational research and other researchers within the health system, who conducted the discovery and translational research. NorthShore collaborated with Aliso Viejo, California-based Ambry, and Johns Hopkins University on a validation study for AmbryScore that is slated for publication. 
The validation study of the 72-SNP score, published as a white paper on Ambry's site, included samples from around 3,100 Caucasian men, of whom 1,700 underwent radical prostatectomy, and 1,400 controls without prostate cancer. The study showed that scores were significantly higher in men with prostate cancer than those without the disease. 
Consistent with other studies on polygenic prostate cancer risk scores, this study showed AmbryScore and family history to be independently associated with prostate cancer risk, and the SNP score didn't vary based on a patient's family history of the disease. "We also found that the predictive performance of the 72 SNP [polygenic risk score], while modest, outperformed that of family history alone," the researchers led by Xu wrote in the white paper.
The authors also acknowledged in the white paper that the interaction between the SNP score and high and moderate penetrance genes needs to be further established. And importantly, AmbryScore needs to be further validated in non-Caucasian populations to be more broadly useful.
NorthShore has validation data in African American and Asian men that it intends to publish soon, according to Helfand. "The one population that we're working toward are Hispanic and Latino men," he said, adding that the lack of discovery studies in Hispanic populations means that validating the polygenic risk score in this population will be a longer-term goal. "In the shorter term. we'll be offer testing to Caucasians, African American, and Asian men."
Ambry is currently marketing AmbryScore as an add-on to its NGS cancer risk panels to oncologists, urologists, and genetic counselors. The score is only accessible through a patient's own doctor or genetic counselor.
Ambry's NGS cancer panel tests are list priced at a few thousand dollars, similar to tests of this type, but there is no additional cost to add on the polygenic risk score. Insurers have various coverage policies for NGS cancer risk panels, but generally reimburse based on someone's personal and family history of cancer. If patients don't meet insurers' coverage criteria, Ambry has an out-of-pocket rate that charges patients a few hundred dollars.
Profato highlighted that Ambry's insurance contracts cover greater than 95 percent of insured patients, 4 out of 5 patients pay nothing out of pocket for testing through the lab, and the average out-of-pocket cost for patients is $82.
Before launching the prostate cancer polygenic risk score, Ambry and NorthShore collaborated on the commercialization of a polygenic risk score for breast cancer. Other companies have also recently launched polygenic-risk scores of this type.
Myriad Genetics last year began reporting an 86 SNP breast cancer risk score as an adjunct to its 28-gene myRisk hereditary cancer risk test. Over the summer, researchers led by Sekar Kathiresan, director of Massachusetts General Hospital's Center for Genomic Medicine, published on their development of polygenic risk scores for coronary artery disease, atrial fibrillation, type 2 diabetes, inflammatory bowel disease, and breast cancer. Even newer to the market are polygenic risk scores for late-onset Alzheimer's disease.  
NorthShore has ambitions to be a major player in this emerging market and is planning to validate and commercialize polygenic risk scores for a variety of indications in the coming months. "Many diseases have a large heritable component," Helfand said. "We're looking at many other cancers, as well as cardiovascular and neurologic diseases."
The health system is exploring traditional physician-focused commercialization approaches for its tests, as well as consumer facing models. In April, San Francisco Bay Area-based Helix announced that under a partnership with NorthShore, the health system will sell a polygenic prostate cancer risk score on its online genomics marketplace by year end.  
Profato acknowledged that it's early days for such tests. As such, there are clinicians who are early adopters, while others are awaiting more data before ordering these scores.
"More data about the clinical utility of this type of information will help bolster the uptake of these tests," she said, noting a similar trajectory for the adoption of multigene NGS panels, where healthcare providers were initially uncertain of ordering a test with so many genes with unclear utility, but are steadily embracing comprehensive profiling in their practices as more data emerges. "It takes time for clinicians to integrate these types of tests into practice."