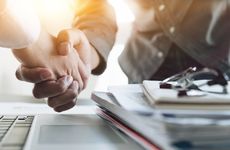 NEW YORK – The number of mergers and acquisitions in the molecular diagnostics and omics life science tools space fell 13 percent in 2020, contrasting sharply with the 13 percent increase in the number of deals the industry saw in 2019 and the 12 percent climb it recorded in 2018.
According to an analysis by GenomeWeb, there were 54 deals completed in the MDx/omics tools space in 2020 compared to 62 deals in 2019 and 55 deals in 2018.
Overall, however, despite the decrease in the number of deals, those deals seemed to be worth a great deal of money — four of the top five deals this year had billion-dollar price tags attached to them. A fifth, Thermo Fisher Scientific's attempted acquisition of Qiagen, would have been worth more than $11.5 billion had it not been terminated.
That trend reversed the major theme the sector seemed to follow in both 2019 and 2018: completing more deals but for less money.
"A bit of that has to do with the nature of some of the transactions. And specifically, I think we're in a cycle where content is king to some degree, from an acquisition standpoint," said Kevin DeGeeter, managing director of healthcare research at Oppenheimer.
"We're in this really interesting window where you have the evolution of blood as an interesting sample for next-generation sequencing and other sequencing-based modalities," he added. "I think that fundamentally lends itself to larger addressable market opportunities in the genetic side of the testing spectrum than some of the traditional tissue-based testing. So, I think we're seeing some large transactions around those big addressable markets. And I'm not sure we're done yet."
A year for oncology and liquid biopsy
Indeed, many large deals in 2020 seemed to be centered around technology that could help companies improve their capabilities in the areas of liquid biopsy and oncology, with four of the year's top five deals following this trend.
Illumina's $8 billion acquisition of Grail will provide the company with a direct entry into cancer testing, which Illumina believes will grow to $75 billion over the next 15 years.
At the time the deal was announced in September, Luis Diaz, head of the division of solid tumor oncology at Memorial Sloan-Kettering Cancer Center, said it proved early cancer detection technology was "ready for primetime," and called the moment "tremendous."
Likewise, Invitae's $1.4 billion acquisition of ArcherDx will merge and expand both firms' footprints in the cancer genetics and precision oncology space. Invitae is already a major player in genetic testing for assessing hereditary cancer risk. By combining with ArcherDx, Invitae added to its suite of services tumor profiling and liquid biopsy technologies for predicting and monitoring therapeutic response.
Meanwhile, Exact Sciences continued the shopping spree it started in 2019 with its $2.8 billion acquisition of Genomic Health by agreeing to acquire liquid biopsy test developer Thrive Earlier Detection for up to $2.15 billion, and acquiring DNA methylation analysis company Base Genomics for $410 million. The deals are meant to help Exact accelerate its development of a blood-based, pan-cancer test that would eventually be used routinely in every part of a cancer patient's care — from diagnosis to residual disease testing to therapeutic decision-making.
Earlier in the year, Exact also made two smaller buys — Paradigm Diagnostics, which currently sells an NGS-based cancer diagnostic test that aids in therapy selection, and Viomics, a molecular diagnostics company that specializes in biomarker selection for cancer diagnostics — making Exact one of the year's most prolific acquirers with a singular focus on the cancer testing market.
"The single biggest reason why you're seeing these large deals happen is because the opportunity for screening [and] early detection using liquid biopsy is [worth] more than $30 billion," said SVB Leerink Senior Analyst Puneet Souda. "Those markets are only going to happen when you start reaching the average-risk population … and assessing whether there is a risk for cancer in that healthy population. So, detecting that cancer early will mean enormous benefits. That's the market. If you can detect early, therapeutic intervention can happen early and those lives can be saved. But in order to do so, you have to screen a lot of individuals. And it's all happening in oncology diagnostics."
Raymond James analyst Andrew Cooper concurred, calling oncology "a hot space" that's generating market value estimates that get "crazy almost to the point of being open-ended."
At a certain point, he added, not all the companies that have made deals in this space are going to be winners. Some market observers are waiting to see how the large deals that have already been made shape up.
There are also smaller companies creating niche products in the space, and it's hard to tell where they fit. "Some of the smaller players that aren't necessarily big platform [players] on their own — could they be bought by some of these folks who do have a platform?" he asked. "That's something that I look out for." 
For the most part, analysts interviewed for this story did agree that the focus on oncology and liquid biopsy will likely continue in 2021.
DeGeeter believes the dollar amounts may not be as big for deals in 2021 as they were in 2020, but noted that there are several reasons for the trend to continue. For one thing, he said, the acquisitions of Grail and Thrive Earlier Detection are such big deals that they're likely to create new markets and testing modalities on their own. That's likely to support the creation of many smaller transactions down the road.
Further, he added, there's a necessity for bioinformatics and data interpretation that goes along with the creation of new cancer diagnostics, and that's also likely to create some IT-based M&A deals. "If you look at some of the deals that Invitae has done or Exact's done, several smaller bite-sized transactions, they really are IT software-heavy," DeGeeter said. "I think that need will continue, and those transactions will tend to be a little bit smaller in terms of headline purchase price, but arguably more frequent as this wave of innovation on new content works its way towards market."
Souda also noted that the $30 billion cancer screening market is going to take the next five or more years to materialize, giving companies some time to determine what ancillary technology may be useful to them, and to either create or acquire it, which many firms are doing through extensive clinical testing.
For example, Exact is conducting a trial called Blue-C to test the efficacy of Cologuard 2.0, the next iteration of its colorectal cancer screening test. Included in that trial is a sub-study to determine the best types of blood collection as the company is also evaluating whether blood can be used to test for colorectal cancer. Though sample collection technology is only one possible area of interest, it's certainly plausible that the Blue-C sub-study could yield insights that would prod Exact into looking for the right acquisition target.
"The next stage is the multi-cancer [testing] opportunity," Souda said. "And we don't know, can we truly do pan-cancer or can we just do multi-cancer? Is it going to be most successful on cancers that have no screening modalities as of today? Those are questions that are being explored. And I think getting answers to that will provide more clarification into this market over the next five to six years."
What COVID?
Surprisingly, perhaps, the analysts seemed to agree that the COVID-19 pandemic didn't make much of a difference to the pace of M&A this year, or even to the types of deals the research and life science tools space saw in 2020.
"Usually beyond the strategic considerations, the other consideration is price and access to capital, and access to capital has been very robust this year," DeGeeter said. He noted that the question of capital was a bit more uncertain earlier in the year, and whether that uncertainty would have an impact on acquisitions was an open question. "I think for a CEO sitting there in December, access to capital — other than for a very short window of time — really wasn't an issue. And, so companies that were looking to move forward with strategic transactions had different tools available to finance those deals and get them done in 2020," he added.
Souda concurred, noting that from a standpoint of both financing and strategy, M&A deals as large as the ones that made headlines this year can sometimes take years to initiate and see through to completion. And despite the deep and lasting impact of the pandemic, M&A strategy can't exactly turn on a dime.
"COVID brought about a recognition that diagnostics is important to healthcare like never before. However, for these companies, their core businesses are a lot more important than serving the COVID testing during this time when the demand is high," he said. "Illumina has committed significantly with the acquisition of Grail, and is now committed to building out the content and bringing about more screening tests into the marketplace…. Exact Sciences is doing an 80,000-patient trial in multi-cancer now with Thrive. The bar is higher, the trials are larger, the opportunity is larger, and the potential is larger. And that's what's bringing these companies to market."
Nor do the analysts believe that many companies will look to the availability of a vaccine as a reason to change their M&A focus in the future, towards the acquisition of serology testing companies, for example. If the pandemic affects M&A in 2021, Cooper believes it might be the companies that benefited from COVID testing, such as Quidel, Hologic, or Thermo Fisher that may look to make acquisitions next year, if only to use some of the cash they have on the books.
Otherwise, most firms will likely continue to go down the paths they have already started forging. "The companies that have been building stronger and deeper distribution channels will continue to look for innovative content to be able to sell and distribute through those sales channels," DeGeeter said. "For companies like Exact, the acquisition of Genomic Health built a very interesting channel for them into oncologists so there are still opportunities for Exact to leverage that channel with new content…. And I don't think Grail is the endgame for where Illumina wants to be on the clinical testing side, either."
— Additional reporting by Kelsy Ketchum