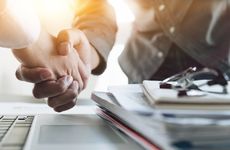 NEW YORK (GenomeWeb) – The number of mergers and acquisitions in the molecular diagnostics and omics life science tools space rose 12 percent in 2018, reversing a 4 percent decline from the previous year and putting the industry back on track for the M&A growth that it saw in 2015 and 2016.
According to an analysis by GenomeWeb, there were 55 deals completed in the MDx/omics tools space in 2018 compared to 49 deals in 2017. The increase reverted back to a more familiar pattern from 2016, which saw a 6 percent increase in the number of deals, and 2015, which saw a 33 percent increase in M&A.
Overall, the sector seemed to follow two major trends this year that reversed the two big trends from 2017: the sector saw the completion of more deals, but the value of those deals seemed to be smaller overall than that of the deals completed in 2017. Last year saw the completion of four billion-dollar deals, including Abbott's contentious $5.8 billion acquisition of Alere and Thermo Fisher Scientific's $7.2 billion acquisition of Patheon.
In 2018, however, there were only two deals that were valued in the billions, and even those acquisitions were smaller than the top two buys from 2017. Roche purchased the remaining shares of Foundation Medicine for $2.4 billion after having purchased about 57 percent of the firm's stock in 2015. Roche also bought Flatiron Health for $1.9 billion.
Jonathan Norris, managing director of the healthcare practice at Silicon Valley Bank (SVB), told GenomeWeb that he saw a similar trend.
"We continue to see that the established instrumentation, reagent, and diagnostic players are the ones that are acquiring companies. The good news in 2018 is that we saw a lot more M&A than we saw in 2017 — frankly in 2017 we really didn't see much in terms of venture-backed M&A," he said. "But I'm at 10 [deals] in terms of M&A of at least $50 million dollars in upfront money for venture-backed diagnostic and tools companies, but the upfront median dollar amount of those 10 deals is $105 million and the median total deal value is $135 million, so the values are really down."
Many analysts have also speculated over the past several years whether new players would come into the market as buyers, he added, and that hasn't happened yet.
Canaccord Genuity analyst Mark Massaro noted that the multiples generated by the Roche deals made 2018 feel "relatively normal" for M&A, though he added that one could argue that it was perhaps a little disappointing given that the tax reform bill engineered by the Republicans in Congress could have resulted in more transactions. However, he added, the year isn't over yet.
Norris noted that the deals he saw in the diagnostics and tools space this year took place in three categories: firms that develop and sell unique tests; firms that sell R&D tools such as next-generation sequencing and drug discovery products for the academic and big biopharma markets; and Dx tools and analytics such as artificial intelligence and machine learning that can help physicians make decisions and also help in drug discovery efforts.
"When I look at the 10 deals that were over $50 million, four of them were Dx test companies and six were R&D tools. The Dx companies were commercial — two were multiple-indication players like Counsyl, and two were more specific disease diagnostics," he said. "Agilent was the only company to acquire more than one venture-backed company this year."
A year of tuck-ins and IPOs
Indeed, if the majority of deals in 2018 were small tuck-ins, Agilent made the majority of those deals. The company bought seven smaller firms this year: Luxcel Biosciences, a developer of real-time fluorescence plate reader-based in vitro cell assay kits; nucleic acid analysis company Advanced Analytical for $250 million; the remaining 52 percent of NGS technology firm Lasergen for $105 million; laboratory management software developer Genohm; chemical standards and certified reference materials provider Ultra Scientific; glycan analysis kits provider ProZyme; and real-time cell analysis instruments developer ACEA Biosciences for $250 million.
Though Agilent was the busiest, several other firms have made similar tuck-in deals to acquire technologies or assets to boost their business. For example, Exact Sciences acquired diagnostics developer Armune BioScience, increasing its investment in protein biomarkers as a potential complement to its own DNA methylation marker portfolio. It also acquired sample preservation technology developer Biomatrica, in what analysts said was an investment in its pipeline capabilities.
"The early-stage companies will continue to grow and get to a scale where the big players can't ignore them anymore, or [the big players] are going to get that pressure even earlier and then start to look for companies that are either just getting into revenue or have such compelling technologies they can't afford not to pick that up as either an opportunistic or defensive play," Norris said. "Right now, it feels like there's more, 'Let's find parts that we can fit into our machine that are not very much work and get us a profitable line of business,' and that's kind of where they're focused right now, I think."
He also noted that at least two companies that might have made attractive acquisition targets — Guardant Health and Twist Bioscience — opted to go public instead. The technologies of both companies, liquid biopsy and synthetic biology, are particularly popular right now and have multiple applications. Guardant raised nearly $238 million in its IPO and Twist raised about $70 million.
Could Illumina be next?
Of course, the name that is never far from anyone's minds is Illumina. The company made a fairly important acquisition in the first half of the year, buying data analysis firm Edico Genome in order to focus on applications related to rare and undiagnosed diseases. And although the deal hasn't closed yet, the company made waves in November when it announced plans to acquire Pacific Biosciences for approximately $1.2 billion in cash. Illumina said that PacBio's long-read sequencing technology will complement its own short-read sequencing platforms and will allow it to provide integrated workflows and innovations that bring together the best of both technologies.
But Massaro sees Illumina as more than just an acquirer — if conditions are right, it's possible the company itself could be a target for acquisition in the future, with either Roche or Google being logical buyers, he said.
In a note to investors initiating coverage on Illumina in July 2015, Massaro noted that Roche made its first unsolicited buyout offer for Illumina in 2012 and likely only ended its bid because of Illumina's rising stock price. Further, Massaro said at the time, Roche's intentions to buy a strong sequencing company were well known, and Illumina was a logical target.
"We believe that Roche is still interested in acquiring and could make another offer should Illumina's stock experience a meaningful selloff, offering downside protection. In addition, we think Illumina would make an attractive target to a company in data aggregation, as Illumina is the number one generator of genomic information," Massaro wrote in the note. "Given this line of thinking, we suggest Illumina might be a good target for Google down the road."
But although this scenario is something to consider, it likely won't happen in the near term. "I don't think Illumina wants to sell, and I don't think it will. But if it did, especially due to uncertainty, or market dynamics, or just hypothetically if the stock market corrected another 10 percentage points and multiples come down, I could see a scenario where a Roche could make a bet on Illumina," Massaro said.
However, he added, it would be a difficult buy for any company, especially given Illumina's market value. "The only thing that's changed [over the years] is that Illumina has gotten mightier and mightier, they've gotten way bigger, and they've proven their business model. Their culture is rock solid. Their instrument fleet is second to none — they're second fiddle to nobody," Massaro said.
M&A in 2019
In all likelihood, Massaro noted, Illumina will be an acquirer in 2019, especially given its cash position and a chance that the PacBio deal may not close.
"It'll be interesting to see if the PacBio deal goes through. I certainly have my doubts that global regulators will allow a firm to control 94 percent of the world's genomic information. So, I am cautious that that deal goes through. And if that deal doesn't go through, Illumina is sitting on a bundle of cash," Massaro said.
"They've been nudged to deploy their capital, and so I do think that there are areas where they can be more significant. CRISPR is one of them," he added. "The reality is that their tools enable so many different applications. They're not the ones that control the applications — they typically let their customers build the markets. So, the question is how many types of their customers do they go after and acquire."
He further noted that while the company is clearly the dominant player in genomic sequencing, there are several areas such as genome editing, single-cell sequencing, and direct-to-consumer genetic testing where it could deploy its capital.
Danaher is also expected to be a major player in M&A in 2019. In a note to investors last week, Cowen analyst Doug Schenkel estimated that the firm likely has about $15 billion of capacity for acquisitions over the next 12 to 15 months. "Notably, there has not been this much capacity since Danaher's acquisition of Pall in 2015," he wrote. "While management did not signal that any deal was imminent, we would be surprised if there were no deals in 2019."
SVB's Norris expects 2019 to be consistent with 2018 in terms of venture-backed M&A deals, but he added that it wouldn't surprise him to see more IPOs in the coming year. In particular, he noted that Grail has raised a lot of money and said he was curious to see what the company would do in the coming months. 
For Massaro, this was a "banner year" for diagnostics and life sciences tools. He said that 2018 "marked the year where investor interest in both sectors felt like an all-time high," adding that the recent IPOs "have validated the[ir] appeal."