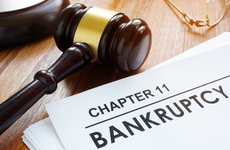 NEW YORK – Lucira Health on Wednesday filed for Chapter 11 bankruptcy protection, citing falling COVID-19 test sales and the missed opportunity to sell its combination COVID-19 and influenza test during the recent flu season.
Emeryville, California-based Lucira filed its petition for Chapter 11 in the US Bankruptcy Court for the District of Delaware. It also filed petitions with the court seeking to allow continued operations while the firm pursues an expedited sale of the business.
Lucira Health's stock was down about 38 percent on the Nasdaq at $.14 per share on news in late morning trading on Thursday.
The bankruptcy petition filed with the court indicates the company had about $146 million in assets and $85 million in debts as of Dec. 31. A company filing with the US Securities and Exchange Commission indicates that on Feb. 14, Lucira Health notified all employees and executive officers that their employment was expected to end on April 15.
In November 2020, Lucira had secured the first US Food and Drug Administration Emergency Use Authorization for a rapid, at-home COVID-19 test. The firm had developed a single-use real-time loop-mediated isothermal amplification test for SARS-CoV-2 RNA and ran that test on its handheld battery-powered instrument.
Lucira noted that it posted its first ever net positive income during the first quarter of 2022. But the firm's most recent quarterly financial results, posted in November, indicated a net loss of $127 million in the three months ended Sept. 30, and the firm ended that quarter with cash and cash equivalents of about $40 million.
That filing also indicates that, between the end of the quarter and the filing in November, the board approved two sets of layoffs affecting about 150 of the company's 225 employees.
"The unpredictability of selling into a pandemic made for a very challenging operating environment, though, collectively, we managed to grow significantly, reached positive net income, and drove continued innovation in our offering," Lucira Health CEO Erik Engelson said in a statement.
But the firm said Wednesday that sales of that test waned in 2022, and the company's application for over-the-counter use of its combination COVID-19 and influenza test had remained under regulatory review since August 2022, leaving the test unavailable during the recent flu season. The company announced in November it had received EUA for point-of-care use of its COVID-19 and influenza combination test in healthcare settings.
"Despite every effort to reduce capital outlays and restructure our business, we took this action to protect and maximize the value of our assets," Engelson said.
In October, Lucira's board of directors approved cost-reduction plans, layoffs, adjustments to its vendor agreements, and the hiring of accounting and consulting firm Armanino to pursue strategic options including a sale of the company. In a declaration filed with the court, Armanino manager Alexander Brandtneris wrote that Lucira and Armanino began work to market the company's assets on Dec. 13 but did not receive any satisfactory offers to buy the company or its assets.
The firm had continued forming partnerships during its restructuring, announcing in December a partnership with KSL Pulse Scientific for distribution in Canada of the over-the-counter combination COVID-19 and influenza test and announcing Jan. 5 it was partnering with telehealth firm Sesame to provide combination COVID-19 testing and treatment services.