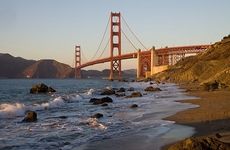 SAN FRANCISCO (GenomeWeb) - The 36th annual JP Morgan Healthcare Conference continued here on Wednesday with several life science research and molecular diagnostics firms presenting. Reports from day one and day two of the conference can be found here and here.
Below are brief reports on the presentations and breakout sessions covered by our team at the conference.
BGI Group
BGI Genomics' CEO Yin Ye said in a presentation that the firm is now offering its whole-genome sequencing service for $600 and is developing its own cloud computing power to speed up analysis and enable further reduction in price. By 2020, he said, the goal is to be able to sequence and analyze a human genome within 24 hours for $300. Currently, he said, using its cloud computing technology plus analysis with Edico's platform, the firm has analyzed 100 genomes in 120 minutes.
The company has also processed over 10 million clinical samples, including running 2.8 million noninvasive prenatal tests, 2.6 million human papillomavirus tests, 1.53 million hearing impairment tests, just over half a million newborn screening tests, and around 25,000 rare disease tests. Due to NIPT, Ye said, Down syndrome has been nearly eliminated in Shenzhen, where social medical insurance pays for testing and is free for patients. Elsewhere in China, the average NIPT price is $308, he said.
Ye added that due to the wealth of data from NIPT, BGI has been able to make other findings, such as women from the Hunan province having a higher chance of having twins at a rate of just over 2 percent.
Separately, BGI and the Federation of Shenzhen Commerce said on Wednesday that they would develop a BGI Global Innovation Center in San Jose, California and Seattle that would focus on healthcare, precision medicine, artificial intelligence, and big data.
Pacific Biosciences
Pacific Biosciences CEO Mike Hunkapiller said the company has upgraded the chemistry and software of its single-molecule sequencing instrument Sequel that has been released to select customers in beta mode. A full launch is expected in February. The upgrades will result in improvements in throughput and read length.
One thing the firm has realized over the past year is that "different samples have different requirements and therefore different throughput capabilities," Hunkapiller said.
During his presentation, he highlighted three different library types that the company has run internally with the upgraded chemistry and software. For a standard whole-genome de novo assembly library, one SMRT cell can generate around 12 gigabases of data and average read lengths are around 25 kilobases, and the longest reads are north of 100 kb.
Meantime, a targeted amplicon library can generate 16.5 Gb of data. Amplicon libraries generate higher-quality molecules that are read many times, so those libraries tend to result in higher yields and average read lengths. The average read length for that library was 33.5 kb and the longest read was 135 kb. From an Iso-Seq run looking at targeted transcripts, the firm has generated 22 Gb of data from a SMRT cell and achieved average read lengths of 37 kb with the longest read reaching 200 kb.
Hunkapiller said another eightfold improvement to throughput would come when the firm launches its previously discussed upgraded chip at the end of 2018.
The company currently has a total installed base of more than 370 instruments, 150 of which are the older RS II system.
Importantly, Hunkapiller noted, customers are using the Sequel system, as evidenced by the 75 percent growth in full-year consumable revenue from 2016 to 2017.
As previously mentioned, the company has done particularly well in China. Sales to Chinese customers made up 30 percent of the firm's total 2017 revenues, up from 10 percent of revenues in 2016, Hunkapiller said. And, he said he expects to announce several multi-unit deals with Chinese customers in the next several weeks. One reason for the growth in China is that those customers have a higher emphasis on sequencing plant and animal genomes, for which PacBio's long reads are extremely helpful in reading through the highly repetitive polyploid genomes.
Invitae
"Genetic testing is dead," Invitae CEO Sean George said in his presentation here. Instead, he said, a new business model must be created to bring genomics into healthcare. Rather than the traditional diagnostic testing model, he said Invitae's goal over the next two years is to create a new industry based on genome data management and creating entire networks of data, patients, physicians, and healthcare systems.
He said Invitae is working to create this new model through partnering with pharmaceutical companies, healthcare systems, and patient advocacy companies, as well as making strategic acquisitions to expand its expertise, such as last year's acquisitions of Good Start Genetics and CombiMatrix.
Having products in nearly all areas of disease and now in reproductive health widens the firm's market opportunities significantly, George said. "Building this network is about the volume of patients we put into it," he said. "We acquired the assets we did to broaden our capabilities, particularly in reproductive health, which enables us to drive patients into our networks."
As it reported earlier this week, Invitae expects to double its 2017 revenues over 2016 and anticipates doubling its full-year revenues again in 2018.
George noted that the next big opportunity that the company is exploring is how genomic data could benefit an asymptomatic person. He said that the firm has been piloting a proactive genetic screen and that data from that pilot has shown that a far higher percentage of the general population is at risk for a genetic disease than previously thought.
Quanterix
Quanterix Chairman and CEO Kevin Hrusovsky provided an overview of the firm's current offerings and product roadmap as it aims to gain market share in the protein research market. He noted that the company brought in revenues of around $23 million in 2017 versus no revenues just three years ago.
In addition, the firm has raised $150 million over the past three years, Hrusovsky said, including around $74 million in a recent initial public offering. The money is being used to expand its commercial operations, grow its existing technology, and support the development and launch of additional assays for its Simoa single-molecule technology and marketing of its new instrument, Quanterix SR-X, which it launched in August.
Hrusovsky noted that although the firm had planned on initial shipments of the new system in the first half of 2018, it actually shipped five of the SR-Xs during the fourth quarter of 2017.
When the Lexington, Massachusetts-based firm launched its original Simoa platform, the HD-1 Analyzer, in 2013, it was focused primarily on high-sensitivity protein assays. Since then, however, the system has drawn significant interest among nucleic acid researchers, Hrusovsky, said this past August, and the SR-X release is aimed in part at addressing this set of users.
The SR-X also costs less than the HD-1, around $75,000 versus roughly $165,000 for the HD-1, and Quanterix hopes it will attract researchers who currently run samples through the firm's services business. In a recent note, JP Morgan analyst Tycho Peterson noted that the SR-X platform will help Quanterix expand into "the more cost-sensitive academic and international customer segments."
Among Quanterix's plans for 2018 is the launch of its HD-X system, an improved version of the HD-1 with increased multiplexing capabilities, in the fourth quarter. The firm plans a trade-in program for current customers who use the HD-1.
Hrusovsky also said the company plans to expand its menu by 30-plus assays, seek CLIA certification and LDT licensing, explore point-of-care relationships, and increase multiplexing capabilities, among other 2018 goals. Though neurology has been a major area of focus for the firm, Hrusovsky said oncology will be "a major opportunity" for its technology.
He also said that though it will eventually enter the diagnostics and screening markets, Quanterix's current focus is on the research market and establishing a pharma services offering.
PerkinElmer
In late December, PerkinElmer closed its $1.3 billon buy of Euroimmun, a deal that is expected to considerably expand PerkinElmer's presence in the diagnostics space, Chairman and CEO Robert Friel said.
For the past two years, the firm has been working to increase its footprint in diagnostics, which comprises about 40 percent of the company's total $2.5 billion in revenues, Friel said. To that end, he noted that Euroimmun is a leader in autoimmune disease and an emerging player in infectious disease and allergy testing.
In 2017, Euroimmun posted $310 million in revenues, and the addition of the firm "pretty much doubles" PerkinElmer's revenues in China, Friel said.
The company has roughly 200 assays on its menu, and part of PerkinElmer's plan is to accelerate Euroimmun's presence in the US by accelerating regulatory submissions for its tests with regulators here, of which Germany-based Euroimmun had had very little experience as a standalone company, Friel said.
Further increasing PerkinElmer's footprint in the diagnostics space is its purchase a year ago of Tulip Diagnostics Private, a provider of in vitro diagnostic reagents, kits, and instruments to diagnostic labs, and government and private healthcare facilities in India. Together with Euroimmun, the two deals have added about 3,000 employees to PerkinElmer's diagnostics business, Friel said.
This year, the company anticipates generating approximately $1 billion in revenues from its diagnostics business, with immunodiagnostics comprising 45 percent of that, reproductive health 40 percent, and applied genomics 15 percent.
In reproductive health, the company anticipates launching the Vanadis platform during the second quarter of this year. The instrument is for noninvasive prenatal screening based on the analysis of cell-free DNA. Vanadis has been placed with a number of facilities in Europe, and PerkinElmer believes its target users will be the firm's existing customers, Friel said.
In applied genomics, he said that the market will continue to grow as the medical field moves away from a symptom-based diagnosis to preventive measures.
PerkinElmer's efforts in the diagnostics space have expanded its total addressable market in diagnostics to $17 billion in 2018, up from $6 billion in 2016, Friel said.
Meantime, the firm's discovery and analytical solutions business has a $28 billion addressable market with instruments and consumables comprising $17 billion of that, Friel said. In that business, he added that PerkinElmer might do some "pruning" and divest some assets.
Between 2012 and 2017, PerkinElmer has grown its revenues 22 percent, Friel said, while EPS has improved 65 percent. Moving out to 2020, he said that the company expects revenues to continue growing at a single-digit pace and EPS to increase in the mid-teens.
Within the same time frame, revenues in the diagnostics business are expected to grow in the high-single digits to the low-double digits, he added.
Quidel
Quidel CEO Doug Bryant provided a broad overview of the firm's operations, including the recently acquired Alere Triage and BNP businesses.
The BNP business is the subject of legal action by Danaher's Beckman Coulter against Quidel. In a lawsuit filed in November, Beckman Coulter seeks to affirm its right to sell the BNP assay directly to its customers, a move that Quidel said at the time was a tactic by Danaher to pressure Quidel into selling it the BNP business. Danaher, Quidel said, had inquired about a purchase in the weeks before the lawsuit was filed.
Bryant on Wednesday said that a demurrer by Quidel will be filed this Friday, followed soon afterward by the discovery process, which he said should last between 18 months and two years, and then a trial. He brushed aside assertions by Beckman Coulter that Quidel has a monopoly on the BNP testing market as a result of the acquisition and said that the lawsuit would bear that out.
Lawsuit aside, he reiterated many of the same points that were included in an update that Quidel provided last month on the Triage and BNP businesses, and said that integration of those was well underway.
"We're running way ahead of schedule," he said, adding that integration of the acquisitions are expected to be completed in 2019, one year ahead of initial expectations.
On the growth trajectory of the Triage business, Bryant said that while revenues have been flat recently, 3 percent to 4 percent growth could be achieved as improvements to some of the assays, such as toxicity testing and troponin, would be made.
With the BNP assay, he noted that growth has been particularly robust in China, where revenues for the assay have been up 10 percent.
Like other firms, Quidel sees China as a prime market for future growth, and it recently hired 30 people, all formerly with Alere, to help with taking Quidel's products through the Chinese Food and Drug Administration process, Bryant said. He also suggested that more people could be hired moving forward.
In March 2017, the US Food and Drug Administration cleared Quidel's Sofia2 immunoassay system, along with an assay for respiratory syncytial virus, which were then followed by clearance of a Group A Strep test for the platform. Since the launch of Sofia2, the company has shipped about 7,000 of the systems, bringing the total number of Sofia and Sofia2 placements to more than 25,000, Bryant said.
On the molecular side, he said the Savanna platform is anticipated to launch in 2019. At last year's conference, the company targeted a 2018 launch outside the US, and possibly a US launch in the second half of 2018 or early 2019.
Savanna is a cartridge-based, sample-to-answer system that can run both real-time PCR and isothermal helicase-dependent amplification assays. Tests that run on the platform would include assays with up to 16 targets, such as STDs and vaginosis.
Konica Minolta
Konica Minolta's $1 billion acquisition of Ambry Genetics last summer pushed the firm, which probably was most identified as a camera manufacturer, into the health and life sciences space with a focus on precision medicine.
Following that deal, the Japanese firm also acquired Invicro, a provider of imaging services and software for research and drug development. Together, the deals will allow Konica Minolta to move into a broad range of health applications, from disease diagnosis to drug discovery to companion diagnostic development, said Kiyotaka Fujii, the firm's president of global healthcare.
He noted that the Ambry deal has the potential to move Konica Minolta into a largely untapped Japanese health market, where medical procedures that are routine in the US or elsewhere are largely overlooked.
As it digests the Ambry and Invicro deals, the company is open to complementary M&A, Fujii said, including firms in technologies such as proteomics, as well as differentiated labs and contract research organizations. The focus will be on the clinical space, though he added that the firm is open to deals in the research arena.
GenMark Diagnostics
GenMark President and CEO Hany Massarany updated investors on the firm's pipeline and announced a new system at the conference: the ePlex NP, a scaled-down version of the firm's ePlex system targeted at smaller hospitals (less than 150 beds) and integrated delivery networks. According to Massarany, the NP has the full functionality of the ePlex but with lower capacity to address lower-volume testing sites. It has a three-bay tower, but uses the same cartridges as ePlex and can process up to 12 patients samples per shift. It also can be upgraded to six bays to increase the volume of tests.
The firm's ePlex instrument and Respiratory Pathogen Panel, which detects more than 20 viral and bacterial pathogens that commonly cause upper respiratory infections, received FDA clearance in June last year. It is a sample-to-answer molecular diagnostic system intended to drive adoption of MDx tests in smaller hospital labs and near-patient settings. It also may drop adoption of GenMark tests outside the US, unlike the firm's earlier XT-8 System, which was only sold in the US and targeted to the top 1,000 post-PCR testing labs.
GenMark earlier this week said that it expects to report fourth quarter revenues of $16 million, up 7 percent from Q4 2016 and driven by ePlex sales. Massarany said GenMark placed 49 ePlex analyzers in the quarter, bringing the total number of ePlex instruments installed in US and European labs at the end of the year to 196.
GenMark also began marketing its ePlex BCID gram-positive and gram-negative panels in Europe earlier this year and is conducting clinical studies on the panels in advance of a US launch. It also achieved CE marking earlier this year for its ePlex Blood Culture Identification fungal pathogen panel, the first in the GenMark Sepsis Solution, which Massarany said could cut the time to result in sepsis testing from more than 24 hours down to 2 hours.
The firm has several other panels for viral, bacterial, and parasitic targets planned for launch both in Europe and the US over the next couple of years.