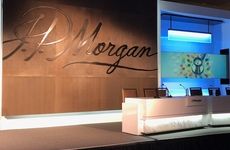 SAN FRANCISCO (GenomeWeb) - The 36th annual JP Morgan Healthcare Conference continued here on Tuesday with several life science tools and molecular diagnostics industries firms making their case to investors. Yesterday's report on day one of the conference can be found here.
Below are brief reports on the presentations and breakout sessions covered by our team at the conference. A separate report on Thermo Fisher Scientific's presentation and breakout session can be found here.
Danaher
Danaher President and CEO Thomas Joyce provided some color on the company's preliminary fourth quarter earnings figures, which were released late Monday.
During his presentation, he said that core revenues company-wide are expected to increase about 5 percent year over year, above the prior guidance of between 3.5 to 4 percent growth, while adjusted EPS is also expected to exceed the prior guidance of between $1.12 and $1.16.
Driving the better-than-expected results were the company's Diagnostics and Life Sciences business segments, Joyce said. Diagnostics core growth is estimated at about 6 percent, while Life Sciences core revenues are expected to rise about 7 percent.
In Diagnostics, Joyce highlighted improved performance in its Cepheid business, which Danaher acquired in late 2016 for $4 billion. Saying there were challenges to the business when it was first brought on board, he noted that gross margin at that business has since improved to 55 percent from 50 percent, while the operating profit margin improved to the mid-teens from flat-to-low single digits.
Joyce further added that on-time delivery of its products grew to greater than 95 percent from less than 80 percent.
Since the deal, Danaher has also sought to raise Cepheid's commercial presence in China, and Joyce said that Danaher has increased its investment into that effort threefold. He added that Danaher plans to increase Cepheid's footprint in other geographies.
On the launch of Cepheid's GeneXpert Omni, Joyce reiterated that the point-of-care MDx system is expected to launch this year. The system was unveiled in 2015, but its launch was delayed until the third quarter of 2017 before being pushed back further.
In Life Sciences, the improved outlook was led by the performance of Pall, acquired by Danaher in 2015 for $13.8 billion. The deal, Joyce said, has been particularly beneficial as it provided Danaher access to the biologics space.
Danaher has historically been aggressive in the M&A space, though last year it took a more muted approach as it integrated the Cepheid deal and paid down debt related to that and the Pall acquisition. In 2017, the company spent $400 million on 11 bolt-on acquisitions, Joyce said. He did not provide any insight on whether it would pursue larger deals in 2018, but said Danaher is open to M&A across all its business segments.
Exact Sciences
One day after reporting a preliminary 148 percent year-over-year increase in Q4 2017 revenues, Exact Sciences Chairman and CEO Kevin Conroy provided additional details around the growth of the company's Cologuard test for colorectal cancer and long-term growth plans.
Conroy said that Q4 2017 sales of Cologuard are anticipated to be $87.4 million, and within the group of 102,000 physicians who ordered the test during the quarter, 84,000 were primary care physicians, which has been Exact Sciences' exclusive focus within its sales team. Since the launch of the test in 2015, 923,000 patients have been screened with Cologuard, leading to the detection of 4,300 cases of early-stage cancer, said Conroy, who also touted that the compliance rate of patients receiving colorectal cancer screening with the test is about 65 percent.
Moving forward, further growing the Cologuard business is a prime objective for Exact Sciences. To that end, the firm plans to grow its primary care sales force to 350 this year from 250 in 2017. Primary care sales people are tasked with educating physicians and office staff to increase repeat orders of Cologuard.
Meanwhile, Exact Sciences' inside sales force is responsible for bringing on new physicians ordering the test. In 2018, the company plans to expand that team to 200 from 100 in 2017, Conroy said.
Another growth driver of Cologuard sales, he added, has been the firm's direct-to-consumer TV advertising, which has resulted in about 850 new patients getting tested with Cologuard each week.
Also, Exact Sciences announced in November it will build additional lab facilities in Madison, Wisconsin, to meet increasing demand for the test. The new spaces are scheduled to open in mid-2019.
On the M&A front, the company will continue to evaluate bolt-on deals that can further its technological capabilities. In December, it acquired Armune BioScience, a developer of cancer diagnostics and prognostics that allow physicians to decide the best therapies for their patients. Conroy noted that Armune's auto-antibody technology would support Exact Sciences' tests in development using liquid biopsy methods for the early detection of cancers, including lung cancer and liver cancer.
Conroy declined to give a timeline on when such tests could reach the market, saying that "until we have data that gives us tremendous confidence" that Exact Sciences can go to the US Food and Drug Administration for regulatory approvals, the focus will, instead, be on ensuring the quality of its science.
He noted, though, that its liquid biopsy tests, being developed in collaboration with the Mayo Clinic, could potentially open international markets for the company. Despite the success of Cologuard in the US, differences in screening guidelines and practices in Europe has presented challenges to adoption of the test in that region, Conroy said. However, he said that in the future there may be opportunities to influence national health systems and reimbursement bodies as a way to create demand for Cologuard overseas.
Agilent Technologies
Three years after Agilent spun off its electronic measurement business into a separate company called Keysight Technologies, resulting in the current iteration of Agilent, business has steadily grown, the company's President and CEO Mike McMullen said during his presentation.
As proof, he pointed to the nearly 7 percent year-over-year growth in the firm's full-year fiscal 2017 revenues, compared to 5 percent in fiscal 2014. Meanwhile, non-GAAP EPS increased to $2.36 in fiscal 2017 compared to $1.74 in fiscal 2015.
In fiscal 2018, McMullen identified four priorities for the firm including targeting growth markets, with the goal of developing platforms for each of Agilent's six main end markets. The focus, he added, would be on developing cancer diagnostics, as well as tools for cancer research.
He also noted an emphasis on innovation-driven growth and mentioned efforts aimed at accelerating growth in the pathology space — such as continued work developing PD-L1-based companion diagnostics — building out the firm's clinical next-generation sequencing workflow, and developing technologies to enable new discoveries.
Also, Agilent plans on increasing its presence in emerging markets, notably in China and India. In China, the company is targeting the diagnostics and the clinical space, and plans on leveraging government investments in the life sciences, food safety, and environmental initiatives. In India, meantime, attention will be on the pharmaceutical space and applied markets, McMullen said.
Lastly, Agilent will be looking at potential M&A with a focus on bolt-ons and deals that would complement the company's organic growth, though McMullen said that it would consider larger deals that would complement longer-term growth goals. On such acquisitions, Agilent would want to do cash deals, he said.
In advance of its presentation at the conference on Tuesday, Agilent announced that it had acquired in vitro cell assay kit developer Luxcel Biosciences.
DiaSorin
On the sidelines of the JP Morgan Healthcare Conference Tuesday, DiaSorin CEO Carlo Rosa told GenomeWeb that Quest Diagnostics' loss is his company's gain.
In 2016, the Italian diagnostics firm acquired Focus Diagnostics' immunoassay and molecular diagnostics products business from Quest Diagnostics for $300 million in cash.
DiaSorin is now operating the molecular diagnostics component as an independent business, kept separate from its immunodiagnostics products business, Rosa said, adding that the molecular diagnostics business is growing at double digits and is worth roughly 10 percent of the company's overall sales. The firm, which hasn't released its FY 2017 financial report yet, generated €468.6 million ($562.43 million) in sales through the first nine months of 2017.
Quest parted with the Focus Diagnostics immunodiagnostic and molecular diagnostic products business because it considered it to be a non-strategic asset, Rosa said. The same is true of a microtiter-based ELISA immunodiagnostics business DiaSorin acquired from Siemens Healthineers in September 2017 for €47.5 million, he added.
Such acquisitions and partnerships involving other diagnostic industry companies are an important part of the company's growth strategy, he had said earlier during a presentation.
On Monday, DiaSorin and Qiagen announced that they are collaborating to pair Qiagen's QuantiFeron-TB diagnostic test with DiaSorin's Liaison family of automated analyzers.
Customers of both companies will be able to process Qiagen's QuantiFeron-TB Gold Plus (QFT-Plus) assay for latent tuberculosis detection on DiaSorin Liaison platforms, of which there are 7,000 in laboratories worldwide.
Rosa said at the JPM Healthcare Conference that the companies expect to launch the product in Q3, and that there are other applications that they expect to develop using Qiagen's technology and DiaSorin's platform.
Bio-Rad Laboratories
Bio-Rad's droplet digital liquid biopsy technology overlaps both life science and diagnostic applications, and it is among a number of areas on which the firm has a strong focus, CEO Norman Schwartz said during his presentation Tuesday.
"We expect this to be a substantial area of growth for us," he said, adding that getting regulatory clearances for liquid biopsy IVD tests is a high priority for the firm.
Just last month, Bio-Rad said it had received CE-IVD marking on a droplet-digital PCR assay to detect BCR-ABL gene fusions. The test can be used to monitor response to treatment in patients with chronic myeloid leukemia and is Bio-Rad's first clinical ddPCR assay to receive a CE mark.
In January 2017, the firm completed the acquisition of rival droplet-based PCR systems manufacturer RainDance Technologies for an estimated $87 million plus certain assumed net liabilities.
Among the challenges to adoption of liquid biopsy, Schwartz said, is that generally it takes time for people to get used to using new technology and for a company to build up a portfolio of peer-reviewed studies. However, its liquid biopsy technology is "getting some good momentum," in the context of peer-reviewed studies, he said.
Schwartz noted that the development of single-cell next generation sequencing sample preparation, although primarily a research tool, is also a priority for the firm.
Hologic
Hologic Chairman, President, and CEO Steve MacMillan highlighted the firm's "unique leadership positions across an incredible range" of businesses that use very different technologies and serve different customer bases. The technology segments include mammography, molecular diagnostics, cytology, gynecological surgery, and medical aesthetics.
"Our US molecular diagnostics business has been a tremendous growth driver for us over the last few years and [will be] for the next three to five years at a minimum," he said.
He said that Hologic has placed around 1,300 Panther molecular diagnostics units globally, and that it is booking more than $200,000 in annual consumables revenue per Panther system.
The firm has witnessed different growth drivers emerge at different times, he added. In 2017, for example, the drivers were the international and molecular businesses. In 2018, the firm expects that the main drivers will also include international and molecular, but also medical aesthetics.
He said that the Cynosure medical aesthetics business that Hologic acquired in Q1 2017 for $66 per share in cash bottomed out in Q4 2017 from a revenue-generation perspective, having contributed $81 million in the quarter, and was already on the rise and expected to contribute $91 million in Q1 2018.
"We also have a large opportunity for international expansion, and I believe that will be a big part of our growth for the next decade and beyond," he added.
MacMillan noted that he expects Hologic will be "one of the big winners" from tax reform in the US, with a historical tax rate of 31 percent that is likely to be in low 20s after the changes go into effect.
On Monday, the firm reported that for its Q1 ended Dec. 30, diagnostics business revenues are expected to drop to $285 million from $325 million in the prior-year quarter. But when the firm's diagnostics products revenues exclude sales from its blood screening business, diagnostics revenues are expected to rise to $272 million from $260 million in Q1 2017.
Adaptive Biotechnologies
Last week, Adaptive Bio announced a deal with Microsoft to map the genetics of the human immune system. Adaptive President, CEO, and Cofounder Chad Robins said on Tuesday during his presentation that the goal of the partnership is to eventually use the resulting tool as a universal diagnostic.
The partnership combines Adaptive's immunosequencing capabilities with Microsoft's machine learning to create a T-cell receptor (TCR) antigen map that can be used to detect disease earlier and more accurately. To create the map, Adaptive will use it TCR technology to map the immune system from patient samples. While the TCR technology can create such a map on a chemical basis, Microsoft's machine learning will be used to further elucidate the immune system, Robins said.
The end goal is to use the map in hard-to-detect diseases including autoimmune disorders such as multiple sclerosis; hard-to-diagnose ailments, including Lyme disease, and some cancers; and eventually to market it as a universal diagnostic for disease, using a blood sample, Robins said.
The immune system, he said, is the best diagnostic tool available, trained to recognize disease in the human body.
He noted that since Adaptive's founding in 2009, it has raised $450 million in private financing, and as part of last week's deal, Microsoft is investing an undisclosed amount into the firm.
Robins also said that the company has submitted its first regulatory application to the US Food and Drug Administration and the MolDx program, though he did not provide details on the product. Adaptive Bio currently markets a TCR repertoire profiling research-use-only assay dubbed ImmunoSeq and the clinical version, ClonoSeq, which is used for minimal residual disease analysis in blood-based cancers.
WuXi NextCode
WuXi NextCode CEO Hannes Smarason bets that by 2020 the consumer side of the firm's business will outpace its B2B arm in which it partners with pharmaceutical companies, population sequencing projects, and hospitals.
Currently, he said, the B2B side is a $250 billion market opportunity and represents around 60 percent of its business. Highlights include partnerships with Genomics Medicine Ireland, Genomics England, and one announced this week with Rhythm Pharmaceuticals.
On the consumer side, the company is focusing on launching products in China. It currently offers three products: a rare disease diagnostic called RareCode, a carrier screening test called FamilyCode, and a whole-genome sequencing "wellness scan" called HealthCode.
In addition, Smarason said the firm is making products available in China through the social media app WeChat.