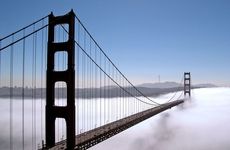 SAN FRANCISCO (GenomeWeb News) – The 33rd Annual JP Morgan Healthcare Conference continued Tuesday with presentations from Thermo Fisher Scientific, Affymetrix, Danaher, Hologic, Genmark, Accelerate Diagnostics and other life science research and molecular diagnostic firms.
The following are capsules from the above companies. Coverage of Monday's sessions is available here.
Thermo Fisher Scientific
About one year after Thermo Fisher Scientific's purchase of Life Technologies, President and CEO Marc Casper reiterated that the integration of Life Tech was progressing ahead of year-ago projections.
In addition to being on track for $100 million in cost synergies, compared to a guidance of $85 million last year, pro forma organic revenues for Thermo Fisher's Life Science Solutions segment, formed by the Life Tech deal, is growing at about 3 percent, the top end of what the company had estimated, Casper said.
The deal remains on target to deliver $350 million in synergies in year three of the deal, he added.
He did not provide any details about R&D efforts on the Ion Torrent next-generation sequencing business that it acquired in the Life Tech deal, but said that the largest investment across the entire company is directed at NGS, with a focus on informatics and building out the platform.
Casper said that the firm remains focused on the cancer space with its Ion Torrent business, and on Tuesday, Thermo Fisher launched its Oncomine Solid Tumor DNA kit as a CE-IVD marked product. The panel is based on Ion Torrent AmpliSeq technology and enables multiplexed sequencing of formalin-fixed, paraffin-embedded tumor samples. Also, the company launched an NGS RNA panel and workflow for the targeted sequencing of fusion transcripts for clinical research. The Ion Torrent AmpliSeq RNA Fusion Lung Cancer Research Panel enables the simultaneous sequencing of 70 ALK, RET, ROS1, and NTRK 1 fusion transcripts associated with lung cancer and 5' and 3' ALK gene expression.
Affymetrix
A day after preannouncing fourth quarter revenues above Wall Street expectations, Affymetrix CEO Frank Witney highlighted the four primary areas of focus for the firm over the next year: expanding its cancer genomics business; expanding its genotyping business by partnering with more biobanks and increasing its presence in the ag-bio field; driving growth in its expanding single cell biology business; and capitalizing on its partnership with Ariosa Diagnostics in the reproductive health market.
The firm has been remaking its business over the past few years, decreasing its reliance on its gene expression products and diversifying its offerings in cytogenetics, ag-bio, single-cell analysis, and reproductive health. Witney noted that from 2011 to 2014, Affymetrix's gene expression sales went from accounting for 51 percent of the company's total sales to 21 percent.
He said the firm is now in the third phase of its transition, with its development priorities focused on the translational medicine and molecular diagnostics markets; expanding its genotyping products in markets such as microbiome studies, pharmacogenomics, direct-to-consumer genomics, and HLA; and commercializing new products in the single cell research market through its eBioscience business.
Affymetrix recently launched its PrimeFlow RNA Assay, which allows users to profile RNA and protein expression within millions of single cells. Witney said that although he couldn't provide any sales figures for the assay, as it launched in November, it offers "tremendous upside" and is expected to drive growth in the single cell market.
In addition, the firm is targeting the launch of a kit for single cell array-based RNA analysis in the first quarter of this year.
Affymetrix in the fall inked a partnership with Ariosa in the noninvasive prenatal test sector, which Witney said was a potential $4.8 billion market by 2018. Ariosa is using Affy's Axiom-384HT format as its platform of choice for its Harmony NIPT, but Witney noted during his presentation that Affy is developing a version of its GeneTitan instrument for a distributed form of the Harmony test. In December, Roche announced plans to acquire Ariosa.
Overall, Witney said he expects the key growth drivers for microarrays to come from biobank studies, ag-bio research, increasing use in clinical assays, and cytogenetics. He noted the firm now has 350 accounts in post-natal cytogenetics.
He also said the firm may undertake tuck-in acquisitions of either companies or technologies to fill in gaps, particularly in its single cell products business and its ag-bio portfolio. But, he stressed these would be small, additive deals.
Danaher
Danaher's new President and CEO Thomas Joyce provided an update on Beckman Coulter's Veris molecular diagnostic platform, which is slated for launch in Europe later this year.
The PCR-based "sample-in, results-out" system, along with a cytomegalovirus assay that runs on the platform, was CE marked in the spring. Following the European launch, Danaher will start the process to secure US Food and Drug Administration approval for Veris, which is priced at more than $100,000. Joyce did not provide further details about a US launch.
Veris, he said, will be targeted to mid- to large-volume hospitals and mid- to large-volume reference laboratories. Along with the CMV assay, the test menu upon the system's launch will include tests for hepatitis B and C and HIV.
Beckman Coulter has spent several years developing Veris, predating its acquisition by Danaher in 2011. During his presentation, Joyce said that molecular diagnostics "is one of the most important markets [for Danaher] from a growth perspective," and added that MDx represents potentially about $100 million in revenues for the company within the next five years or so.
During 2014, Danaher completed or announced 18 acquisitions for a total of $4 billion, though it remained largely on the sidelines in the life science and diagnostics space last year. Asked on Tuesday about the company's M&A strategy for the coming year, Joyce said, "We certainly like life science and diagnostics a lot," but was non-committal about specifically pursuing deals in the space.
Hologic
During his presentation on Tuesday, Hologic President and CEO Steve MacMillan outlined Hologic's molecular diagnostics business, acquired with the Gen-Probe purchase in 2012. Currently, the firm is in the midst of getting approval for viral load assays for the Panther system outside of the US, and MacMillan said that some of the approvals may happen in the current fiscal year.
He said the assays would target hepatitis C, human papillomavirus, and HIV.
With established competitors like Qiagen and Roche bulking up their molecular test menus and new players, such as Quidel and Beckman Coulter, moving into the MDx market, Hologic will grow its MDx business by sticking to its core strengths, including its established leadership position in sexually transmitted disease detection, MacMillan said during a Q&A session.
The company also is focused on driving up adoption of its tests in the mid-sized hospital environment, in addition to serving its traditional large-hospital customer base, he added.
One area that the company does not plan on tackling, and that some of its competitors are approaching, is the point-of-care market, MacMillan said, noting that the company's competency is elsewhere.
On Monday, the company announced that it anticipates reporting a 7 percent increase in revenues for its fiscal fourth quarter, including a 6 percent improvement in its diagnostics revenues to about $304 million.
GenMark Diagnostics
GenMark Diagnostics President and CEO Hany Massarany focused much of his presentation on the firm's new ePlex system, a fully automated molecular diagnostic platform based on its eSensor technology. The new system will launch in Europe by mid-year, Massarany said, with a submission to the US Food and Drug Administration expected late in 2015 and a US launch planned for the first half of 2016.
The primary advance of the ePlex over GenMark's existing XT-8 platform is that it integrates automated nucleic acid extraction and amplification with the eSensor detection technology, enabling a rapid time to result. Technicians using the ePlex system will be able to place a raw, or a minimally prepared patient sample, directly into a test cartridge and obtain results without any additional steps in under 90 minutes, Massarany said.
The ePlex had been originally slated for completion last April. But, the timing was pushed back, as company officials attributed the delay to the complexity of the system's technology.
Because of its ease of use, Massarany said the firm could target a much larger market for the ePlex than it does with the XT-8, namely the decentralized market of more than 12,000 hospital labs globally.
The initial menu of the ePlex targets the infectious disease testing market. Massarany said the initial assays for the ePlex include gram-positive and gram-negative bacterial identification panels; a respiratory panel; a gastrointestinal panel; an HCV genotyping panel; a central nervous system infection panel; and a fungal pathogen panel.
In advance of its presentation at the conference, GenMark released its preliminary financial results for the fourth quarter of 2014, reporting a 52 percent increase in revenues to $9.8 million for the three months ended Dec. 31, 2014. It also said it placed 38 XT-8 analyzers in the fourth quarter and that its current US installed base is 540 analyzers.
Accelerate Diagnostics
Accelerate Diagnostics ­– which has been largely silent since changing its name from Accelr8 in late 2012 – plans to launch its clinical microbiological detection platform in Europe this year, CEO Lawrence Mehren said.
The firm did a soft launch of the platform last spring, he said, but in the coming year, it plans to get CE marking for the instrument and to start clinical trials in preparation of a 510(k) submission to the FDA.
The instrument, which leverages the firm's proprietary technology for single-cell microbiology analysis, could be a game changer in the field of antibiotic susceptibility testing, according to Mehren.
The method ­– formerly called BACcel – is a culture-free process for both genomic and phenotypic detection. While standard methods of AST are labor-intensive and can take more than 50 hours to generate results, Accelerate's platform can perform molecular identification in one hour and provide AST results in five hours, Mehren said.
The firm has met with FDA "a number of times" and chosen 11 sites for its clinical trials, which Mehren said could begin in the first half of this year. The first kits for the system will be directed at bloodstream infections, with kits for respiratory infections, urinary tract infections, and skin infections to follow.
While Accelerate Diagnostics has not yet set pricing for its system, Mehren said that tests on competing "slow AST" platforms are around $180, which he described as a "reasonable floor" for the firm's tests upon launch.