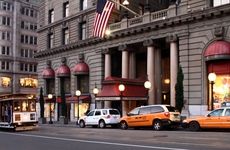 SAN FRANCISCO (GenomeWeb) – The 34th Annual JP Morgan Healthcare Conference entered its final day here Thursday with several life science research tools and diagnostic firms making presentations to investors and other attendees.
The following are capsules from the presentations and breakout sessions of Luminex, Exact Sciences, T2 Biosystems, and Singulex.
Luminex
Luminex CEO Homi Shamir highlighted the firm's opportunity to grow its molecular diagnostics business through the recent launch of its Aries system and an increased focus on the development and sale of analyte-specific reagents.
Luminex received US Food and Drug Administration clearance for the Aries system and Aries Herpes Simplex Virus (HSV) 1&2 Assay last October. The firm launched the real-time PCR-based sample-to-answer system in the fourth quarter of 2015 and is targeting 100 placements by the end of this year, Shamir said.
According to Shamir, the new system greatly expands Luminex's market opportunity from around a $500 million addressable market with its older technologies to $2.5 billion. The firm believes the system, primarily because of its ease of use and planned menu, will be able to address the 5,000 or so labs that currently lack molecular diagnostics capabilities.
Shamir said Luminex is planning rapid menu expansion for Aries with flu and Clostridium difficile among the targeted assays. But interestingly, he also said that while the firm needs more assays to drive system sales, it also needs more ASRs in the field, adding that the market opportunity in lab-developed tests could be bigger than previously estimated. As such, Luminex has placed an emphasis in its R&D efforts on developing more ASRs to add to the 10 that it currently markets. Shamir said that Luminex is "trying to think a little different" than competitors in the molecular diagnostics space and is answering customer demand for more ASRs.
Luminex expects to report more than $100 million in molecular diagnostic sales in 2015 with 12 percent growth, not including any contribution from Aries sales, Shamir added. The firm currently has around 12,500 systems placed in the field: 10,000 LX 100/200 systems; 1,000 MagPix systems; and 500 of its Flex Map 3D systems.
The firm's total revenues for 2015 are expected to come in at the high end of its guidance range of $235 million to $238 million, he noted.
Exact Sciences
Despite a disappointing 2015 fourth quarter, Exact Sciences CEO Kevin Conroy was optimistic about the firm's overall trajectory. Conroy discussed the firm's strategies to continue to drive adoption of its Cologuard colorectal cancer screening test, its plans to develop additional tests, and noted that it was looking to leverage its sales team to partner with other companies to sell products into the primary care market.
Exact Sciences reported earlier this week that it had sold 38,000 of its Cologuard tests, below its expected 42,000 tests. Conroy attributed the lower sales to a higher-than-expected dropoff in orders around the holidays.
"It was a big disappointment," he said. Until Dec. 15, the company was on track to hit or even exceed its expected sales, and while it had expected a slowdown in orders at the end of the year and had factored that into its projections, "we didn't expect it to fall off as steeply as it did," Conroy said.
In addition, he anticipated "modest improvement in the payor landscape" in 2016. Recently, Anthem, which covers 8.3 million insured in the over-50-years-of-age category, issued a positive decision for Cologuard. In January, Exact Sciences struck a deal with Anthem BlueCross of California and Conroy said he anticipates closing five other agreements with various Anthem plans in the first half of the year.
Conroy said that the recent draft guidelines issued by the US Preventive Services Task Force were unlikely to be changed. The USPSTF recommended fecal DNA testing as an alternative in "select clinical circumstances," as opposed to outright recommending such testing. While the guidelines may impact reimbursement, Conroy said that the firm "did not see a fall off in test ordering after the guidelines were published."
Exact Sciences has also been using its technology to develop tests in the lung cancer and pancreatic cancer spaces. Conroy said such tests would distinguish lung nodules from cancerous lesions, and pancreatic cysts from cancerous lesions. The firm has been collaborating on the lung and pancreatic cancer tests with researchers at University of Texas MD Anderson Cancer Center and the Mayo Clinic, respectively.
Conroy said the firm would publicize data on both of those projects in the second half of the year. He said the lung cancer test would done be from a blood draw and represents a $1 billion market opportunity, while the pancreatic cancer test would analyze pancreatic juice and represents a $500 million market.
In addition, Conroy said that over the next one to two years, the company would be looking to in-license, co-promote, or potentially acquire products that it could sell with its existing sales force. He noted that the company has been approached by a range of potential partners, including pharma, device manufacturers, and diagnostic firms. And he added that the firm would be looking for a product that wouldn't require a lot of work on the reimbursement side, and that meets the criteria of being "highly innovative and focused on advancing health."
T2 Biosystems
In his presentation, T2 Biosystems President and CEO John McDonough provided an update on the uptake of the company's T2Dx magnetic resonance-based rapid diagnostic platform and its first test, T2 Candida, a US Food and Drug Administration-cleared assay for the detection of sepsis-causing Candida infections. He also provided attendees with an update on the company's assay pipeline.
The assay, which was FDA cleared in September 2014, can directly detect Candida species from a patient blood sample without prior culturing in three to five hours and with better sensitivity.
McDonough said that the company has been targeting the top 450 hospitals in the US with the platform and assay and that adoption "has been going at a very nice rate."
He said that T2 had two sales reps on board when the assay received FDA clearance, and had grown that sales force to 15 individuals by this past October. "Our target this year was to demonstrate that a fully effective sales rep could close on average six accounts on an annual basis … [and] we were right on track in Q3 [2015] with 19 closed contracts," McDonough said.
He noted that the test's major selling points are its ability to drastically shorten the sepsis diagnosis window from three to five days with typical blood culture methods to hours with the T2 product; and the cost savings to hospitals. On the latter point, McDonough noted that "unlike most diagnostic companies … we're not at all affected by any of the reimbursement challenges that I know are affecting many companies." The reason for this is that all of T2's tests are covered under so-called "diagnosis-related group" (DRG) codes.
"Our pricing is based on the economic value that we bring to hospital systems," McDonough said. "So while there is certainly a lot of concern in the investment community [about] reimbursement, [about] regulatory issues with CLIA labs and companies that are based on that model … we're not impacted by any of that."
Further expanding on this point, McDonough said that T2 sees a "fixed sum" in terms of reimbursement from a hospital for treating a patient. "Those sepsis reimbursement codes will typically provide somewhere between $10,000 and $30,000 depending on the circumstances of the patient," he said. "If the patient is in the hospital for one day, the hospital wins. If the patient is in the hospital for 40 days, which is the average length of stay for a Candida infection, the hospital loses, because those costs for the patients are much higher than those DRG codes. Our pricing is based on the economic value we bring to the hospital."
The company hopes to be able to bolster this value proposition with the introduction of a second assay for the T2Dx system called T2 Bacteria, which will be able to diagnose key sepsis-causing bacteria directly from a patient blood sample in the same time frame as T2 Candida.
T2 began patient enrollment for a clinical trial of this new test in December. "If we follow the same course as we followed with T2 Candida, and we should — it's virtually the same type of trial, virtually the same number of patients, and we're even working with the same FDA reviewer — that would suggest that FDA clearance could be right in that early 2017 time horizon."
And finally, the company has a third test in the pipeline called T2 Hemostat, which draws on the core magnetic resonance technology's ability detect essentially any analyte to gauge various hemostasis parameters in a patient. McDonough said the company plans to commence FDA trials for that assay in the summer.
T2 also has an ongoing development project with Canon US Life Sciences in the area of Lyme disease diagnosis. "Canon is funding that project; we'll receive future royalties as we bring that product to market. We own all the IP that we developed; we own the commercialization rights for that product [which] is just a little too early in the development phase for us to lay out a timeline," McDonough said.
In general, McDonough noted, the company believes that there are "tens if not hundreds of applications" for its magnetic resonance technology, and added that "it is our full intent to explore the overall opportunities where we can bring unique advantages to patients and economic [benefit] to the healthcare system, to do that both directly, and, as we've done with our Lyme disease efforts, through partnerships."
Singulex
Singulex's CEO Guido Baechler said that the company will launch its CE-IVD marked single-molecule counting platform, Singulex Clarity, in Europe this year. The first two systems will be installed in Barcelona and London in May and he expects approval for the machine by September.
Baechler added that the company is also looking to bring the platform through US Food and Drug Administration 510(k) clearance with an assay that rules out acute myocardial infarction in patients.
Singulex's single-molecule counting technology assesses biomarkers and its initial application is measuring levels of cardiac troponin I, a biomarker that can rule out cardiovascular disease or diagnose disease earlier.  
The Alameda, California-based firm offers testing through its CLIA-certified clinical laboratory. In 2015, the firm recognized $45 million in total revenue, $41 million of which was from its clinical testing services, Baechler said.
As part of its push into the diagnostic market, the company is also developing a point-of-care device based on the single-molecule counting technology, which it expects to launch in 2019, Baechler said.
In addition, he said, the firm is expanding to other disease areas including oncology, infectious disease, autoimmune disorders, and neurodegenerative disease.
For example, in the oncology space, he said the company would be looking to develop a test that uses prostate-specific antigen as a marker in order to monitor prostate cancer patients post-surgery. Increasing PSA levels can indicate that the cancer is still there or has returned.
Baechler said that Singulex would start offering PSA testing in its clinical lab this year. In 2017, the company plans to roll out tests in the infectious disease and neurodegenerative spaces.