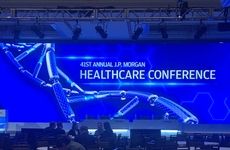 SAN FRANCISCO – The 41st Annual JP Morgan Healthcare Conference continued on Tuesday with more firms in the diagnostics and genomics tools spaces providing updates on their businesses.
Below are brief reports on individual presentations from the conference on Tuesday. A recap of Day 1's news is available here. 
Thermo Fisher Scientific 
Thermo Fisher Scientific CEO Marc Casper highlighted the firm's 2022 accomplishments, including its recent £2.25 billion acquisition of UK-based specialty diagnostics firm The Binding Site at a Tuesday morning session. Announced in October, Thermo Fisher closed the deal Jan. 3.
Having kept an eye on The Binding Site for nearly a decade, buying it was "not a new idea," Casper said during the Q&A portion of his talk. Rather, several financial conditions aligned to allow Thermo Fisher to swoop in. Funding costs for private equity companies went up, warding off potential competition, while the pound sterling's relative weakness compared to the dollar allowed the company to "leverage that moment of time on exchange rates," he said. 
Overall, 2022 was "one of our best years ever," he said, noting several product launches including the Sanger sequencing-based Applied Biosystems SeqStudio Flex genetic analyzer and the Orbitrap Ascend Tribrid mass spectrometer. 
Casper also highlighted the firm's December announcement of loftier ambitions for cutting greenhouse gas emissions. The firm now plans to decrease its Scope 1 and 2 — the emissions it has the most control over — by 50 percent by 2030, up from 30 percent. 
Looking ahead, Casper said he is "even more excited about 2023." Regarding price increases in 2022 of approximately 3 percent that had been passed on to customers, Casper suggested that prices "will not revert back to normal but won't be as elevated as in 2022." 
The firm had recently guided to foreign exchange headwinds of approximately $1 billion. However, the current foreign exchange environment is "more positive than it was" and the impact will likely be less, Casper said. 
Lastly, he noted that Thermo Fisher has "substantial firepower… in terms of the ability to deploy capital," with approximately $50 billion available over the next three years. 
Agilent Technologies 
Agilent Technologies CEO Mike McMullen highlighted the firm's recent $725 million commitment to expand its therapeutic nucleic acid manufacturing capabilities in his presentation. 
On Monday, the firm announced it would invest to double manufacturing capacity at its Frederick, Colorado, facility in response to growing demand in a market it values at $1 billion now and up to $2.4 billion by 2027. The funding will create two additional manufacturing lines, or trains, which will produce siRNA, antisense oligos, and CRISPR guide RNAs by 2026. 
Agilent already has one train running and the second train will become operational midyear, adding at least $150 million in revenue capacity and ramping to full production by the end of the firm's fiscal year in September. The company's existing business crossed the $300 million revenue threshold in fiscal year 2022. "We're on the road to a $1 billion revenue business," McMullen said. 
During the Q&A portion of the session, Agilent CFO Robert McMahon said he was "confident" there will be enough demand for these molecules, based on conversations with existing customers about their future clinical trials. "If you look at the areas for oligo therapeutics being targeted, they're broader and broader patient populations," he said. 
McMullen also touched on the firm's recent collaboration with Akoya Biosciences to commercialize a spatial tissue analysis platform. "It's a great way to participate in the space," he said, noting that the deal was nonexclusive. 
He noted that the firm saw 18 percent growth in China in fiscal year 2022, despite COVID-19 lockdowns in the country that have hampered revenues from that region for many other life sciences tools companies. Cell analysis provided approximately $400 million in revenues in FY2022, he said. 
In November, Agilent provided fiscal 2023 revenue guidance of $6.90 billion to $7.00 billion, or growth in the range of 5 percent to 6.5 percent, and EPS guidance in the range of $5.61 to $5.69. "We have good visibility for the next three to six months," McMullen said. "We really don't know what the back half of the year is going to look like." 
Regarding M&A potential, McMullen reiterated that cell analysis, genomics, and diagnostics "still remain the priority areas for the company." 
Roche
Roche CFO Alan Hippe said in his presentation that COVID-19 sales are fading as the base business grows and the company expects to lose roughly CHF 5 billion ($5.42 billion) in COVID-19 sales in 2023, which represents about 8 percent of total sales and will be hard to compensate for. He did not provide preliminary Q4 or full-year 2022 results but confirmed Roche's 2022 outlook of stable to low-single-digit group sales growth and said he doesn't expect any surprises in the results. 
The COVID-19 pandemic provided a much higher instrument installed base — as of Q3 2022, the firm had about 2,000 high-throughput Cobas 6800/8800 instruments placed. The placements allowed Roche to gain market share in the US and China, Hippe said. 
In the Cobas serum work area, menu expansion is driving future growth with a constant flow of tests, he said. There are more than 100,000 installed Cobas SWA instruments with more than 240 assays available. 
The company is also developing an integrated mass spectrometry instrument that will open a lot of opportunities, and the firm has 30 to 40 mass spec tests in the works, Hippe said. Roche sees the instrument as a significant market opportunity with a CHF 2.9 billion accessible market. Hippe noted that many mass spectrometry instruments are very manual and require a customized approach, but that Roche would like to offer a high-throughput system that doesn't require a lot of manual effort and produces standardized results. 
There is also a benchtop analyzer in development designed for the needs of emerging markets that combines immunochemistry and clinical chemistry, as well as a next-generation sequencing solution that would be integrated with Roche's existing sequencing infrastructure and open the door for high-throughput sequencing, Hippe said. 
Roche Diagnostics has had difficulties with its diagnostics business in China due to COVID-19-related lockdowns, but Hippe said it is getting closer to normalization. However, the chance of future lockdowns is a risk and would have an effect on the business. 
Hippe also mentioned that Roche has made significant investments in artificial intelligence and digital health, spending roughly CHF 3 billion per year on digital opportunities in every area of the company. 
In addition, Hippe said that the firm has a lot of financial flexibility to fund both its own business and M&A and is aiming for bolt-on acquisitions on both the pharmaceutical and diagnostics sides of the business. 
Seer 
Proteogenomics firm Seer more than doubled its revenues and platform installed base year over year in 2022 — its first year of broad commercial release — CEO Omid Farokhzad said in a Tuesday afternoon presentation. 
While most of his talk focused on the relative advantages of the firm's nanotechnology-based protein detection platform, he noted that the firm collected $11 million in revenues in the first nine months of the year and has reached 165 full-time employees. 
He highlighted the firm's new Proteograph Analysis Suite 2.0 workflow and said the firm has placed its next product in the hands of early-access customers, though he did not provide additional information.
The Proteogenomics Consortium, announced at last year's virtual JP Morgan Healthcare meeting in partnership with Discovery Life Sciences and Sciex, has a facility "up and running" in Boston, Farokhzad said, and is ready to receive customer samples. 
"What we've tried to do is take down the accessibility barrier," Seer CFO David Horn said during the Q&A portion of the session. The consortium allows access to the technology for researchers who may not yet be interested in buying the platform. "We don't want [Seer] to be a service business," he added. 
In 2023, the firm will seek to obtain ISO 13485 certification to enable future clinical validation of its proteograph technology. 
Seer's pipeline is split "50-50" between commercial and academic entities; however, the current customer base is 60-40 in favor of commercial entities. Commercial customers are "more positioned to pursue large-scale studies quicker," Horn noted. 
For example, PrognomiQ, a multiomic liquid biopsy firm spun off of Seer prior to its 2020 IPO, is planning a 15,000-subject study. 
In Tuesday trading on the Nasdaq, shares of Seer were up nearly 13 percent at $5.67. 
Abbott 
Despite the tough macroenvironment conditions, such as supply chain issues and labor shortages, that are acting as headwinds on the business, Abbott CEO Robert Ford in his presentation said that the firm has seen positive momentum since Q3 2022 as some of those headwinds have slightly abated. Abbott took advantage of its leadership position in COVID-19 testing to make investments in new technologies for non-COVID-19 diagnostics. Piggybacking off some of the R&D work already done for its COVID-19 tests means that the company doesn't have to put the same amount of investment into R&D this year to deliver top-line growth and that there is a lot of strategic flexibility within the business due to its strong balance sheet. 
Although demand for COVID-19 testing will come down, Abbott still sees a continued need for testing as the virus becomes endemic, Ford said. The challenge in an endemic environment, Ford noted, is that the firm knows that while COVID-19 testing will decline, there's a lack of clarity in how quickly and at what rate those levels will decrease. The expected decline in 2022 didn't materialize, raising questions about how the transition from pandemic to endemic COVID-19 testing will go. Ford said Abbott will be a leader in the segment regardless due to its portfolio and the position, scale, and economic value it brings to the market. 
Regardless, COVID-19 testing will still be important, either because of variants that will escape immunity or increases in respiratory testing overall during Q1 and Q4, correlating with the respiratory season in the Northern Hemisphere. "When those [tests increase], it actually brings along all testing," as users want to know what disease they have, whether its COVID-19, influenza, or respiratory syncytial virus, he said. 
The pandemic provided the public more access to rapid testing, opening up a whole new testing channel for Abbott, which it has taken advantage of to bring more assays into the market, Ford said. 
He forecast high-single-digit percentage growth moving into 2023, similar to pre-pandemic growth rates, while noting that there have been challenges with input costs, inflation, and some supply chain disruption. Disruptions have been mitigated because of the company's diversity in businesses and geographies and its lack of reliance on a single product or platform, leaving it well positioned to weather any storms or recessionary periods. 
As for the pipeline, Ford said that there is a mix of iterative projects and more transformational ones. For the diagnostics space, the No.1 R&D investment that Abbott can make is to increase the menu that will run on the instruments that it placed during the pandemic. Ford highlighted its blood-based traumatic brain injury assay to determine whether someone has experienced a TBI within 15 minutes. The test received 510(k) clearance from the US Food and Drug Administration in 2021 for use by physicians, but Abbott is working to move it to other settings outside of the laboratory. 
Ford also addressed potential M&A opportunity, noting that its strong balance sheet "leaves plenty of firepower" for deals and that the company has strategic flexibility. The two key factors for M&A are whether there's a strategic fit, since Abbott doesn't want to dilute its growth rate or top line, and whether it fits financially. Strategically, Ford said that there is more of a focus on the firm's medical devices and diagnostics business for M&A and that Abbott sees a lot of opportunity and potential targets. On the financial side, he noted that there are many targets that may not have made sense financially in 2021 or 2022, but have now started to make sense. 
He emphasized, however, that Abbott doesn't feel it needs M&A to reach its long-term growth goals, allowing it to be more opportunistic with any deals it makes. 
Becton Dickinson 
Becton Dickinson CEO Tom Polen emphasized "BD 2025," the firm's three-year-old strategy to deploy organic R&D and tuck-in M&A in order to drive a shift to higher-growth end markets. 
"We are executing very well, and have set the foundation for durable, profitable growth," Polen told the JPM audience. 
Polen boasted that the Franklin Lakes, New Jersey-based firm launched 25 new products in fiscal year 2022 and projected it would launch more than 100 by 2025. A quarter of these new products have the potential to generate more than $50 million per year five years after launch, he said. Overall, the firm's R&D initiatives are on track to double new product revenue by 2025. 
The new products that Polen highlighted in BD's life sciences division included the BD Max Plus, new BD Cor and BD Max Respiratory panels, and the BD Veritor combination COVID and influenza point-of-care test. The firm has launched two assays for the BD Cor system so far, with three more in the pipeline through 2024. BD is developing an over-the-counter at-home flu/COVID combination test, Polen said, while the company also teased a POC molecular system, trademarked BD Elience. 
Within microbiology, key products in development include the Synapsys ID/AST system, the BD Kiestra 3rd Generation Lab Automation System, and a next-generation version of the BACTEC system. For single cell analysis, BD anticipates launching the FACSDiscover S8 Cell Sorter in the second half of the year, followed by the FACSDuet Premium and additional BD Horizon RealBlue and RealYellow dyes. 
For FY 2022, "with base revenue growth of 9 percent, we exceeded our revenue and earnings guidance, and achieved our margin expansion goals," Polen said, adding that this was despite the continued macroenvironment challenges. He provided FY23 base revenue growth guidance of 5.25 percent to 6.25 percent and adjusted EPS of $11.85 to $12.10 implying approximately 9 percent to 11 percent currency neutral growth. 
"The future has never been brighter for BD," Polen said. 
Danaher 
During his presentation, Danaher CEO Rainer Blair provided additional color on his firm's preliminary Q4 earnings results announced after the close of the market on Monday. The company's estimated Q4 revenues are anticipated to increase in the low-single-digit percent range year over year, with Q4 core revenue growth in the high-single-digit percent range. The firm previously released guidance predicting flat to low-single-digit percent declines in core revenue growth, but better than expected respiratory testing revenues driven by growth in Danaher subsidiary Cepheid. The firm saw more than $1 billion in respiratory testing revenue during Q4, Blair said. 
Base business core revenue growth is expected to be in line with the company's previous guidance in the high-single-digit percent range. 
Blair also provided additional details on the planned spinout of Danaher's environmental and applied solutions business — containing its water quality and product identification segments — that was announced in September. The separation is on track to be completed by Q4 of this year and will allow both companies to reach their full potential, Blair said. Long-term performance for the new business, referred to as EAS, is expected to reach mid-single-digit core revenue growth with about 55 percent recurring revenue. The new company will also be able to meaningfully deploy cash for M&A, Blair said. 
Danaher is also changing the makeup of its other product segments, extracting the biotechnology business, including Cytiva and Pall, from the life sciences segment. Biotechnology revenues are estimated to be about $8.8 billion for 2022, with Cytiva contributing about $6.0 billion. Life sciences revenues are anticipated to be around $7.0 billion and diagnostics revenues around $10.8 billion. While the diagnostics business outperformed expectations, Blair said that Beckman Coulter saw some headwinds from COVID-19 outbreaks in China that impacted patient volumes in the fourth quarter. The bioprocessing and life science instruments businesses grew as expected in the high-single-digit percent range. 
The long-term growth rates for all three business segments after the EAS separation are expected to be in the high-single-digit percent range, Blair added. The company is rerating its growth and margin profile higher after the separation, forecasting low double-digit growth for the molecular diagnostic business, strong double-digit growth in the genomic franchises, and core revenue growth in the high-single digits. 
Regarding China, Blair said despite the widespread COVID-19 outbreaks, the life sciences instruments business continues to be very strong even into the fourth quarter of 2022. Danaher expects the markets to release pent-up demand in the second half of 2023, and the company remains bullish on the nation as a long-term growth market. The firm is "just scratching the surface" on meeting the needs of the Chinese population from a healthcare perspective, he added. 
Sophia Genetics 
As it strives for profitability, Sophia Genetics touted its recent partnership agreements, including an announcement earlier on Tuesday that the Swiss-American company has entered into a collaboration with New York's Memorial Sloan Kettering Cancer Center to combine predictive algorithms to offer new testing and analytical capabilities to cancer researchers and clinicians worldwide. 
Cofounder and CEO Jurgi Camblong also referenced deals with Microsoft, Agilent Technologies, AstraZeneca, and Boundless Bio as engines for growing its customer base to what now stands as more than 750 hospitals in Europe and the US. That base then allows the company to pursue a strategy of "land and expand," in which customers start with an application or two from Sophia and then purchase more services as the first ones prove useful, according to Camblong. 
The strategy led to "core growth acceleration" in the 2022 fourth quarter, according to CFO Ross Muken. He expects that acceleration to continue in 2023. 
Sophia did not offer any preliminary results for 2022, but Camblong did reference an earlier estimate of full-year revenues of $47.0 million to $49.5 million, representing 30 to 35 percent growth over 2021. He also said that the company continues to have trouble with foreign exchange, as the bulk of its business is in Europe, but financial results are expressed in US dollars. 
In the new year, the company will be focusing on multimodal data analytics, somatic oncology, comprehensive genomic profiling, commercializing Memorial Sloan Kettering's MSK-ACCESS clinical liquid biopsy assay, and refining its data strategy for the biopharma market, Camblong said. Sophia has recently been emphasizing its work in non-small cell lung cancer with its CarePath multimodal analytics module for its Data Driven Medicine (DDM) bioinformatics platform.