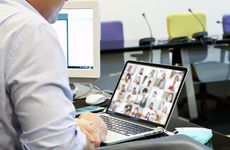 NEW YORK – The 39th Annual JP Morgan Healthcare Conference kicked off on Monday, but instead of the usual crush of investors and presenters in the Westin St. Francis Hotel in San Francisco, this year the conference was held completely online due to the ongoing coronavirus pandemic. Nonetheless, the conference got off to its normal busy start with several diagnostics and genomics tools firms making their case to investors. Below are brief reports on individual presentations webcast by the companies or through the JP Morgan conference portal.
---
Roche
Roche CFO Alan Hippe said at the conference on Monday that the firm's diagnostic test capacity and installed based has "grown significantly" along with the greater emphasis on testing during the COVID-19 pandemic.
"COVID brought testing and diagnostics to a different level," and Roche expects to benefit in the first half of 2021 from increases in its installed base and capacities, Hippe said.
"We still think that testing will be important moving [forward], especially in the first half of 2021," he said, adding that serology testing is expected to be especially important as people who have been vaccinated look to test for COVID-19 antibodies.
During the year, Roche will further ramp up capacities for its PCR, rapid antigen, and rapid antibody tests, Hippe said.
The company noted in its presentation that its installed base has grown to 1,000 for its high-throughput Cobas 6800 and 8800 analyzers, which are used to run its Cobas SARS-CoV and Cobas SARS-CoV-2 & Influenza A/B tests. The analyzers enable between about 1,500 and 4,000 tests to be processed in 24 hours. In 2021, testing capacity using these analyzers is expected to be greater than 20 million per month, according to Roche.
Meanwhile, the installed base of the firm's high-throughput e411/601/602/801 line of analyzers, which enable up to 300 tests per hour, is now around 40,000. The analyzers are used to run the Elecsys Anti-SARS-CoV-2, Elecsys Anti-SARS-CoV-2 S, SARS-CoV-2 rapid antibody, and Elecsys Anti-SARS-CoV-2 antigen tests. In 2021, testing capacities for the analyzers are expected to reach 100 million per month.
Further, Roche noted that the installed base now exceeds 5,000 Cobas Liat analyzers, which are used to run its SARS-CoV-2 and Influenza A/B point-of-care tests in about 20 minutes. In 2021, testing capacities for the Liat are expected to reach about 1 million tests per month, the firm said.
Roche further expects that its rapid antigen tests, which operate without an instrument and test for SARS-CoV-2 as well as SARS-CoV-2 & Influenza A/B, will reach a capacity of about 80 million per month in 2021.
Hippe confirmed Roche's previously announced full-year 2020 guidance for low- to mid-single-digit percent sales growth, but added that he anticipates its growth will be "perhaps more on the low-[single-digit] side."
"After a period of consolidation by the end of Q3 [and] beginning of Q4, the overall healthcare market went back into a lockdown mode …. and Q4 didn't get back as much [toward] the new normal as we had hoped for, at least not on the pharma side," he said. "During the pandemic we provided low-single-digit sales growth … while losing $5.05 billion in sales due to biosimilars competition. At the same time, we invested roughly $1 billion more into R&D, at constant rates, while defending the margin."
Within diagnostics, in the second half of 2021, the firm expects to experience a "pretty heavy base effect" because of the strength in sales of its high-throughput and point-of-care tests during the second half of 2020, Hippe said.
---
Seer
Seer Founder and CEO Omid Farokhzad laid out the startup's plan for commercializing its Proteograph Product Suite, emphasizing its potential to streamline and boost the performance of mass spectrometry-based proteomic workflows.
In particular, he emphasized the growing proteogenomics space as a key area of opportunity for the company, arguing that its technology will allow for more streamlined proteomic analyses that approach the depth and throughput of genomic studies.
Seer's Proteograph system uses nanoparticle-based enrichment of proteins in samples like human plasma to enable deeper proteomic discovery experiments at high throughput. The technology is based on the observation that when incubated in a biological sample, nanoparticles collect proteins, which form a "corona." Given this, nanoparticles can serve as an enrichment tool, allowing researchers to pull proteins out of a sample, which they can then identify and quantify using technologies like mass spec.
Farokhzad said the Proteograph system comprises proprietary nanoparticle panels, an OEM instrument, and software for data analysis. Customers can process 16 samples in parallel on the instrument using a seven-hour workflow that involves roughly 30 minutes of hands-on work, he said. The prepared samples can then be analyzed, which will typically be done by mass spec.
Farokhzad highlighted commercialization deals Seer announced Monday with Bruker and Thermo Fisher Scientific that allow it to sell its platform with Bruker's timsTOF Pro mass spectrometer and Thermo Fisher's Orbitrap Eclipse Tribrid and Exploris 480 instruments.
Seer is currently in the initial phase of commercializing the Proteograph system, having placed it at a small number of sites that Farokhzad said include the Broad Institute, the Oregon Health & Science University's Knight Cancer Institute, and Discovery Life Sciences. He said the company expects this initial phase to last through the first half of 2021, followed by an early-access release to a limited number of customers, prioritizing "customers that can scale quickly and demonstrate the power and utility of our platform."
Farokhzad said the company is planning for a broad commercial launch in 2022. He added that while Seer will initially generate most of its revenues from instrument sales, it expects that ultimately consumables will make up the bulk of the company's revenues.
In addition to traditional proteomics researchers, Seer is targeting genomic researchers interested in integrating proteomics with their genomics data. Thus far, the challenge to such work "has really been the scalability on the proteomics side," said Farokhzad. "That has really been the missing link in that work, proteogenomics."
He cited unpublished data on the use of its platform to analyze the proteomes of samples from subjects who had undergone genomic sequencing, noting that it was able to detect an average of 69 protein variants per subject, providing proof that genetic alterations were being translated to the protein level.
---
10x Genomics
10x Genomics CEO Serge Saxonov said the company is developing a new high-throughput Chromium instrument that will be able to process 1 million cells at a time.
The Chromium X, expected to launch in the second half of this year, is one of several new products Saxonov previewed in his conference presentation. The Pleasanton, California-based firm will also be launching a lower-throughput Chromium kit available later this quarter to reduce the cost barrier to entry; a new Chromium sample prep kit to enable single-cell analysis of specially fixed cells, expected in the second half of the year; a new Visium HD assay that offers 400 times greater spatial resolution, approaching the level of a single cell, expected in 2022; and Visium CytAssist, a new instrument to convert standard histology slides for use with that platform, also expected in 2022.
In terms of previously announced products, Saxonov discussed the firm's CellPlex technology, which enables customers to run multiple samples in a single 10x channel and reduce costs by up to 60 percent. It can be combined with new targeted single-cell sequencing assays, "allowing customers to scale up to much larger studies," Saxonov said, adding that he expects the product to "accelerate adoption and increase total dollars spent on single-cell experiments."
A new reagent kit that makes Visium compatible with formalin-fixed paraffin-embedded samples (FFPE), based on a new chemistry, is expected in the second quarter. The firm has also launched the 10x Cloud, which provides cloud computing-based data storage and analysis to all customers at no extra cost.
The forthcoming Chromium X will "supercharge existing applications," Saxonov said, and will cost approximately $100,000. The standard Chromium controller, by comparison, can create single-cell libraries for tens of thousands of cells, according to 10x. Saxonov said the new instrument will enable its "most forward-looking customers" to conduct bigger cell atlas studies, combinatorial drug screening studies, and immune cell profiling studies. Longer term, it will also enable large cohort studies and even population-scale single-cell studies, he said.
10x's new kits for FFPE-compatible Visium are based on an entirely new, non-poly-A chemistry. It is "more robust and can measure more classes of RNA molecules," Saxonov said, noting that its sensitivity is "on par with analyzing fresh tissues."
Saxonov said that the firm's pharma business is "growing at a similar rate as academic" and accounts for between 20 and 25 percent of its total business.
He also reiterated that the firm would be developing a new platform based on its acquisitions of ReadCoor's platform and Cartana's spatial gene expression technology. "The actual platform is going to be driven by our own convictions of what customers need," he said.
"When we're ready, we're going to talk about a roadmap and commercialization, but that time is not yet [here]."
---
Guardant Health
Guardant Health CEO Helmy Eltoukhy said that his firm, formerly focused solely on blood-based cancer genotyping, plans to launch two new products this year, including a comprehensive tissue sequencing assay that would compete with tests from leaders in the space like Foundation Medicine, Caris Life Sciences, and others.
The company also intends to release a minimal residual disease test it has now dubbed GuardantReveal, formerly known as Lunar-1, by the end of the first quarter of 2021, although the long-term trials assessing the assays clinical impact are still ongoing.
Guardant said the Reveal assay has a seven-day turnaround time and is intended to detect residual disease and surveil for emerging recurrences in patients with earlier-stage cancer who have had surgery or other treatments with curative intent.
Currently the test is for use only in colorectal cancer patients, but the company is also working to validate it in additional tumor types. Unlike some other blood-based MRD tests, such as Natera's Signatera, which require upfront tissue sequencing to create patient specific liquid biopsy assays, GuardantReveal is universal and performed directly on blood without the need for tissue samples.
The firm's most recent data for the assay demonstrated 91 percent sensitivity and 100 percent specificity for recurrence detection.
Outside of these new product launches, the Redwood City, California-based firm also believes it will see growing adoption of its existing tumor genotyping tests, following the approval it received last year from the US Food and Drug Administration for the CDx version of its core assay, Guardant360.
The company believes that Guardant360 CDx — which is approved for genomic profiling of all solid tumors, and as a companion diagnostic to determine patient eligibility for the EGFR-targeting drug osimertinib (AstraZeneca's Tagrisso) — will be critical in accelerating adoption of liquid biopsy testing, especially among oncologists who have been on the sidelines with respect to comprehensive genomic profiling.
Guardant also launched an update to the LDT version of Guardant360 last year, adding both additional targets and what the firm believes to be a best-in-class blood-based calculation of tumor mutational burden.
Eltoukhy said that Guardant's 2020 Q1, Q2, and Q3 test volumes increased 60 percent, 15, percent, and 28 percent respectively year over year, growing to just under 17,000 tests in the third quarter last year, driven by further shifts in the cancer genotyping market to a blood-first paradigm, and expansion in the use of repeat testing.
But as much progress as the firm has made, it's CEO said that it's clear that Guardant is still very much in the early innings of adoption for the 700,000 patients that have metastatic disease of solid tumors, and there is "ample room" for it to further fill the lingering gap between clinical guidelines and clinical practice.
Areas outside of standard tumor profiling that the company continues to pursue for Guardant360 include the molecular assessment and tracking of therapy response.
Finally, Eltoukhy reiterated Guardant's confidence that it is on track to complete enrollment of the ongoing prospective study of its Lunar-2 colorectal cancer screening assay by the end of this year. If successful, this ECLIPSE trial is expected to play a pivotal role in a potential FDA submission.
---
Hologic
Hologic Chairman, President, and CEO Steve MacMillan said that due to demand for coronavirus testing, the company delivered 25 million tests to customers in its fiscal fourth quarter ended Sept. 26, 2020, and about 30 million in its fiscal first quarter of 2021 ended Dec. 26, 2020.
Prior to that, the Marlborough, Massachusetts-based company had "never made much more than 21 million tests in a quarter," including IVD tests for all conditions, MacMillan said.
Hologic noted in its presentation that it placed 511 Panther molecular diagnostic systems in fiscal year 2020 and 150 in fiscal Q1 2021, growing its installed base to 2,400 instruments globally.
Though there is still no way to predict future testing volumes, Hologic is well placed to withstand future shifts in the market, MacMillan said. The company's customers, including hospitals and reference laboratories, continue to add new Panther systems, with 18 approved assays, and in some cases, are replacing the firm's older Tigris molecular diagnostic systems, which have only four approved assays, MacMillan said.
Though pandemic-related demand for its tests and Panther systems is likely "to be strong, at least for the next few quarters," when testing demand for COVID-19 eventually lessens, Hologic has that "natural offset" of a larger installed base and larger menus, he said. "Will it be a 100 percent offset? Maybe, maybe not … but at the end of the day, we have a lot of pent up demand that will be kicking in onto these new products," MacMillan said.
Last week, Hologic said it will acquire San Diego-based molecular diagnostics firm Biotheranostics for approximately $230 million, and on Friday it announced preliminary revenue growth of 89 percent for its fiscal first quarter 2021.
The acquisition of Biotheranostics reflects the company's objective of strengthening its core businesses by investing cash it continues to generate. "The Biotheranostics business, which is PCR testing in the breast cancer space, [is] a great fit for us," MacMillan said.
---
Tempus
Chicago-based diagnostics company Tempus provided the first look at Tempus One, a portable, voice-enabled, artificial intelligence-powered device that oncologists can query for information about their patients' molecular test results, clinical trial options, and treatment outcomes. According to Tempus Founder and CEO Eric Lefkofsky, the cube-shaped device that can rest on a desk or fit into a doctor's pocket is the result of several years of R&D at the company and is now available to select oncologists through a beta launch.
Lefkofsky said the device represents the "physical manifestation" of Tempus' database, which contains not only patients' molecular test results, but also information from other pathology and imaging tests, treatment outcomes, as well as structured and unstructured data stored in their electronic health records. The device queries nearly 30 petabytes of data in Tempus' database, which is growing at 1 petabyte per month.
"We're fundamentally trying to make diagnostics as intelligent as we can by combining vast amounts of real-time data," Lefkofsky said, adding that Tempus decided to use AI to improve doctors' access to lab test results, since that's an aspect of their patients' care that they interact with daily. "AI will enter healthcare through intelligent diagnostics as the first major step," he predicted, "and eventually work its way into AI-enabled therapeutics or AI-enabled clinical support."
There are approximately 7,500 oncologists contributing their patients' information to Tempus' platform and around 2,000 Tempus employees are working on this AI-enabled diagnostic solution, collecting, organizing, and contextualizing the real-world data. Tempus is also collaborating with several healthcare organizations, through which it gleans structured and unstructured patient information from data warehouses or directly from the EHR. "We're pinging that database periodically to get updates," Lefkofsky said, explaining that every six to 12 months Tempus restructures the clinical data on a patient in its database using technology and human curators.
Lefkofsky said that oncologists can ask Tempus One the types of questions they might ask a tumor board. For example, oncologists may ask the cube what actionable molecular markers a patient has, a patient's prognosis based on their cancer diagnosis and molecular markers, the disease-associated germline mutations the patient may have inherited, and the clinical trial closest to the ordering physician.
During the beta launch, Tempus wants oncologists to test Tempus One in their clinical workflows. The company plans to broadly launch the device later this year. Eventually, Lefkofsky envisions that the device will be able to query, diagnose, and guide care decisions for patients longitudinally at every phase of their journey through the healthcare system.
---
Thermo Fisher Scientific
Thermo Fisher Scientific President, Chairman, and CEO Marc Casper recapitulated the company's strong performance in 2020, driven both by COVID-19-related demand and by the company's base business.
"We wound up playing an extraordinary role in supporting the global pandemic response," Casper said, including COVID-19 testing and the development and production of therapies and vaccines.
The firm expects fourth quarter 2020 reported and organic revenues to grow by approximately 50 percent year over year, and full-year revenues by about 25 percent. This exceeds its estimate last month, when the firm said it anticipated organic revenue growth of 40 percent and full-year organic revenue growth of 22 percent. Thermo Fisher will provide full financial results for the quarter and the year on Feb. 1.
"We're exceptionally well positioned as we enter 2021," Casper said. "Our base business performance is strengthening and we have a significant role in the [pandemic] response, which is driving very significant revenue generation."
Going forward, he expects the company's long-term annual growth to be bigger than its usual 5 percent to 7 percent. The pandemic has shown that it is possible to move at "COVID speed," he said, and "there is no going back."
Casper also hinted at future acquisitions. "From an M&A perspective, we're busy," he said. "Our pipeline is very full, very active, and I'm looking forward to continue to progress that pipeline in 2021."
---
Bruker
Bruker President and CEO Frank Laukien said Monday that the firm anticipates Q4 2020 revenue between $620 million and $625 million, which he noted was substantially higher than the current Wall Street consensus estimate of $587 million.
He added that while the company had previously expected a year-over-year Q4 revenue decline between 2 percent and 6 percent, it was now looking at growth of 3 percent to 4 percent, driven both by organic revenue growth and currency effects.
Laukien said Bruker expected "pretty strong" year-over-year revenue growth and earnings per share in 2021 with organic revenue growth in the "high-single digits."
Reviewing the company's addressable markets, Laukien highlighted proteomics and spatial and single-cell biology as "breakout opportunities."
Much of Bruker's growth in proteomics has been driven by its timsTOF mass spec technology and its trapped ion mobility spectrometry (TIMS) technology, which Laukien noted differentiates it from other LC-MS/MS methods. He said that Bruker has placed 250 timsTOF instruments to date, and said that the company was intent on making a bigger push into plasma proteomics.
Related to this plasma proteomics push, proteomics firm Seer said Monday that it has signed a non-exclusive commercial agreement with Bruker to sell the timsTOF Pro with its Proteograph Product Suite, which uses nanoparticle-based enrichment of proteins in samples like human plasma to enable deeper proteomic discovery experiments at high throughput.
"We think [Seer's] vision for proteomic and proteogenomics is spot on, and we look forward to collaborating with them," Laukien said.
He also highlighted the company's move into single-cell proteomics, citing a recent publication by researchers at the Max Planck Institute of Biochemistry using a modified version of the timsTOF Pro for single-cell proteomics.
Laukien noted that Bruker's acquisition of Canopy Biosciences in September gave the company new capabilities in spatial biology and single-cell targeted multiomics.
Bruker has also moved into molecular SARS-CoV-2 testing, generating around $30 million from this business in 2020. Laukien said the company expects double-digit growth in viral and SARS-CoV-2 testing in 2021. Last month it launched a four-plex PCR panel that includes tests for SARS-CoV-2, influenza A and B, and RSV. It is also developing an automated antigen test for the virus as well as a lateral flow assay for rapid antigen SARS-CoV-2 testing, both intended for sale in Europe.
In terms of its traditional microbiology testing, Laukien said that Bruker has placed roughly 4,300 MALDI Biotypers around the world. At the end of December, it received US Food and Drug Administration clearance for its MBT Sepsityper tool for identifying bacteria from positive blood cultures.
---
Myriad Genetics
Myriad Genetics CEO Paul Diaz further discussed the company's strategy to reorganize its business after several quarters of declining revenues and negative impact from the COVID-19 pandemic. After a review of its business, the company recently announced that it would focus on growing its leadership position in the women's health, hereditary cancer, and mental health segments, and concentrate on growing its presence in certain international markets, such as Germany, France, and Japan. Meanwhile, the company will sell its autoimmune business, including the Vectra DA rheumatoid arthritis test, the Myriad RBM pharmaceutical contract research services business, and the myPath Melanoma dermatology test.
As part of its international growth strategy, the company announced on Monday that it was collaborating with Illumina to create a kit-based version of its myChoice CDx for international markets. The partnership will leverage Illumina's customer base for its TruSight Oncology 500 NGS test, and Myriad's experience advancing its homologous recombination repair deficiency lab-developed test, which gauges BRCA1/2 mutations and a genomic instability score based on analysis of three DNA damage biomarkers.
Diaz said this will hopefully be one of many partnerships that will grow Myriad's international presence. Historically Myriad has taken a "go it alone" approach, he acknowledged, but as part of its reorganization, the firm will look for partnership opportunities with other companies, health systems, employers, and payors.
He highlighted the GeneSight PGx test, which helps doctors guide treatments for patients with depression and other psychiatric conditions, as another growth opportunity, particularly during the COVID-19 pandemic when people are struggling with mental health issues. The company began shipping at-home sample collection kits for the test over the summer and has noted growing interest among payors for strategies to address the mental health crisis.
Meanwhile, due to the pandemic, the company is remaining conservative and holding off on providing future revenue guidance. "Given the resurgence of COVID, and [the fact that] the last couple of days have been just horrific, one should be prepared … for a pretty flat couple of quarters," Diaz said. Even though the company has implemented new sales strategies to mitigate the impact of the pandemic, he acknowledged that "even hanging on to the gains we have made requires a lot of work."
---
Adaptive Biotechnologies
In conjunction with its presentation, Adaptive Biotechnologies announced a new partnership with AstraZeneca focused on applying Adaptive's ImmunoSeq T-Map product across the pharma giant's oncology portfolio.
The deal marks the "first extension of [ImmunoSeq] T-Map into cancer," Adaptive CEO and Cofounder Chad Robins said in a conference session. The product quantitatively maps T-cell receptors to antigens that elicit an immune response. "It's the first pure data play in cancer" stemming from the firm's antigen mapping partnership with Microsoft, Robins said, adding that the mapping data "can inform signatures of immune response to AstraZeneca's cancer therapies."
Throughout 2020, the firm also signed 25 core lab partnerships around ImmunoSeq, the firm's research assay, he noted, and the AstraZeneca deal helps kick off a year that Robins suggested would be filled with important "catalysts" for the company.
In clinical testing, the firm is expanding the number of indications for its ClonoSeq assay and will soon offer blood-based testing. In acute lymphoblastic leukemia, such testing is "right around the corner," Robins said, and multiple myeloma trials are ongoing. Blood-based testing should double the size of the potential patient pool for ClonoSeq, he added.
The firm also launched direct-to-patient marketing campaign for ClonoSeq.
Adaptive President Julie Rubinstein also said the firm was seeing interest in its T-Detect COVID test, which uses TCR profiles to determine whether an individual was infected by SARS-CoV-2. "There's definitely consumer interest in knowing if they had COVID," she said.
The firm's therapeutics projects are also progressing. The firm has opened a new lab in South San Francisco, California to contribute to its personalized cancer therapy collaboration with Roche subsididary Genentech, which is expected to file an investigative new drug application for their first shared product in Q1 2021. The partners expect to have a second investigative new drug filing ready to submit to the US Food and Drug Administration in 2022, Adaptive CSO Harlan Robins said.
---
Bio-Rad Laboratories
Bio-Rad's executives told the virtual audience during its presentation at the conference that the coming year will see the Hercules, California-based firm taking advantage of a projected $200 million opportunity in molecular surveillance of wastewater using digital PCR, and expanding into the single cell sample preparation market for sequencing with its Celsee acquisition.
Meanwhile, it will also grow its Asia Pacific business and further develop its growing bioprocessing and pharmaceutical support business.
CFO Ilan Daskal also said that though Bio-Rad has previously preferred making two to three tuck-in acquisitions each year, Bio-Rad is ready for a larger, transformative deal, ranging from a $1 billion to $2 billion transaction "up to a merger of equals [depending on] what opportunity will arise."
For such a transaction to happen, one must wait for the right opportunity and react quickly, he said, adding that "we are very open-minded ... but we want to entertain a transaction with a unicorn."
Additionally, on the capital deployment front, Bio-Rad will continue to be opportunistic about share buybacks, he added.
Bio-Rad expects $235 million in COVID-19-related sales in 2021, skewing toward its PCR instrumentation business. Chief Operating Officer Andy Last said its open-platform instruments were placed in small- and medium-sized labs globally and can potentially be redirected as needed when the pandemic ultimately abates.
Bio-Rad's only COVID-19 test to date, the Bio-Rad SARS-CoV-2 ddPCR Kit, runs on its droplet digital PCR system and was granted Emergency Use Authorization from the US Food and Drug Administration in May. Although Bio-Rad is "clearly a late mover" in the SARS-CoV-2 RT-qPCR diagnostic assay space, Last said it now expects EUA decisions imminently for two other assays.
These include "one syndromic test and one straight COVID-19 PCR test," Last said, likely referring to singleplex and multiplex RT-qPCR assays for SARS-CoV-2 and influenza. Bio-Rad also expects EUA for a neutralizing antibody test on its BioPlex automated multiplex immunoassay system. For the PCR assays, Bio-Rad will pursue selling them for use with its instrument installed base, but the tests can also be run on any open RT-qPCR platform, Last said.
Company officials said that the firm's droplet digital PCR business continued to grow at double digits through the pandemic, and Bio-Rad sees it as a long-term growth driver with broad applications. A new digital PCR entry from Qiagen, the QiAquity, does not change Bio-Rad's outlook, Last said, but rather is a "testament to the importance of digital PCR to the broader market."
Bio-Rad CEO Norman Schwartz said that Bio-Rad anticipates sustained COVID-19 testing demand well into 2021, but beyond that it is unclear. "We're in a little bit of a new world here," he said.
---
NeoGenomics
NeoGenomics CEO and Chairman Douglas VanOort said that the firm expects to grow at twice the market rate due to significant company-specific growth drivers that will affect its clinical, pharma, and nascent informatics divisions.
Fort Myers, Florida-based NeoGenomics sees itself as a one-stop shop for providers in the cancer community, working with more than 4,400 institutions, hospitals, and oncology practices to ensure that cancer patients can benefit from high-quality diagnostic assays.
Highlighting the growth of its informatics division, which was launched last year, VanOort noted that it uses data generated from about 1 million of the firm's annual clinical division assays.
NeoGenomics is rapidly scaling the informatics business and experimenting with a number of product offerings and services for pharma partners, including matching patients with therapies and clinical trials. The firm hopes to eventually generate $100 million in annual revenue from its informatics business.
"Because companion diagnostics and the ability for us to leverage our vast [oncology] database is so important to us, we created the informatics business," VanOort said. "We're basically leveraging … [the] database to help meet the needs of pharma companies, providers, payors, and in the future, even patients."
VanOort estimated that nearly one-third of NeoGenomics' expected 2021 revenues could stem from its NGS offerings, as well as its pharma and informatics divisions.
After adding a research lab in China late last year, NeoGenomics now plans to launch a new lab in Fort Myers by the second half of 2021. The firm expects to use the lab to invest heavily in its next-generation sequencing (NGS) capabilities, with plans to eventually become a market leader in NGS.
NeoGenomics noted its pharma business is growing about twice as fast as its clinical business. The firm has placed about $180 million worth of signed pharma contracts in backlog in the last two quarterss, while certain short-term contracts have converted to longer projects.
Despite the resurgence of COVID-19 cases in Q4 2020, NeoGenomics noted that it has not impacted test volumes as much as it did earlier in 2020. The firm has noticed that a lot of providers have remained opened and have procedures in place for seeing patients. However, NeoGenomics acknowledged that its clinical trials have dealt with delays due to limited testing volumes at some of its sites.
VanOort also highlighted NeoGenomics' work with Cambridge, UK-based Inivata, noting that the team commercially launched its InVision-First Lung NGS assay last fall. NeoGenomics acquired a minority stake in Inivata, and said it has seen promising validation data on Inivata's RaDaR technology for monitoring residual disease.
---
Twist Bioscience
Twist Bioscience CEO and Cofounder Emily Leproust said the company has grown revenues from $2.3 million in 2016 to $90.1 million 2020 based on its DNA synthesis platform.
As part of its synthetic biology business, Twist offers genes, guide RNAs for CRISPR, variant libraries, and pharma and biotech solutions. In this business, she said, the company is only "scratching the surface" of possible revenues. In 2020, Twist had 1,590 customers, shipped 339,000 genes, and 99 percent of the orders came through its e-commerce platform.
The company estimates that the total market potential for synthetic biology is $1.8 billion a year. Opportunities for getting there include the creation of products that are useful for the pharma industry, such as clonal-ready gene fragments, and the development of software to accelerate order processing.
In the NGS business, Regeneron Pharmaceuticals has signed on as a customer of Twist's SNP genotyping target enrichment panels. Twist's panels are cheaper than the competition's, Leproust said, their content can be evolved, and they are not Caucasian-centric — a "first in population genetics."
Twist had more than 1,000 customers and three SNP microarray conversions for its NGS business in 2020. The company also has a strategy for expanding the market to more than $1 billion a year, including more pilot programs, driving conversions in targeted sequencing, and adding SNP applications.
Overall, Leproust said, the number of customers for Twist's combined synthetic biology and NGS businesses rose 69 percent year over year to 2,200 in 2020 from 1,305 in 2019, and the value of orders rose 67 percent to $117 million in 2020 from $70 million in 2019.
For the future, the company is building drug discovery and data storage businesses. Twist now has 13 biopharma partnerships, including with Pandion Therapeutics, Invetx, Takeda, Seismic Bio, Neogene Therapeutics, and several others, in areas spanning autoimmune and inflammatory diseases, cancer therapeutics, dermatology, infectious diseases, and neuroscience. Leproust emphasized that Twist is not acting as a CRO, earning royalties and milestone payments.
For data storage, the company believes there is a $35 billion market opportunity. Specifically, Twist is going after the long-term archiving slice of the market, which is about 60 percent of the total. As of now, Twist is offering a feature size 50 microns for storage of DNA data on its platform, at $1,000 per megabase. It's currently aiming to bring that down to 10 microns, then 1 micron at $1,000 per gigabase in 2021. In 2022, the firm thinks it will be able to offer customers storage at 150 nanometers at $100 per terabyte, which would be the equivalent of a hard drive.
The company is also laying the groundwork for commercialization by creating a DNA storage alliance with Microsoft, Illumina, Western Digital, and others.
Overall, Leproust noted, Twist's total addressable market for all of its business areas is $3.0 billion.
Leproust also noted that besides partnerships, the firm is looking into the possibility of renting its platform, with some exclusivity built in around geography, timing, or indication. This would mean fewer partnerships but more economic value. She also emphasized that milestone payments and royalties will be a bigger part of economic value for the company in the future.