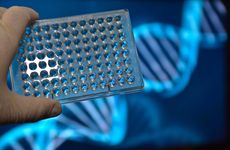 This story has been updated to clarify that Invitae doesn't report variants of uncertain significance within its proactive screening program, but does report them for other clinical diagnostic testing.
MOUNTAIN VIEW, California (GenomeWeb) – Invitae this week shared some early learnings from patients tested within its proactive genetic testing pilot program, and announced a reduced patient-pay price for its panel tests.
Invitae has been conducting a genetic testing pilot program for individuals who lack the personal and family history of disease but who want to learn their genetic risk for diseases. At the Precision Medicine World Conference here this week, Invitae's Chief Medical Officer Robert Nussbaum said that around 1,200 people have been tested in this pilot program for around 130 genes that experts within the company have deemed actionable.
Invitae has rolled out the pilot within internal medicine clinics and concierge medicine groups. Doctors can order the 130-gene panel that gauges markers associated with inherited cancers, cardiovascular conditions, and other inherited diseases; a 50-gene cancer screening panel; and a 70-gene cardiovascular screen panel.
As a self-described genetic information company, Invitae has been focused on scaling up its genetic test offerings, while introducing efficiencies that allow it to charge customers prices lower than many competing clinical diagnostics labs. A few years ago, Invitae introduced a scheme that limited the patient-pay price for any test indication to $475.
"In the spirit of continuing to decrease the cost barrier and increase the accessibility to testing, Invitae is excited to announce that the patient pay pricing for our proactive cancer and cardiovascular screen is now $250," Ed Esplin, head of clinical studies and medical information at Invitae, said at the meeting.
The reduction makes Invitae's pricing on par with the price of genetic cancer risk tests sold by consumer facing companies, such as Color, and some of the genomics apps sold on the Helix online marketplace. Invitae, a traditional medical genetic testing company, has talked about launching an app in partnership with Helix that individuals at low risk for cardiovascular disease or cancer can order to learn their genetic risks for these diseases.
Esplin didn't discuss Invitae's plans for the consumer genomics market at the meeting, but rather presented the price cut as being in line with the company's commitment to making genetic testing more accessible. "Given the increasing availability of low-cost, high-resolution testing, we expect that there will be a gradual transition in genetics from more reactive diagnostic testing to more proactive testing being incorporated into individuals' health management," he said.
Based on an initial crop of 750 individuals who received proactive genetic testing, Invitae found a higher-than-expected proportion of patients ― 15 percent ― received positive genetic test results. Many of the positive results were in well-known cardiovascular and cancer risk genes. Around 42 percent of those with positive results had no information about personal or family history of diseases; 39 percent had some information for one or two conditions; 15 percent had no known risk factors; and 3 percent had limited or unknown family history.
One of the challenges of conducting a proactive genetic testing program in healthy individuals is making sure that people understand when a screening test is appropriate versus a diagnostic test. Since asymptomatic individuals are being tested within the pilot, "we try very hard to make sure people understand that this is not a diagnostic test," Nussbaum said.
Moreover, within its proactive screening program, the company only returns results when testing identifies genetic variants that are pathogenic or likely pathogenic. Even if testing detects variants of unknown significance, that variant is not reported to the patient's doctor until additional research reclassifies it to likely pathogenic or pathogenic. (In other clinical diagnostic test reports, however, Invitae does report VUS.)
Esplin highlighted the experience of two patients who received positive test results that led to changes to their clinical management. For example, an athletic 40-year old man without any personal or family history of illness sought out genetic testing wanting to be more proactive about his health. Testing identified a pathogenic PKP2 variant.
Mutations in this gene have been found in people with arrhythmogenic right ventricular cardiomyopathy (ARVC), an inherited condition that weakens the heart's ability to pump blood, causes abnormal heart rhythms, and can result in sudden death. Cardiac imaging revealed early signs of the disease in this man. His doctor recommended lifestyle and exercise changes.
Another woman in her 50s, also without personal or family history of disease, got testing within the pilot and learned she had a pathogenic BRCA1 mutation associated with heightened risk of breast and ovarian cancer. Her doctor recommended a more intensive cancer screening plan in line with current guidelines and genetic screening for relatives.
The early experience in this pilot suggests, according to Esplin, that a genetic screening program in a relatively healthy population would identify actionable results in more people than would be expected, and these results could provide the impetus to proactively screen these individuals for diseases earlier.
"We're currently collecting [outcomes] data so we can better assess ... the benefit of this kind of genetic risk screening," he said.