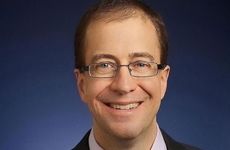 GenomeWeb (NEW YORK) – Eric Dishman has spent his career thinking about how technology can give patients a voice in their care, how cities can be rewired to support the elderly, and how competing institutions can share data and learn from each other. For most of that time, Dishman was also a patient battling a rare type of kidney cancer, enduring 36 treatment plans over two decades and surviving three brushes with death. 
Dishman's personal and professional experiences have helped him land his latest gig as director of the NIH's Precision Medicine Initiative Cohort Program. In this role — the kind of opportunity that Dishman told GenomeWeb comes once in a lifetime — he will lead the NIH's efforts to assemble a cohort of 1 million volunteers who will contribute billions of data points that over time will power research to improve our understanding of diseases and make healthcare more individualized.
Previously, Dishman was part of the PMI working group that came up with the design of the study, and those who interacted with him said he contributed thoughtful ideas, was eager to learn from other people's expertise, and he was passionate about precision medicine. People have described him as a pioneering thinker when it comes to using telehealth and electronic medical records for healthcare research.
But they also recognized the value of having a leader who has experienced imprecise medicine firsthand and, ultimately, benefitted from its precision. "He's in it for all the right reasons," said Joshua Denny, an associate professor of bioinformatics at Vanderbilt University, who worked alongside Dishman in the PMI working group.
"I'm on this planet thanks to being an early prototype of precision medicine," said Dishman, who most recently was VP of Intel's health and life sciences group.
About six years ago, he was an early recipient of whole-genome sequencing. In a 2013 TED Talk, he explained that the WGS data took two weeks to process on Intel's highest end servers and another seven months to analyze and interpret.
"It wasn't just a prototype for me," Dishman recalled. "It was a prototype for my whole clinical team. What the heck do you do with a whole-genome sequence and how do you incorporate it into care for somebody?" Based on the sequencing results, doctors were able to treat Dishman with a targeted drug, after which he received a kidney transplant and has been cancer free for about four years.
While at Intel, Dishman led efforts to create open-source platforms and tools that researchers can use to make discoveries and make personalized medicine accessible to everyone. He said during his TED Talk that he wanted a future where every patient in every clinic had access to whole-genome sequencing. Now, as the director of the PMI Cohort Program, he will be in charge of laying the groundwork toward just such a future.
Since President Barack Obama announced the PMI last year, the NIH has pushed aggressively to implement the ambitious project. Experts involved with the PMI have said that the president has taken a personal interest in the project and wants to see it put in place before he leaves office this fall. In September, based on the PMI working group's plan, the NIH announced that any American willing to partake in research, share data, and donate a biological sample can enroll, either directly into PMI or through so-called healthcare-provider organizations.
While on the PMI working group, Dishman said he fell in love with PMI's mission. "I tell Intel people that I learned more in the four or five months with the working group than I had in the previous 10 years," he told GenomeWeb.
Others involved with the project have also noted his enthusiasm, and Russ Altman, director of the bioinformatics training program at Stanford University told GenomeWeb that Dishman's contributions at a working group meeting last year were insightful. "[He] had an unusual mix of technology focus as well as experience as a patient," said Altman, who was on the search committee that hired Dishman.
At a PMI event at the White House in February, Dishman spoke "articulately and passionately," Altman recalled, about how precision medicine saved his life and why it needs to be part of routine medical care. "I think it is very exciting to have someone from outside the normal NIH circle leading this cohort initiative," Altman told GenomeWeb over email. "He will bring a fresh perspective and maybe a bit of an 'efficiency of business' approach."
One of the daunting aspects of the PMI is the size of the cohort and the deluge of data that will result. But at Intel, Dishman was used to thinking in grand scales. A few years ago, he led Intel's collaboration with the Chinese government to design age-friendly cities, where a healthcare grid and a "careforce" would enable people to get care in their homes. 
Dishman also began a collaboration between Intel and the Alzheimer's Association over a decade ago, called Everyday Technologies for Alzheimer's Care, which funded some of the first grants to develop technologies to detect the disease and support caregivers. As a precursor, he spent long hours in the homes of patients and with families caring for patients, trying to understand their needs.
"Constructing a cohort of 1 million patients and the infrastructure to support its use will require interaction with stakeholders from every corner of the healthcare system," said Personalized Medicine Coalition President Edward Abrahams. "Very few people have the necessary personal and professional experience working with all of those stakeholders, but Eric Dishman is one of them."
Given all his experience, Dishman still acknowledged that his latest endeavor is unprecedented in its scope."Nobody on the planet has ever done what the PMI Cohort is going to do in terms of wearables and sensor data longitudinally," he acknowledged.
Once on the job, Dishman has hard targets to meet. The NIH is aiming to enroll 79,000 participants into the PMI Cohort by year end, and 1 million volunteers in three to four years. As people are enrolling, the PMI coordinating center will begin acquiring and curating data from participant's reports, through sensors and apps, and from electronic medical record systems at healthcare provider organizations. Dishman is hoping to set up the necessary infrastructure so some research can begin as early as the end of this year or in 2017.
Once again, Dishman can draw on his experience at Intel spearheading the Collaborative Cancer Cloud — a platform developed with researchers at the Oregon Health & Science University's Knight Cancer Institute — that allows hospitals and institutions to share genomic, imaging, and clinical datasets, while still maintaining local control over this information and the privacy of patients. Recently, Dana-Farber Cancer Institute and the Ontario Institute for Cancer Research jointed this effort.
Within the PMI, Dishman reflected that initially the participants' data from EMRs will be stored centrally. But once participants start to contribute data from wearables and genome sequencing, "we're going to start to run into some of the biggest big data challenges immediately," he said, "and we're going to need a federated secure architectural approach to do that." 
"Nobody has a large enough dataset to really make some of the genetic discoveries we think are there," Dishman continued. "The reality we're moving into with the PMI, and the world in general, is that it's going to be a hybrid cloud environment."
Within such a highly visible and publicly scrutinized project, there will be lots of pitfalls. Altman noted that Dishman will have to maintain focus on building and maintaining the cohort. "He will need to help define an initial set of driving questions that the cohort will address," he added. "He will need to create an advisory structure that allows him and his collaborators to make decisions and move forward on aggressive time scales."
The NIH has said it has learned important lessons from the failure of the National Children's Study, which it launched in 2005 to study the long-term environmental and biological factors that impact the health of 100,000 children. The NIH cancelled that project in December 2014 after spending $1 billion, and has acknowledged that the study suffered because those in charge were allowed to "change directions along the way."
Meantime, Dishman is stepping into his new job with his eyes wide open. Although some of the best minds are working on this, he said he still worries about data security within PMI. "I worry about focus," he admitted. "When something is this big and national, everyone wants us to focus on their disease or their particular cause. This is an all-disease study, not a disease study. At the same time, we can't be all things to all people right out of the gate." 
Vanderbilt's Denny said he's in the thick of all the challenges of setting up the project — as his group is exploring ways to enroll and retain participants in PMI's direct volunteers program. But he is confident that those working on the PMI, with Dishman at the helm, can deliver. "Eric is certainly not alone," he said. "All of us involved are passionate about making this a success."