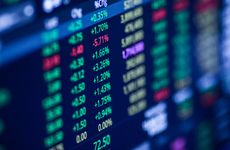 We have made several changes to the GenomeWeb Top 40 based on market cap figures as of the beginning of trading in January 2023. Berkeley Lights, Meridian Bioscience (which has been taken private through a merger), and Sophia Genetics have been dropped, while Akoya Biosciences, Bionano Genomics, and Olink have been added. We will evaluate the index again for changes at the half-year point. All companies included in the Top 40 must trade common stock on one of the major US stock exchanges.
NEW YORK – Stocks of molecular diagnostics and omics companies were up in January, tracking an upswing in the broader market.
Overall, the GenomeWeb Top 40 was up 4 percent. By comparison, the Dow Jones Industrial Average was up 3 percent, while the Nasdaq rose 11 percent, and the Nasdaq Biotech Index was up 4 percent. Of the 40 firms tracked by GenomeWeb, 31 saw their stock prices rise month over month, and nine saw shares drop in value.
Proteomics firm SomaLogic led the winners, as its stock was up 39 percent month over month. At the beginning of January, the company reported preliminary revenue for full-year 2022 at the "high end" of its guidance of $93.0 million to $98.0 million, reflecting roughly 20 percent year-over-year revenue growth. SomaLogic also announced at the JP Morgan Healthcare Conference that it is looking for "strategic alternatives" for its diagnostics business in order to cut costs and focus on its core proteomics business. CEO Roy Smythe said it would prefer to partner with an outside company or spin off the diagnostics unit.
At the end of the month, SomaLogic announced a deal to provide its SomaScan platform to Middle East healthcare firm Group 42 Healthcare, bringing the technology to the UAE and Saudi Arabia.
Exact Sciences posted the next largest rise in stock price during January, with shares up 36 percent. During the JP Morgan conference, CEO Kevin Conroy said the firm expected to become profitable in 2023, a year ahead of schedule. In preliminary financial results, Exact reported a year-over-year increase of 16 to 17 percent in Q4 revenues, and an 18 percent increase in full-year 2022 revenues.
Myriad had the third-largest stock increase in January, as shares rose 36 percent. During the JP Morgan conference, the company highlighted three new releases planned for 2023: its FirstGene 4-in-1 prenatal screening test covering noninvasive prenatal screening, carrier screening, fetal recessive status, and feto-maternal blood compatibility; its Precise Liquid 523-gene comprehensive genomic profiling test for solid tumors; and its Precise MRD monitoring test, which uses whole-genome sequencing to detect recurrence and guide treatment.
On the negative side of the ledger, Olink — a new addition to the Top 40 — led the way, posting a 23 percent drop in stock price. The company's stock fell after it announced on Jan. 19 that it had priced a public offering of shares at a price of $20 per share. Shares have traded around that price since. Earlier in the month, Olink announced preliminary Q4 revenues between $57.5 million and $57.9 million compared to $43.7 million the year before. For full-year 2022, the proteomics firm said it expects revenues of approximately $140 million, up 47 percent from $95.0 million in 2021.
Another proteomics firm, Seer, posted the second-largest decline in stock price, with shares down 22 percent. While the company more than doubled its revenues and platform installed base year over year in 2022, CEO Omid Farokhzad noted at the JP Morgan conference that the difficult macroeconomic environment had made some potential customers cautious about trying new technologies like Seer's Proteograph system and that this had made for a slower sales process.
Waters posted the third-largest decline in January, with shares down 4 percent. There were no obvious developments driving the drop.
| | | | | |
| --- | --- | --- | --- | --- |
| GenomeWeb Top 40 |   |   |   |   |
| Company | Ticker | 31-Jan-23 | 31-Dec-22 | % change |
| Adaptive Biotechnologies | ADPT | 9.27 | 7.64 | 21.34 |
| Agilent Technologies | A | 152.08 | 149.65 | 1.62 |
| Akoya Biosciences | AKYA | 11.25 | 9.57 | 17.55 |
| Becton Dickinson | BDX | 252.22 | 254.30 | -0.82 |
| Bionano Genomics | BNGO | 1.81 | 1.46 | 23.97 |
| Bio-Rad Laboratories | BIO | 467.46 | 420.49 | 11.17 |
| Bio-Techne | TECH | 79.66 | 82.88 | -3.89 |
| Bruker | BRKR | 70.12 | 68.35 | 2.59 |
| Burning Rock Biotech | BNR | 2.91 | 2.25 | 29.33 |
| CareDx | CDNA | 14.94 | 11.41 | 30.94 |
| Castle Biosciences | CSTL | 27.08 | 23.54 | 15.04 |
| Cue Health | HLTH | 2.62 | 2.07 | 26.57 |
| Danaher | DHR | 264.38 | 265.42 | -0.39 |
| Exact Sciences | EXAS | 67.52 | 49.51 | 36.38 |
| Fulgent Genetics | FLGT | 33.78 | 29.78 | 13.43 |
| Ginkgo Bioworks | DNA | 1.95 | 1.69 | 15.38 |
| Guardant Health | GH | 31.43 | 27.20 | 15.55 |
| Hologic | HOLX | 81.37 | 74.81 | 8.77 |
| Illumina | ILMN | 214.20 | 202.20 | 5.93 |
| Invitae | NVTA | 2.36 | 1.86 | 26.88 |
| Myriad Genetics | MYGN | 19.72 | 14.51 | 35.91 |
| NanoString Technologies | NSTG | 10.58 | 7.97 | 32.75 |
| Natera | NTRA | 42.93 | 40.17 | 6.87 |
| NeoGenomics Laboratories | NEO | 11.88 | 9.24 | 28.57 |
| Olink | OLK | 19.58 | 25.38 | -22.85 |
| Pacific Biosciences | PACB | 11.09 | 8.18 | 35.57 |
| Personalis | PSNL | 2.35 | 1.98 | 18.69 |
| PerkinElmer* | PKI | 137.53 | 140.22 | -1.92 |
| Qiagen | QGEN | 49.00 | 49.87 | -1.74 |
| Quanterix | QTRX | 14.13 | 13.85 | 2.02 |
| Quantum-SI | QSI | 2.22 | 1.83 | 21.31 |
| QuidelOrtho | QDEL | 85.61 | 85.67 | -0.07 |
| Seer | SEER | 4.55 | 5.80 | -21.55 |
| SomaLogic | SLGC | 3.48 | 2.51 | 38.65 |
| Thermo Fisher Scientific | TMO | 570.33 | 550.69 | 3.57 |
| Twist Bioscience | TWST | 28.69 | 23.81 | 20.50 |
| Veracyte | VCYT | 25.13 | 23.73 | 5.90 |
| Waters | WAT | 328.58 | 342.58 | -4.09 |
| 23andMe | ME | 2.50 | 2.16 | 15.74 |
| 10x Genomics | TXG | 46.83 | 36.44 | 28.51 |
| GenomeWeb Top 40 Average |   | 80.13 | 76.82 | 4.31 |
| *PerkinElmer paid a dividend of $.07 on Jan. 19. |   |   |   |   |
|   |   |   |   |   |