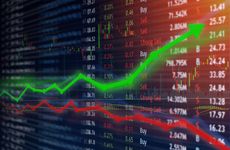 NEW YORK – It was a great year for some stocks in the genomic research tools and molecular diagnostics markets, but a terrible year for others, as the GenomeWeb Index gained 12 percent in 2021.
Across the 35 companies tracked by the GW Index, 16 saw their share prices gain value in 2021 while 19 saw a decline. The overall 12 percent increase for 2021 was a steep drop-off from the 49 percent gain registered in 2020 and the 34 percent increase in 2019.
However, the GW Index performed far better than the Nasdaq Biotech Index, which was down 1 percent in 2021, but it trailed the Dow Jones Industrial Average, which grew by 19 percent in 2021, and the Nasdaq composite, which was up 21 percent for the year.
The spread among the top gainers and decliners in the GW Index was notable with Fulgent Genetics (+93 percent) nearly doubling its stock price year over year and Berkeley Lights dropping 80 percent.
After Fulgent, the top performers were Bio-Techne (+63 percent), Bruker (+55 percent), Waters (+51 percent), and Danaher (+48 percent). All of the gainers also saw increases a year ago with Fulgent's stock having risen an astonishing 304 percent in 2020. The firm's stock price closed 2021 at $100.59, up from a close of $52.10 in 2020 and $12.90 in 2019.
The decliners list, led by Berkeley Lights, included Invitae (-63 percent), Personalis (-61 percent), Burning Rock (-59 percent), Genetron (-56 percent), and Adaptive Biotechnologies (-53 percent).
Fulgent's stock performance has been largely driven by its COVID testing operations, which saw another boost this past year with the emergence of the Delta variant. In November, the Temple City, California-based company posted third quarter revenues of $227.9 million compared to $101.7 million in the prior year. Its COVID-19 PCR testing accounted for $180 million of those Q3 revenues, exceeding the firm's guidance by approximately $100 million.
But Fulgent's focus is beyond the COVID testing opportunity, and this past summer, the firm reinvested some of its infusion of cash into the acquisition of cancer testing lab CSI Laboratories for up to $60 million, as well as $20 million into a liquid biopsy assay partnership with Helio Health.
Bio-Techne saw its share price increase steadily throughout the year, driven by its financial performance and positive regulatory and reimbursement news. The firm also acquired molecular diagnostics firm Asuragen during the year for up to $320 million. Asuragen will contribute testing products for applications in which Bio-Techne has no market presence currently and provide know-how to help it take new diagnostic tests through regulatory approvals, Bio-Techne CEO Chuck Kummeth said at the time. Among Asuragen's products are the US Food and Drug Administration-cleared AmplideX Fragile X Dx and Carrier Screen Kit and the QuantideX qPCR BCR-ABL IS kit that enables the monitoring of leukemia patients for minimal residual disease.
Meanwhile, Bruker's revenues rose steadily throughout the year. The firm, known for its protein research and imaging instruments for life science and industrial applications, also jumped into the COVID testing space in the first half of the year. Bruker received the CE-IVD mark for its FluoroType SARS-CoV-2 varID Q assay, which uses its LiquidArray assay format, enabling higher levels of multiplexing on the company's Fluorocycler XT system.
Among the firms out of favor with investors in 2021, Berkeley Lights was dogged by a short-selling report published in September by Scorpion Capital accusing the company of "fleecing customers and IPO bagholders with a $2 million black box that's a clunker, while insiders and Silicon Valley bigwigs race[d] to dump stock."
Though the report caused the stock to take a very sharp downturn, investment analysts who cover the firm said the company's business proposition remains intact, and they expressed optimism about its long-term prospects. The Emeryville, California-based firm, which makes cellular analysis tools, had said earlier in the year that it intended to ramp up its partnership deals and followed through with nonexclusive partnerships with Thermo Fisher Scientific and Bayer to apply its optofluidics platform for cell-based assays to problems in viral vector cell line and crop trait development, respectively.
Nonetheless, shares of Berkeley Lights dropped 22 percent over the last two months of 2021.
Invitae, which had a busy and eventful year, closed 2021 down 63 percent. It started the year strong, exceeding Wall Street's estimates on the top and bottom lines in its fourth quarter financial report in February.
The firm also made some significant acquisitions during the year, buying Genosity for $200 million in April and acquiring consumer health technology company Ciitizen in September for $325 million in a bid to make it easier for patients to collect their genomic and clinical information.
Investors, however, remained unconvinced as Invitae's shares slid on news in May that it had filed a lawsuit alleging that Natera is infringing its patented techniques for assembling DNA sequence reads. Its shares fell again in August after it said in a filing with the US Securities and Exchange Commission that it would write off a $262.5 million liability after its ArcherDx subsidiary failed to meet certain milestones.
Personalis' stock dropped in the wake of its first quarter and third quarter financial reports, though neither showed a poor performance.
(Editor's Note: Stay tuned for changes to the GW Index next month. Amid the high number of firms that went public in 2021, we'll be adjusting the criteria for inclusion and switching out some of the firms in the index.)
| | | | | |
| --- | --- | --- | --- | --- |
| GenomeWeb Index |   |   |   |   |
| Company | Ticker | 31-Dec-21 | 31-Dec-20 | % change |
| Adaptive Biotechnologies | ADPT | 28.06 | 59.13 | -52.55 |
| Agilent Technologies* | A | 159.65 | 118.49 | 34.74 |
| Becton Dickinson** | BDX | 251.48 | 250.22 | 0.50 |
| Berkeley Lights | BLI | 18.18 | 89.41 | -79.67 |
| Bio-Rad Laboratories | BIO | 755.57 | 582.94 | 29.61 |
| Bio-Techne*** | TECH | 517.34 | 317.55 | 62.92 |
| Bruker**** | BRKR | 83.91 | 54.13 | 55.02 |
| Burning Rock Biotech | BNR | 9.53 | 23.10 | -58.74 |
| CareDx | CDNA | 45.48 | 72.45 | -37.23 |
| Castle Biosciences | CSTL | 42.87 | 67.15 | -36.16 |
| Danaher***** | DHR | 329.01 | 222.14 | 48.11 |
| Exact Sciences | EXAS | 77.83 | 132.49 | -41.26 |
| Fluidigm | FLDM | 3.92 | 6.00 | -34.67 |
| Fulgent Genetics | FLGT | 100.59 | 52.10 | 93.07 |
| Genetron | GTH | 6.10 | 14.00 | -56.43 |
| Guardant Health | GH | 100.02 | 128.88 | -22.39 |
| Hologic | HOLX | 76.56 | 72.83 | 5.12 |
| Illumina | ILMN | 380.44 | 370.00 | 2.82 |
| Invitae | NVTA | 15.27 | 41.81 | -63.48 |
| Meridian Bioscience | VIVO | 20.40 | 18.69 | 9.15 |
| Myriad Genetics | MYGN | 27.60 | 19.77 | 39.61 |
| NanoString Technologies | NSTG | 42.23 | 66.88 | -36.86 |
| Natera | NTRA | 93.39 | 99.52 | -6.16 |
| NeoGenomics Laboratories | NEO | 34.12 | 53.84 | -36.63 |
| Pacific Biosciences | PACB | 20.46 | 25.94 | -21.13 |
| Personalis | PSNL | 14.27 | 36.61 | -61.02 |
| PerkinElmer****** | PKI | 201.06 | 143.50 | 40.11 |
| Qiagen | QGEN | 55.58 | 52.85 | 5.17 |
| Quanterix | QTRX | 42.40 | 46.50 | -8.82 |
| Quidel | QDEL | 134.99 | 179.65 | -24.86 |
| Thermo Fisher Scientific******* | TMO | 667.24 | 465.78 | 43.25 |
| Twist Bioscience | TWST | 77.39 | 141.29 | -45.23 |
| Veracyte | VCYT | 41.20 | 48.94 | -15.82 |
| Waters | WAT | 372.60 | 247.42 | 50.59 |
| 10x Genomics | TXG | 148.96 | 141.60 | 5.20 |
| GenomeWeb Index Average |   | 142.73 | 127.53 | 11.92 |
|   |   |   |   |   |
*Agilent paid $.776 in dividends to shareholders in 2021
**BD paid $3.36 in dividends to shareholders in 2021
***Bio-Techne paid $1.28 in dividends to shareholders in 2021
****Bruker paid $.16 in dividends to shareholders in 2021
*****Danaher paid $.84 in dividends to shareholders in 2021
******PerkinElmer paid $.28 in dividends to shareholders in 2021
*******Thermo Fisher paid $1.04 in dividends to shareholders in 2021