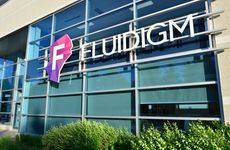 NEW YORK – The COVID-19 pandemic has thus far presented many life science research tool providers and fledgling diagnostic firms with an immediate opportunity to generate meaningful revenues from diagnostic testing in 2020.
For some firms, this opportunity may be short-lived. For others, it will perhaps serve as a launching pad for sustainable, long-term growth driven by diagnostic testing.
Fluidigm President and CEO Chris Linthwaite this week made it clear that he sees his company, long a pure-play omics research firm, in the latter category.
"While these unprecedented times represent an inflection point for the broader [diagnostics] industry, our business has also reached a key inflection point that will redefine our future," Linthwaite said during a conference call on Wednesday recapping the company's fourth quarter and 2020 earnings. "And we now have the capability to build a durable diagnostics business powered by microfluidics, subsidized by COVID testing demand and non-dilutive funding."
"In fact, we have an extensive runway to continued growth as we further advance the transformation of our microfluidics franchise into a durable diagnostics platform," Linthwaite added. "This strategy shift will launch longer-term revenue acceleration in the business, broaden our customer base, and increase recurring revenue."
Linthwaite said that the diagnostics market is experiencing a "seismic shift" and that companies like Fluidigm are bringing new testing strategies and channels, high flexibility, lab efficiencies, and rapid scaling to bear on an "enormous addressable market opportunity."
"Our board and management team have been working together to refine our long-term plan to align with this perspective," Linthwaite said, which has resulted in what the company is calling "vision 2025." Fluidigm expects long-term growth rates for its two franchises — microfluidics, which encompasses the firm's fledgling PCR-based COVID-19 testing, and mass cytometry for proteomics — to exceed 20 percent, with a $12 billion to $15 billion immediately addressable market in molecular diagnostics complementing an existing approximately $3 billion market opportunity.
Fluidigm's microfluidics business is anchored by the company's flagship Biomark HD system for highly parallel real-time PCR. Long a workhorse of research laboratories conducting gene expression research, the Biomark found new life as the instrument used to run the company's saliva-based Advanta Dx SARS-CoV-2 RT-PCR assay, which received Emergency Use Authorization from the US Food and Drug Administration in August and CE marking in January. The main advantage of the Biomark HD is that it can process more samples per batch than standard microwell plate-based PCR testing, generating as many as 6,000 test results per day per system.
The firm has already signed several deals to supply organizations with mass testing, the most recent being George Mason University, which purchased two Biomark HD systems with initial plans to run approximately 10,000 tests per week.
Linthwaite said Fluidigm plans to solidify itself as a "next-generation diagnostics company" by developing technological innovations to simplify the testing workflow; expanding into new channels like digital healthcare and telemedicine providers; and introducing new capabilities and diagnostic content on the platform to drive recurring revenue.
Linthwaite did not specify what other disease areas the firm might add to its test menu but noted that the company plans to introduce several new products in 2021 including a next-generation Biomark HD system, which is on target for a summer release. He also noted that opportunities exist beyond infectious disease testing, in areas like oncology, for instance.
"Although the COVID pandemic caused significant disruption to our business, it also presented opportunities for us to prove the advantages of our unique technology to new accounts," Linthwaite said.
Healthcare decision-making
While not as immediately and directly applicable to clinical markets as its microfluidics technology, Fluidigm's mass cytometry business is also slowly but steadily making inroads into the clinic as the platform is increasingly utilized in translational research studies.
"On a parallel path, in mass cytometry, we are moving closer to healthcare from our research roots," Linthwaite said. "We are uniquely positioned to provide healthcare insights through a proven technology that elucidates a deeper understanding of the immune response [and] disease pathology, and increasingly turns these insights into treatment strategies."
Fluidigm's mass cytometry portfolio primarily comprises the Helios CyTOF imaging system, which uses barcoding technology and heavy metal isotope tags to interrogate multiple cellular protein targets in a single tube; and the Hyperion imaging mass cytometry platform, which uses metal-labeled Maxpar antibodies to achieve subcellular spatial resolution for up to 37 protein markers on FFPE or frozen tissues or cell smears. According to the company's website, the Hyperion System essentially builds off Helios, but includes a separate module that can be connected to Helios and uses laser ablation to relate the metal tags and analyze the spatial position of antibodies in tissue.
Linthwaite said that Fluidigm has more than 325 active systems placed in academic institutions, and that these placements have attracted "scores of new users." Furthermore, he said, Fluidigm's mass cytometry platforms are becoming the "gold standard" for immune system studies.
A prime example of this is a recently announced National Institutes of Health-sponsored longitudinal study at Stanford University School of Medicine in which researchers will use the Helios CyTOF system and the company's Maxpar Direct Immune Profiling Assay to profile approximately 250 pediatric patients infected with SARS-CoV-2.
The study, entitled Pediatric Research Immune Network on SARS-CoV-2 and MIS-C (PRISM), will compare data from patients with asymptomatic infections, mild COVID-19, and multisystem inflammatory syndrome in order to characterize the immunologic pathways associated with different disease presentations and outcomes.
An even more direct entrée into clinical use for Fluidigm's mass cytometry platforms is exemplified by an agreement announced this week with Zhejiang PuLuoTing Health Technology (PLT Tech) to market CyTOF panels and reagents to clinical labs in China. As part of the agreement, the companies will together seek National Medical Products Administration approval for a CyTOF instrument authorized for diagnostic use in China.
"PLT Tech will initially focus on … blood panel diagnostics, particularly … [for] children, and ultimately develop prognostic applications to evaluate the effectiveness of immunotherapy treatments," Linthwaite said, adding that PLT intends to purchase three systems as part of the agreement.
Linthwaite said that Fluidigm's strategy for mass cytometry growth comprises four key elements.
"First, we intend to propel our established beachhead in academia into clinical labs with healthcare decision-making tools," he said. "Second, we will continue to innovate our technology and improve the platform. Third, we will be embedding digital capabilities into our product suite for better-informed healthcare decisions. And fourth, we will leverage the competitive advantage we have over our competitors in regulated markets to move into healthcare decision making."