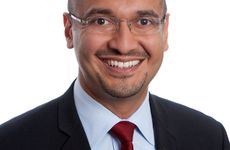 NEW YORK (GenomeWeb) – Illumina announced late Monday that Chairman and CEO Jay Flatley has been appointed executive chairman of the board, and that current president Francis deSouza will take over as CEO. DeSouza will also continue to serve as president of the company and as a board member.
The appointments, effective July 5, have been unanimously approved by the board, Illumina said.
Flatley joined Illumina in 1999 as president and CEO, and the firm noted that its annual sales have grown from $500,000 at that time to $2.2 billion in 2015. DeSouza joined the firm in December 2013 as head of its business units — he had previously served as president of products and services at Symantec, which he joined after Symantec acquired Imlogic, a company he co-founded and led as CEO.
According to Illumina, deSouza has been instrumental in the success of several initiatives, including launching the HiSeq 4000 and the recent introduction of the MiniSeq. As president and CEO, he will also be responsible for the G&A and R&D units of the company, currently headed by CFO and Chief Administrative Officer Marc Stapley and Chief Technology Officer Mostafa Ronaghi, respectively.
"The time is right for Francis to become Illumina's next president and CEO," Flatley said in a statement. "Francis is an exceptional leader, with a demonstrated track record of leading large organizations and implementing complex growth strategies. I look forward to partnering with him in his new role to continue the company's strong legacy of innovation and execution."
Illumina's Lead Independent Director Blaine Bowman added, "We unanimously approved the appointment of Francis as president and CEO, and wholeheartedly believe that in their new roles the combination of Jay and Francis will provide the management structure needed to further scale Illumina to address the large, growing genomics market and continue to deliver shareholder value."
Analysts commenting on the news on Tuesday said that deSouza's promotion to CEO doesn't really come as a surprise. But a CEO transition in a company as large as Illumina does hold some degree of uncertainty, wrote Wells Fargo's Tim Evans. "The company has a very deep management bench, and we believe the board has a high degree of confidence in Mr. deSouza's leadership. Thus, while we are not worried about business continuity, we think a CEO transition adds one more uncertainty for investors to cope with in a time of significant change," he added.

Illumina is also transitioning from a research tools company to one focused on clinical diagnostics, Evans said. And the CEO change underscores the wider changes the company is going through. 
In a note to investors, Canaccord Genuity's Mark Massaro said the transition is perhaps not surprising given Flatley's age and years of service to Illumina, but added that his departure "leaves very large operational shoes to fill." Massaro said he expects the company to maintain its leadership in NGS and is positioning itself for "its next wave of growth."
Goldman Sachs' Isaac Ro echoed the notion that deSouza's appointment comes at a time of overall transition for Illumina, adding that he expects "more clarity on the company's future direction to emerge as Mr. deSouza assumes his new role in 2H16."
William Blair's Amanda Murphy pointed out that deSouza has had a key role in the strategic process that has led Illumina to its current point. "Probably most importantly," she wrote, "he was also selected based on his cultural fit and thus will continue to foster a culture that continues to be quite entrepreneurial and highly innovative despite the company's size. While Mr. deSouza will continue to pursue the same broader strategy, it is also our understanding that if there is any change in focus, Mr. deSouza would like to make the company more digital, diverse geographically, and patient-centric."
Illumina's shares fell 4 percent to $154.60 in Tuesday morning trading on the Nasdaq.