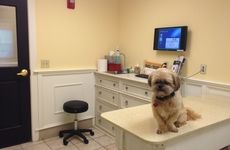 NEW YORK (GenomeWeb) – Embark Veterinary announced today that it has raised $4.5 million in order to expand its suite of canine genetic tests. The consumer genomics company said it has also relocated its headquarters.
According to Embark, its latest round of financing was led by Cambridge, Massachusetts-based Founder Collective, San Francisco-based Freestyle Capital, and Third Kind, a New York venture capital fund.
23andMe CEO Anne Wojcicki, Section 32, a new San Diego fund founded by Bill Maris, and SV Angel, a San Francisco-based seed fund, also contributed to the round. Embark said it has raised $6.5 million since it was founded in 2015. The company rolled out its flagship Embark Dog DNA Test, which provides clients with an overview of their dog's ancestry, disease risk, and heritable traits, last year.
CEO Ryan Boyko said in an email that the company has recently expanded its reports to include dozens of traits in addition to health, breed, and ancestry information. Embark is also working with breed clubs, and will soon release a new tool for breeders to "more intelligently match their dogs to avoid genetic disease and preserve genetic diversity."
He noted that the new funding will allow the development and launch of additional tools for breeders, as well as new features for pet owners that will make the genetic information generated by its 200,000-marker, Illumina array-based test "useful, fun, and engaging." The company is also planning to partner with "human biotechnology companies" to "start fulfilling the promise of dog genetics to promote human health."
Embark also recently relocated its headquarters to Boston from Austin. Boyko called Boston the "home of digital health and biotech innovation," citing its plethora of universities, institutes, and companies that could be potential partners. The company, which currently employs 12 people, is also looking to hire. Boyko said that Embark would like to add to its science, engineering, marketing, and customer service teams.