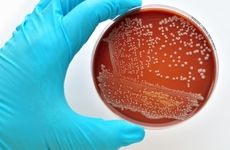 NEW YORK (GenomeWeb) – Later this month, London-based DNAe expects to begin validating an integrated prototype of a semiconductor-based sepsis test that could eventually identify pathogens directly from blood within three hours.  
Until recently, the firm has been validating components of the test, but it is now poised to begin running clinical blood samples through the integrated prototype for the first time, DNAe CEO Steve Allen said in an interview.
The firm's development work could yield a diagnostic test that can differentiate between bacterial and fungal pathogens and identify antimicrobial resistance using a cartridge and instrument, Allen said.
He noted on the sidelines of the American Association for Clinical Chemistry annual meeting in San Diego last week that he hopes to have a prototype similar to DNAe's first commercial in vitro diagnostic test for sepsis by the end of this year.
Clinical trials will begin early next year, he said, and the firm will seek CE marking during the summer, which would allow the company to sell its first product in Europe and other countries accepting the label. By the end of 2018, if the results of clinical validation studies go well, DNAe may be ready to seek clearance from the US Food and Drug Administration, Allen said.
The firm's first product, named LiDia, would use highly multiplexed PCR technology. "We land primers on the chip and look for individual pathogens," Allen said. In all, the company expects to be able to identify 20 pathogens, including those that are bacterial and fungal, and three resistance genes. In doing so, the test will cover 95 percent of the pathogens in the bloodstream that could lead to sepsis in patients and that are clinically actionable, he added.
The next product in its pipeline, which is in development, uses the same front-end and sample preparation components as the multiplexed PCR test, but it employs targeted sequencing for measurement of the pathogen. "Sequencing allows us to extend the panel but, importantly, it gives us even broader coverage of antimicrobial resistance genes of which there are hundreds, and the ability to massively multiplex," Allen said.  
He noted that during measurement, the sequencer is doing a "limited read length, just enough to get a unique identity of the bug or the resistance gene, and then comparing the results with a library to get a fast result."
The firm's platform is built upon the principle that nucleotides that incorporate during DNA sequencing or amplification release hydrogen ions, which can be detected as an electronic signal by ion-sensitive field-effect transistors fabricated in silicon. If a genetic sequence is known, a primer can be designed to match the target sequence. When no match occurs between a target sequence and a specially designed primer, no hydrogen ions are released and no signal is detected. When a match is detected, however, the resulting electronic signal is proportional to the number of nucleotides that are incorporated, and by monitoring the timing of the signal, the chip can count the number of target molecules in a sample. The method can be applied to any DNA and RNA analysis on a standard CMOS semiconductor chip, and to test multiple gene and virus templates on one chip, DNAe said.
In practice, during testing a thin needle pierces the top of the test unit's sealed cartridge, and whole blood mixes with immunomagnetic beads bound to antibodies that are specific to the pathogens of interest. Pathogenic cells, which stick to the magnetic particles, enter a new region of the cartridge where they are lysed, and DNA is removed from them and delivered to the chip for measurement.
"We chemically bind DNA templates directly onto transistors on the chip," Allen said, "and that is the breakthrough that will allow us to bring genomic technology to the clinic."
Allen noted that "at least in the beginning," the firm expects to directly market the semiconductor-based test to hospitals for use near the point of care or in the intensive-care unit.
Jumping into a competitive sepsis Dx market
By targeting the market for sepsis testing, DNAe joins a growing group of companies looking to solve the unmet clinical needs that the infection presents. Developers are eager to make available tests that provide results quickly, because the infection can increase a patient's risk of dying by eight percent with every passing hour. Many existing tests that rely on use of a blood culture can take more than one day to return a positive result and up to six days to return a negative result, Allen said.
As patients wait for results, they undergo the risk of going into septic shock and experiencing failure of major organs such as kidneys. Many patients suspected of having sepsis are placed on therapies such as antibiotics to which they may be resistant or that they don't need. Therefore, tests are needed to quickly differentiate between bacterial and fungal infections, and enable appropriate treatments.
Several in vitro diagnostics companies including established leaders such as Roche, BioMerieux, and Thermo Fisher Scientific have launched tests for sepsis diagnosis and management. Some of them use procalcitonin as a biomarker that correlates with sepsis risk.
Clinicians use procalcitonin tests to not only monitor the rate at which an infection is invading the body, but also the rate at which the body is responding to treatments. However, the trouble with many established tests, including the test for procalcitonin, is that clinicians, before prescribing treatments, must wait for the completion of blood cultures that identify pathogens causing infections, Allen said.
Two relative newcomers, T2 Biosystems and Accelerate Diagnostics, are getting recognition for the speed with which their devices provide test results.
In February, Accelerate Diagnostics received US Food and Drug Administration clearance for its Pheno system, potentially offering a breakthrough in antimicrobial susceptibility testing. The platform enables bacteria and yeast identification from a positive blood culture and provides a measurement of antimicrobial susceptibility within seven hours.
That compares to a testing process that can take up to 40 hours with existing ID-AST systems, according to Accelerate.
The firm reported progress in signing customer agreements during its second quarter financial results last week. It said that it has signed agreements for 265 instruments so far this year. Contracts for customer evaluations reached 220 instruments, while revenue-generating placements doubled to 45 across the US, European, and Middle East regions. The firm reported net sales of $699,000 compared to $20,000 in the second quarter of 2016.
The DNAe test could complement the Accelerate Diagnostics Pheno system in a clinician's workflow, Allen said. A clinician could use the semiconductor test to identify a pathogen within a couple of hours and the Accelerate Diagnostics device to test for antimicrobial susceptibility of the pathogen, which would eliminate the time required to do a blood culture, he said.
Using the T2 Biosystems test, clinicians don't have to wait for a blood culture because the instrument provides results directly from a blood draw in three to five hours, making it the most direct competitor to DNAe if its test development is successful, Allen said.
T2 may have an early-mover advantage over DNAe, however. Its instrument and the T2Candida Panel were both CE-marked and FDA-cleared in 2014. The firm expects to file for FDA clearance of its bacteria panel within the next six weeks, and the firm said recently that it believes it can obtain clearance by the end of 2017. It had already received CE marking for a bacteria panel in July.
Equity analysts are quick to point out the value of a direct-from-blood testing approach. "At a market cap of about $100 million, we believe T2 is materially undervalued and could pose an attractive acquisition candidate to a larger acquirer given its novel direct-from-blood 'total sepsis solution' platform and proven ability to take its technology through the FDA," wrote Canaccord Genuity research analyst Marc Massaro in a research note on Sunday.
However, DNAe's first sepsis product could have an advantage over the T2 Biosystems test, Allen noted. The DNAe test, he said, would not only provide coverage of a broader range of pathogens, but it would also differentiate between bacterial and fungal pathogens in one test, in addition to testing for antimicrobial resistance.
With a group of established companies already selling sepsis and bloodstream infection tests to hospitals and reference laboratories, getting a new test adopted can be a daunting proposition. Nonetheless, Allen said he believes that because of the nature of unmet clinical needs within the sepsis testing market — especially the requirement to get a result rapidly — the value proposition of the DNAe test, including its expected turnaround time and its small footprint, will persuade hospital executives and clinicians to "try it out."
Additionally, a sepsis test that can do rapid detection has the added value of significantly reducing hospital costs. "At $25,000 per sepsis patient, if you can save some ICU time, you can support a reasonable price for the test," Allen said. "The decision to purchase the test can be partly based on savings to the hospital."
Among its important advantages, the DNAe test's components are sealed within a cartridge where all the testing steps occur, thereby reducing the potential for contamination that could throw off accuracy, Allen said. "We've been religious about eliminating the potential for contamination, which should lead to fewer false positives," he added.
The product is configured so that it's possible to stack several units, one on top of the other, which preserves bench space and allows throughput flexibility, Allen noted, and added that the system's end-to-end capability leads to a clinically actionable result without special skills or high start-up and running costs, or the need for a specialized lab.
DNAe's sequencing-based sepsis assay — which the firm is developing using $51.9 million in funding provided by the Biomedical Advanced Research and Development Authority (BARDA) — would provide coverage of up to 40 pathogens as well as several hundred antimicrobial resistance genes, Allen said. Importantly, he added, the test's targeted sequencing technology will push DNAe to the forefront of firms looking to take sequencing into the clinical lab.
DNAe and its executives have a track record of developing and commercializing successful technology. The firm, founded in 2003, focused its strategy on R&D and licensing for about 10 years. Its founders invented a semiconductor sequencing technology that became the basis of Ion Torrent, which was acquired by Thermo Fisher Scientific, and Thermo Fisher has a limited, non-exclusive license to some of the firm's intellectual property from which DNAe has been receiving royalties since 2010, Allen said.
Allen, along with Nick McCooke, DNAe's chief business officer, led the development of Solexa's whole-genome analyzer. Illumina purchased the company for $600 million in early 2007 and made the Solexa technology the centerpiece of its early sequencing platforms.
In 2010, Roche, though its 454 Life Sciences subsidiary, entered into an exclusive partnership with DNAe to develop a semiconductor-based DNA sequencing system that would offer low cost and high throughput.
However, in 2013, Roche announced it had ended its deal with DNAe and simultaneously shut down its 454 Life Sciences sequencing operations in Connecticut.
"Post the Roche deal, the company decided to develop its own products and look around for complex problems that needed the power of multiplexing capabilities, speed, and sensitivity," Allen said. "Bloodstream infections seemed to be the obvious choice, because we realized that we could do something directly from blood or without a blood culture."
In 2015, after altering its strategy to begin concentrating on developing its own products, DNAe acquired Albuquerque, New Mexico-based NanoMR, for $24 million in cash. The company provided an important piece of technology — the sealed immunomagnetic pathogen-capture system — that completed the lineup of components DNAe needed to prototype its own PCR and semiconductor-based DNA sequencing technology for sample-to-answer sepsis testing.
The firm has moved its NanoMR operations and most of that firm's employees from Albuquerque to Carlsbad, California, where DNAe has built a cleanroom used in the manufacture of its test cartridges.
Under the contract with BARDA, DNAe will complete development and validation of its semiconductor sequencing platform, which is called Genalysis.
DNAe has backing from majority shareholder Genting Berhad, the holding company of the Genting Group, an Asian conglomerate. It hopes to later bring in additional investors and eventually be in a position to obtain additional funding through an IPO, Allen said.