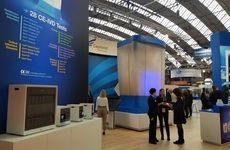 AMSTERDAM (GenomeWeb) – A Cepheid executive today provided an update on upcoming improvements to various Xpert real-time PCR-based molecular assays and outlined a new partnering program that aims to validate and commercialize third-party assays on the company's Xpert microfluidic test cartridges.
In addition, an early user of a new Xpert-based Mycoplasma genitalium and antibiotic resistance test from SpeeDx, Cepheid's first cartridge partner, shared initial validation data on the assay.
The presentations were part of a symposium sponsored by Cepheid, a Danaher company, at the European Congress of Clinical Microbiology and Infectious Diseases here this week. The updates were provided in the context of CE marking and commercial availability outside the US.
In his presentation, Fred Tenover, VP of scientific affairs at Cepheid and a consulting professor of pathology at Stanford University, outlined improvements the company has made to its Xpert MRSA/SA BC test and Xpert GBS assays by leveraging whole-genome sequencing data.
Specifically, Tenover noted that the company recently revisited its Xpert MRSA/SA BC assay for detecting Staphylococcus aureus and methicillin-resistant S. aureus in blood culture, after using WGS to examine a number of new strains that have emerged worldwide.
The current Xpert MRSA/SA BC test is a "very good tool for antimicrobial stewardship," Tenover said. However, over the past few years, several clinical sites have reported instances of MRSA being called as methicillin-susceptible (MSSA) and vice versa, using not only Cepheid's assay but also competing tests.
"When people developed these tests, no one dreamed about the level of diversity in these strains," Tenover said.
Cepheid's current test has three genetic targets: spa, mec, and SCCmec. Tenover noted that SCCmec has until recently been known for having highly conserved sequences, but clinical researchers are starting to see a high degree of sequence variation in this mobile genetic element. "So even if it's MRSA, it's not being recognized, because the current assay needs all three targets to be there," Tenover said. In addition, some new emerging strains in Australia have been found to be spa negative but still methicillin resistant.
Cepheid's solution to prevent false negatives and positives due to this strain variation has been to conduct a more detailed analysis of PCR cycle threshold (Ct) patterns in the Xpert MRSA/SA BC assay, Tenover said. The company has developed new algorithms that use the presence or absence of all three Ct values to make a call on resistance — in other words, in some cases the presence of only two of three targets is sufficient.
The six new algorithms, which are based on 26 test cases, will be rolled out globally in the third quarter of this year and will require a software update to the company's GeneXpert systems. Tenover noted that there will be no change in supported blood culture bottle types.
Meanwhile, the company is also attempting to improve detection rates and antimicrobial stewardship for its Xpert GBS (group B Streptococcus) test, following customer complaints of higher-than-usual invalid rates and false negative results.
Cepheid used WGS analysis of a number of GBS clusters globally to identify chromosomal deletions that were responsible for these problems. The company found that these strains appear to be polyclonal and are primarily a regional problem, but they are scattered around the world.
To address this issue, the company is currently adding a second target to the assay, and expects the updated test to be available in Q3 2019, as well, Tenover said.
"Some sites were reporting error rates as high as 20 percent," he said. "But the new ADF has really addressed this invalid result problem." As an example, he presented data from an unnamed hospital system that has already implemented the new ADF and is now seeing a routine error rate of only 0.9 percent.
Finally, Tenover discussed new indications for Cepheid's Xpert CT/NG assay, a CE marked, qualitative real-time PCR test for the detection and differentiation of DNA from Chlamydia trachomatis (CT) and Neisseria gonorrhoeae (NG) to aid in the diagnosis of urogenital disease caused by these organisms.
Currently, Cepheid's assay may be used with urine from women and men, endocervical swabs, and patient-collected vaginal swabs (in a clinical setting). However, Tenover cited growing evidence that anorectal and pharyngeal infections with these organisms are on the rise, particularly in men who have sex with men, and that these infections are frequently overlooked since they are not routinely tested for.
He said that one of the main underlying issues is a lack of approved diagnostic tests, so Cepheid has set out to change that by adding on-label indications for testing rectal and pharyngeal swabs for men and women using Xpert CT/NG. Cepheid has already submitted data supporting this test to regulatory authorities and is projecting commercial availability in Q3.
Partnering for innovation
Cepheid also announced today its so-called "FleXible Cartridge" program, through which the company hopes to accelerate the expansion of its test menu in Europe and China by partnering with what it calls "trusted reagent manufacturers."
Through the program, GeneXpert system users will gain access to new CE-IVD and China National Medical Products Administration-approved tests, in addition to the menu of commercial assays already offered by Cepheid. The program can be a boon to assay developers seeking quick market penetration because they can market their tests for use on the approximately 22,000 GeneXpert instruments currently installed worldwide, Tenover said.
The first flexible cartridge test to be launched through this program will be SpeeDx's ResistancePlus MG assay for the simultaneous detection of M. genitalium and associated drug resistance.
The companies already had a deal in place allowing Cepheid to distribute SpeeDx's PlexPCR and ResistancePlus assays in Europe, but now users of GeneXpert systems will be able to run a dedicated Cepheid test cartridge containing the assay. The test is currently CE-marked and SpeeDx is awaiting US Food and Drug Administration approval for the assay.
At the ECCMID symposium, Jorgen Jensen of the Statens Serum Institut (SSI) in Copenhagen presented early data from a validation study of the new "flexible" SpeeDx/Xpert cartridge.
Jensen noted that M. genitalium prevalence is on the rise, especially in Europe and in particular involving macrolide-resistant strains. Failure to treat the infection leads to persisting disease, and the bacterium probably accounts for 5 to 15 percent of pelvic inflammatory disease.
The resistance mechanism is very simple, Jensen said, primarily consisting of one mutational event in the 23S rRNA gene that changes susceptibility from very susceptible to highly resistant.
European guidelines currently state that detection of macrolide resistance mutations should be performed on all positive samples to guide treatment, he noted, and while there are several molecular approaches available for this, none combines high sensitivity, speed, and ease of use.
"The [Cepheid and SpeeDx cartridges] are combining two very good ideas and getting an even better product out of it," Jensen said.
He and his team validated the ResistancePlus MG on the FleXible cartridge against SSI's standard qPCR-based M. genitalium assay in both urine and swab samples. SSI's test workflow consists of DNA extraction on either BioMerieux's NucliSens EasyMag or Roche Diagnostics' MagNA Pure 24, followed by a TaqMan-based assay detecting the MgPA gene with an internal amplification.
In urine samples, the SpeeDx/Xpert test detected 19 of 20 M. genitalium cases for a sensitivity of 95 percent and specificity of 100 percent. Mutation detection, meanwhile, was 100 percent (all 19 mutated samples detected).
Meanwhile, things were a "little more difficult" in swab samples because the team needed to pre-dilute clinical samples to have enough material to work with, Jensen said. Still, sensitivity was very high at 98.1 percent (53 of 54) for M. genitalium detection. The assay also called 47 of 51 (92 percent) mutation instances, and it was very specific at 98.5 percent.
Importantly, Jensen noted, the workflow was very easy. He estimated that if his team had 16 samples to run, using either SpeeDx/Xpert or the EasyMAG workflow, the former would save 30 minutes to an hour of hands-on time.
Jensen also noted that the analysis software needs improvement, adding that Cepheid is working on that now and has already delivered what looks to be an improved version to the lab. Jensen's wish list includes the addition of fluoroquinolone resistance to macrolide resistance detection, because these drugs are the current second-line treatment and sequencing has revealed an emerging resistance issue here, too.
At the ECCMID symposium, Tenover also revealed that Cepheid has been working with Hamburg, Germany-based Altona Diagnostics, the Bernhard Nocht Institute for Tropical Medicine, and the Foundation for Innovative New Diagnostics to port Altona's RealStar Lassa fever virus RT-PCR kit onto the Cepheid FleXible cartridge in order to test plasma specimens from Lassa fever patients on the GeneXpert.
"This is, we think, a best-of-class assay for Lassa," Tenover said, adding that preliminary field studies on the test are underway in Nigeria and "it's working really well."