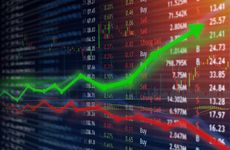 NEW YORK (GenomeWeb) – Although it didn't reach the 39 percent surge it saw in 2017, the GenomeWeb Index rose 13 percent in 2018 — vastly outperforming the broader markets, which have been rocked hard in the past several months by trade wars, general economic uncertainty, and, most recently, the US government shutdown.
The index, which tracks the stock performance of 28 companies in the molecular diagnostics and omics tools space, outperformed the Dow Jones Industrial Average, the Nasdaq, and the Nasdaq Biotechnology Index, which fell 6 percent, 4 percent, and 9 percent year over year, respectively. The Dow had its worst December since the Great Depression and its worst year in a decade.
Overall, the index's performance was largely positive in 2018, as 21 companies saw their shares rise and only seven firms suffered year-over-year losses. Two of the gainers saw their stocks rise by triple-digit percentages, and only one decliner saw its stock lose more than 15 percent in value.
CareDx took the top spot in 2018 with a 243 percent increase in share price. Pacific Biosciences (+180 percent) and NanoString Technologies (+99 percent) rounded out the top three performers. NanoString had been 2017's biggest loser within the index, with a 67 percent decline in share value. PacBio also occupied a place on the bottom-three list last year, with a 31 percent decline in stock price.
The biggest loser in 2018 was Enzo Biochem, which saw its shares decline 66 percent. Myriad Genetics and Quanterix followed closely, each with a 15 percent stock decline. Myriad had been one of 2017's biggest winners, with a 106 percent increase in share price.
CareDx's shares rose in 2018 as the company reported strong quarterly earnings. It saw a 15 percent increase in fourth quarter revenues in March, a 21 percent increase in Q1 revenues in May, a 48 percent hike in Q2 revenues in August, and a 74 percent surge in Q3 revenues in November.
Importantly, the firm noted that its kidney transplant test AlloSure was well received after its launch at the end of 2017. "The rapid clinical adoption of AlloSure demonstrates the medical need and the potential for better surveillance in this patient population," CareDx President and CEO Peter Maag said in a statement accompanying the Q2 earnings release. "Our sole focus on transplantation sets us apart and creates a genomic informatics platform for future innovations and partnerships in transplant patient care."
CareDx also saw an increase in share price after it signed a licensing and commercialization agreement with Illumina, granting it worldwide distribution, development, and commercialization rights to Illumina's next-generation sequencing transplant clinical application products. Specifically, CareDx obtained exclusive rights to develop and commercialize the next generation, v3, of the HLA product lines for use in bone marrow and solid organ transplant testing, and as an NGS product for chimerism detection. The firm said it planned to use its own trademarks for the development and commercialization of HLA and chimerism products under the brand of AlloSeq — the individual products will be named AlloSeq HLA, AlloSeq BMT, and AlloSeq cfDNA.
PacBio's biggest stock boost in 2018 came when Illumina announced its intention to acquire the firm for $1.2 billion in cash. If the deal is approved by regulators, Illumina plans to pay $8.00 per PacBio share, representing a 71 percent premium over PacBio's 30 trading-day volume weighted average share price as of the market close on Oct. 31, 2018.
Illumina said that PacBio's long-read sequencing technology will complement its own short-read sequencing platforms and will allow it to provide integrated workflows and innovations that bring together the best of both technologies.
PacBio's shares rose 68 percent the day the deal was announced.
At the bottom end of the index, Enzo Biochem started last year with a 3 percent increase in Q2 revenues. However, the company's Q3 revenues fell 5 percent, its Q4 revenues fell 13 percent, and its fiscal 2019 Q1 revenues fell 21 percent year over year. Each earnings report was accompanied by a dip in the firm's stock price.