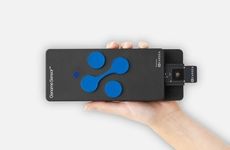 NEW YORK – Cardea Bio and Nanosens Innovations said today that they are launching an early-access program for the Genome Sensor, a biosensor device based on their CRISPR-Chip graphene transistor technology.
The companies are starting the early-access program ahead of schedule in conjunction with their planned merger, which they also announced today, and will sell CRISPR-Chip technology-based products under the Nanosens brand.
The companies made a splash earlier this year when they announced they had developed a CRISPR-based diagnostic chip that could analyze DNA in its native state, without the need for amplification, labeling, or optical instruments. The graphene-based chips are able to very quickly signal whether or not a specific mutation, protein, or other component is present, according to Cardea CEO Michael Heltzen.
The chip uses deactivated Cas9 (dCas9) — the nuclease in this form is still able to search for and bind to specific stretches of DNA but is unable to cut. So, the CRISPR-based transistor searches a biological sample for a specific target using dCas9, and if the target is present, the charge that the biological interaction creates is sensed by the graphene, which then sends a signal to the readout on the chip.
Cardea is looking to develop a line of CRISPR-Chip-based products that could be used as disease diagnostics, agricultural tools, and even research tools to validate the efficiency and specificity of other CRISPR-based technologies.
The company has also started partnering with a number of different organizations that come to it with information on what their own customers want and knowledge on the specific biological problems they're looking to solve. The value Cardea adds, Heltzen said, is the ability to create a detection technology that is almost instant and much simpler than existing optical technologies. The company has set up what it calls an innovation partnership program, under which it accepts suggestions from potential partners, and then sits down with those other companies to systematically map out the needs of the customers.
Heltzen recently discussed his 'Powered by Cardea' vision, inspired by 'Intel Inside.'
Now, the company is one step closer to that vision, launching an early access program for the Genome Sensor, its first CRISPR-Chip-based product under the Nanosens brand, at the Advances in Genome Biology and Technology annual meeting in La Jolla, California this week.
Users will be able to program the sensor with single guide RNAs in order to search unamplified genomes. The idea is to be able to "Google a genome with a guide RNA and just see if that guide RNA fits to something in the genome [users] have in front of them without doing a lot of steps," Heltzen said. "It's basically inquiring or curating [a genome] with a guide RNA."
Such a tool has many potential uses, he added. Cardea has customers who want to Google genomes for research or diagnostic purposes. Others have R&D in mind — they can use the Genome Sensor for quick SNP detection in amplicons or to perform quality control of other CRISPR-based gene editing work. Yet other users have expressed interest in using the sensor to identify genomes of organisms that don't belong in certain settings, such as funguses in food.
"From a bigger perspective, we are following the lean startup philosophy of letting our customer groups dictate the choices of what we develop and release first," Heltzen said. The CRISPR-Chip is a prime example of that. It is all just different biosensor versions, configurations, modules, and protocols of the software and hardware combined that lead to different product lines and product versions and features."
The early-access program will enable anyone interested in approaching the company with a partnership idea to propose a use for the Genome Sensor to fit their needs. Cardea would then begin a formal process to develop such a solution, he added. 
This version of the Genome Sensor is a result of the collaboration between Cardea and Nanosens, he also noted. "We agreed that we [should] take the first round of [creating a CRISPR-Chip-based product], and help pave an easier path for our partners, if nothing else because we will deeply understand how it is to build products with our own tech infrastructure," Heltzen added. "And as we are not going to build a large sales force, we are already in conversations with some life science distribution companies to commercialize the product globally once we have finished the early-access program and have additional product versions ready to be sold off the shelf."
However, partners who wish to use the Genome Sensor — or develop a version of it in partnership with Cardea — for human diagnostic purposes may have to wait a while before they can use it for something other than research use. Cardea plans to take the technology through the US Food and Drug Administration approval process, which will take more work and time, he said.
Ultimately, according to Kiana Aran — an assistant professor and principal investigator at the Keck Graduate Institute of Applied Life Sciences, and cofounder of Nanosens — it's the partnerships with other companies and researchers that will produce some of the most exciting developments for the CRISPR-Chip.
"One of the things that I'm enjoying as an academic with this technology is that we have been reached by a lot of other industries who are working on improving CRISPR, and each of these companies is doing something novel," whether it's improving how CRISPR binds, how it cleaves, reducing the off-target effects, optimizing guide RNAs, or some other aspect of how the technology works, Aran said. These companies want to combine their innovations with the CRISPR-Chip and its graphene-based transistor and the things that we can do with our transistor, she added, noting that "every single [Cardea] product that will come out in the future will rarely contain only one innovation. They will be combinations of multiple innovative things that are coming together to make to make a product, and [to address] a real need."