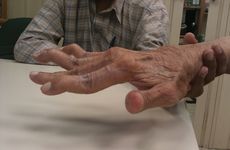 NEW YORK (GenomeWeb) – A team of researchers from Pfizer, the University of Glasgow, and Oxford BioDynamics have developed a new method to discern who will respond poorly to methotrexate, a drug sold by Pfizer that is commonly used to treat people with onset rheumatoid arthritis.
The effort, which relied on Oxford BioDynamics' EpiSwitch platform, resulted in an assay that researchers believe could be developed into a test to guide therapy selection for patients.
The work was featured recently in the Journal of Translational Medicine.
"The holy grail in precision medicine is to be able to determine clinical treatment before patients are given therapy," said Ewan Hunter, global head of business development and head of statistics at Oxford, UK-based Oxford BioDynamics.
That viewpoint was shared by Claudio Carini, a physician and former global head of clinical immunology and biomarkers at Pfizer, who is also the lead and corresponding author on the paper. "Methotrexate nonresponse is a very important topic in the field of rheumatoid arthritis," he said. "Identifying these patients before they get treated can guide the physician in tailoring the best therapy."
Methotrexate, marketed by Pfizer under the name Trexall, is one of the most common drugs used to treat rheumatoid arthritis patients at time of diagnosis. However, a proportion of patients treated with the drug do not respond to it well, meaning that time is lost in treating them, especially before the disease progresses further.
Pfizer was involved in the creation of the patient cohort through its support for the Scottish Early Rheumatoid Arthritis (SERA) study. Pfizer and the Scottish government backed SERA, which collected data and samples from more than 60,000 people in Scotland with either rheumatoid or undifferentiated arthritis in the first half of the decade. The biobank is housed at the University of Glasgow.
Established in 2007, Oxford BioDynamics develops epigenetic biomarkers for use by pharmaceutical and biotechnology companies. The company's flagship platform is EpiSwitch, which relies on a variety of technology platforms, including microarrays and next-generation sequencing, to detect chromosomal conformation signatures (CCS), epigenetic biomarkers that represent an individual's gene-expression profile.
As outlined in the paper, the researchers sought to determine whether a certain signature in blood obtained from rheumatoid arthritis patients prior to receiving methotrexate could enable the identification of those patients who wouldn't respond to the drug. They also wanted to see if there was an association between that signature and any rheumatoid arthritis-specific expression quantitative trait loci.
To accomplish that, they looked for signatures in blood from rheumatoid arthritis patients using the EpiSwitch platform. Using samples from methotrexate responders, non-responders, and healthy controls, they designed a biomarker discovery array, which was manufactured by Agilent Technologies.
According to the paper, the array was designed using sequences from 123 gene loci associated with rheumatoid arthritis, following a literature review. It resulted in a list of more than 13,000 chromosomal interactions deemed suitable for screening. The researchers used Agilent's SureDesign website to design the custom array.
"Our expertise and their expertise married up really well," said Carl Goodyear, a professor of immunology at the university of the collaboration with Pfizer and Oxford BioDynamics. "We chose all of the genes together, all the loci we were going to interrogate, and we designed the arrays," he said. "We decided together which patients would be used in discovery and during the validation. It was a very tight interaction with Pfizer, OBD, and the University of Glasgow about not only defining the population, but the kinds of loci we wanted to look at and interrogate."
Based on the results of their initial screening, they developed a 5-marker CCS that they claim could discriminate between responders and non-responders to methotrexate, and then validated it in 150 randomized groups of 59 rheumatoid arthritis patients prior to treatment with methotrexate, resulting in a negative predictive value of 90 percent. The signature was also validated using a blinded, independent cohort of 19 patients. Finally, the loci of the CCS markers were mapped to quantitative trait loci associated with rheumatoid arthritis.
The researchers argued in the paper that their results provided a "proof of principle that a priori stratification of response to methotrexate is possible." The use of such an assay to assess rheumatoid arthritis patients before they commence treatment could allow clinicians to prescribe alternative treatments earlier in the course of the disease, they said.
"The ideal situation is that there would be tests that provide a yes or no scenario for a particular drug," Goodyear said. A spokesperson for Oxford BioDynamics confirmed that the company is exploring the potential of making such a test available, but did not further elaborate.
Hunter said that the researchers will now run the new signature in an expanded patient cohort with the aim of developing a tool for clinical care, and is in the process of developing proposals for that study.
Such a test could also be used by pharma companies to bring drugs to market and medical practitioners personalizing treatment to patients who are most likely to respond.
"We believe the ability to detect predictive molecular signatures using EpiSwitch allows the identification of responders and non-responders prior to large Phase 3 clinical trials," said Carini. "This can have a profound effect on the size and cost of clinical trials by eliminating non-responders, and drastically reducing the number of subjects required to demonstrate effect," he said. Carini added that the method that Oxford BioDynamics and its collaborators developed to stratify patients may "ultimately affect clinical practice not only in rheumatoid arthritis but in a wide variety of diseases, including cancer.
"Indeed, similar molecular signatures can be discovered in cancer and other diseases avoiding to treat patients with the wrong therapy and sparing them from undesirable side effects," he continued. "This is particularly important in cancer where the right therapy as early as possible is of key importance. A delayed treatment decision will often result with no or very low chances of cure."
Goodyear noted that the current study focused solely on methotrexate, but that the University of Glasgow's collaboration with Oxford BioDynamics could be expanded to other drugs for rheumatoid arthritis. The researchers are also interested in looking for signatures in patients who have gone on to using different biologics to treat their disease, he added.
In addition to developing signatures for personalizing therapies for patients, Goodyear noted that such signatures could also inform disease research. "If we see how patients respond, we can see how the disease can be different," he said. "That might give us insight into disease pathogenesis as well as new kinds of therapies."
Goodyear credited the EpiSwitch platform with enabling those kinds of discoveries. "To be able to look for biomarkers present in blood and get a yes or no answer is very attractive," he said. "I think that's the ideal scenario."
Hunter noted that the new publication should also raise awareness of the EpiSwitch platform, as Oxford BioDynamics' customers are often pharma and biotech firms that do not go public with their work.
"There are a lot of people who are opening their eyes and minds to the importance of genomic architecture in being able to describe disease states, and we are a company that has been doing this since 2007," said Hunter. "We are also able to scale to industrial levels, so we are able to exploit this in this field."