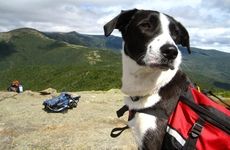 NEW YORK (GenomeWeb) – Embark Veterinary will next month introduce a new DNA test for dogs that it hopes will not only satisfy the curiosity of pet owners but advance both canine and human health research.  
The Austin, Texas-based firm aims to provide users of its Embark Dog DNA Test with an overview of their dog's ancestry, disease risk, and heritable traits, information that could allow them to better understand their dog's health, and even make personalized decisions about their long-term care.
According to CSO Adam Boyko, Embark's offering relies on a custom Illumina genotyping array containing more than 200,000 markers. Customers can collect their dog's DNA using the same saliva collection kits that are used in the consumer genomics market, and mail it in for analysis.
Embark will initially make its service available as a mobile application at a price of $199.
"Dogs are mobile and we want people talking about their results in the dog park, comparing their dogs with other dogs, and meeting other dogs that share some genetic similarities," Boyko, who is also an assistant professor of biomedical sciences at Cornell University, told GenomeWeb.
This focus on popularizing DNA testing among dog owners, rather than appealing directly to breeders or veterinarians, could distinguish Embark from other companies looking to develop the emerging canine consumer genomics market.
When it launches, Embark's test will play in the same market as Portland, Oregon-based Mars Veterinary, which offers Wisdom Panel, a test that provides information on canine ancestry and health risk; as well as Optimal Selection, a service for breeders it recently launched with Genoscope Laboratories that includes testing for inherited diseases, traits, and genetic diversity.
Another player is Spokane, Washington-based Paw Print Genetics, which offers breed-specific disease and trait testing to breeders, as well as its Canine HealthCheck test, a screen of more than 150 diseases and traits found in dogs that can be performed in any dog regardless of breed.
"We are acutely aware that we want our results to be useful as a tool for veterinarians and for breeders, but we are starting with the consumer angle, trying to capture a large part of the market that nobody has really been pitching dog genetic testing to," said Boyko.
He also claimed that Embark has a different vision from some of its competitors.
"In some sense we are all doing some of the same tests, but we [at Embark] are more focused on telling the genetic story of your dog," he said. "We are not just reporting genetic results in a PDF, we want to advance science."
Boyko founded Embark last July together with CEO Ryan Boyko, his brother; Spencer Wells, the former director of National Geographic's Genographic Project, who is now Embark's chief product officer; and Matt Salzberg, the CEO and founder of online food delivery company Blue Apron. Matt Barton, formerly a principal at Oliver Wyman Labs, has signed on as chief technology officer.
Since its founding, Embark has raised $1.6 million in seed investments. The company is also an official research partner of the Cornell University School of Veterinary Medicine, and has licensed IP from Cornell, Boyko said.
Given its founders' backgrounds and connections, the company's vision has multiple aspects.
The first is to serve a canine consumer market that could, in time, become greater than the human market. Boyko noted that there are 7 million dogs born annually in the US versus 5 million people, "so we have a bigger market to start with."
In addition, the genetics of dogs, refined through centuries of breeding, are different than that of humans, Boyko said, a distinction that could improve the quality of information delivered to Embark's customers.
Wells held a similar perspective.
"In spite of the promise of early human tests for providing insights into medically relevant traits, much of what has driven consumer adoption in human testing has been curiosity, in large part because the utility simply isn't there yet for most traits beyond ancestry," he told GenomeWeb.
Wells added that much of the genetic variation underlying common human diseases is believed to be controlled by rare variants that aren't included in existing genotyping chips.
Dogs, in contrast, due to their history of domestication, have a simpler genetic structure, meaning that the utility of consumer tests is "much higher," according to Wells. "We are able to say much more about canine traits by genotyping a set of genome-wide markers than we are for humans."
"It is much easier to identify genetic associations in dogs than it is in humans," added Boyko. "With dogs, you don't have the missing heritability, you don't have allelic heterogeneity."
And yet discoveries made in dogs can also be used for human health research. "Because genetic mapping is easier in dogs than in people, genetic discoveries have been made in dogs that have led to better understanding aspects of human health," Boyko said.
As dogs have lived alongside humans for 15,000 years, they are diagnosed with many of the same diseases, and share the same home and environment, making them a "valuable model species for understanding cancer, immune disorders, behavior, and aging," he said. By offering a test that allows pet owners to personally become involved in canine genetic research, Boyko claimed that Embark will be creating a "game-changing model for the health industry at large."
From 'wolf' to 'woof'
While health — both canine and human — is a main focus for Embark, the company retains an interest in dog ancestry. Boyko has in recent months co-authored multiple papers about canine origins. A recent study published in PNAS in November described the use of a custom Illumina chip to determine a Central Asian domestication origin for village dogs from 38 different countries.
According to Boyko, Embark is also interested in better understanding the deep ancestry of dogs.
"We are very interested in filling out the tree," he said. "We do have this Genographic angle, to build a huge database of canine genetic diversity."  
It is that grasp of deeper ancestry that might protect Embark in a market that, while nascent, has already generated its share of lawsuits related to breed identification testing. In 2010, Mars Veterinary sued BioPet Vet Lab and PetSafe for violating US Patent No. 7,729,863, "Methods and materials for canine breed identification." Mars Veterinary has licensed the IP, which is held by the Fred Hutchinson Cancer Research Center. In 2011, an appellate court upheld the injunction against BioPet Vet Lab and PetSafe, effectively shutting their services down.
Wells said that Embark is "well aware" that canine genetics has historically attracted lawsuits, and that the company is actively monitoring the status of these cases so that it can offer its users results in a way that "respects the valid intellectual property of others." That being said, Embark "feels that ancestry and breed ID are qualitatively different," Wells noted.
"We're offering a test that traces your dog's origins back thousands of years, taking you seamlessly from 'wolf' to 'woof,'" said Wells. "No one owns the global distribution of canine mitochondrial or Y-chromosome haplotypes, for instance," he said. "No one has even tried doing this as a consumer test before."