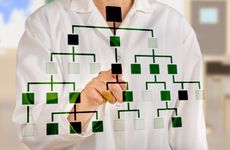 NEW YORK (GenomeWeb) – American customers' interest in their genetic ancestry continues to be the primary driver of the consumer genomics market and shows no signs of diminishing.
Ancestry, for instance, sold an estimated,1.7 million kits during Black Friday/Cyber Monday for its AncestryDNA service, roughly tripling the number of kits it sold over the same weekend the previous year.
Ken Chahine, executive vice president and general manager at AncestryDNA, said the Lehi, Utah-based firm now has more than 6 million people in its database, and aims to deliver "deeper insights" to users in 2018.
At Insitome, an Austin, Texas-based company that develops genomic analysis applications that sell on the Helix marketplace, the introduction last month of an offering for Regional Ancestry similarly piqued customers' interest during the holiday season, according to CEO Spencer Wells.
"We are seeing a lot of sales of Regional Ancestry so far, and a lot of these are first purchases with the Helix kit," Wells said. He did not elaborate on kit sales.
Insitome rolled out its first application on the Helix marketplace in the summer. Called "Neanderthal: The Very Beginning," the product, which like all Helix applications relies on the same next-generation sequencing data, provided customers with information on traits they may have inherited from their Neanderthal or Denisovan ancestors.
The company's new Regional Ancestry offering, though, is more in line with services provided by AncestryDNA, 23andMe, or Family Tree DNA, which all divide up a person's autosomal DNA into regions of origin by matching it with reference populations, albeit those services use Illumina genotyping arrays.
Insitome's sequencing-based Regional Ancestry offering breaks down a customer's genetic ancestry by 29 different regions of origin, with added granularity in Asian populations, a segment that Razib Khan, Insitome's director of scientific content, believes has been underserved by other offerings that tend to lump diverse groups into single categories.
"One of the issues Indian customers have had, for example, is that they will be told that they are 100 percent South Asian when there is a lot of variance between north and south India," Khan said. Insitome's new offering will break down Asian clients' ancestry into more regions instead. A Pakistani, for instance, might be a mix of Central Asian and South Asian using Insitome's tool. "Chinese people will no longer be told they are 100 percent Chinese," said Khan. "They will be a mix of Northeast Asian, Southeast Asian, and some other populations. We are trying to build diversity in populations outside of Europe because we feel it's an underserved market."
Curiosity about one's origins has led to a sustained spike in sales in the US not just at Ancestry and Insitome, but across the industry. According to Wells, that interest is borne partially from Americans' obscured backgrounds. "People want to know where they came from," he said. "That's why Ancestry is doing so well."
At the same time, some view that interest as an entrance point to an increasingly diversifying market that is expanding far beyond ancestry.
"Regional ancestry has been a proven hook for many people, and as to whether or not that will be a killer app and draw people to the Helix ecosystem, it's possible," said Nathan Pearson, founder of the New York-based company Root, which interprets customers' HLA genes for free.
"Many European Americans, and some African Americans, may have a 'so what?' moment at the end, though," he cautioned. "Often when people come back for a second look at their ancestry, it may be because they are looking for a more intriguing answer than they got the first time."
"This is the fourth or fifth time that a major player has offered ancestry decomposition, so we are sort of circling the same bandwagon over and over again," said David Mittelman, a consumer genomics entrepreneur and former CSO at Family Tree DNA.  "I think there are other opportunities to explore and a host of upcoming applications that will be fascinating for consumers as well."
Wells agreed. "Ancestry is the primary driver, but our vision is that people are curious about what their DNA means for them," he said. "That goes beyond ancestry."
Customers who choose to join the Helix marketplace for Insitome's Regional Ancestry application, for instance, not only have the option of buying the firm's Neanderthal and Metabolism Insights, but also of purchasing offerings like Exploragen's SlumberType product, which the firm claims can determine how a customer's genetic profile influences their sleep patterns.
And other players, like 23andMe, continue to work on diversifying their offerings. The Mountain View, California-based company began the year with a new nutrition-focused survey for customers, information that could be used to inform new applications for users.
Liana Del Gobbo, 23andMe's lead scientist on the study, said the firm is aiming to "better understand the genetic, demographic, psychosocial, and behavioral characteristics that predict weight loss success overall, and the success of different lifestyle interventions."
Information from the survey could help 23andMe make more personalized recommendations to customers. "Ultimately, we'd like to learn how to make traditional lifestyle interventions more scalable and cost effective," she said. "This study will be the first step." A company spokesperson said the first recommendations from the survey could be available to clients by mid year.
Wells noted that approximately 10 million people have taken a consumer genomic test to date, dwarfing figures from just a few years ago, and that consumers have been encouraged not only by interest in ancestry but seem to have lessened concerns about privacy issues.
"It's moved past that fear-and-apprehension-stage and started to go mainstream," said Wells, who led National Geographic's Genographic Project from 2005 until joining Insitome in 2016. "We hit an inflection point at the end of 2012, when we hit a million people, which took a decade to get to," he said. "The second million [was] tested about 18 months later," he said. "People who wouldn't have thought about testing their DNA 10 years ago are thinking of trying it."
Still, mainstream is a relative term. "Market penetration of these next-generation genetics companies is still very low and a fraction of Americans," noted Khan. Root's Pearson estimated that the market could be "as many as 7 billion" in the long run.
"Our job as scientists is to make this mundane over time," Pearson said. "We want to make it an everyday part of life so that it's not just the enthusiasts but it's ingrained into every person's life that it is helpful to her or him," he said. "We may see more people buying these tests as gifts, but as much as I would like to see the market grow, I would like to see these become more useful," Pearson added. "I think that is where we still see the predictions outpacing utility."
One immediate area for growth is abroad, where customers have been less warm to the ancestry testing services that have become so prevalent in the US, but might be willing to take a chance on other applications.
"We don't have a clear picture of what people outside the US want," said Wells. "We tried to get traction with people outside the US with the Genographic Project, we translated everything into French and Spanish, and there was some interest, but it wasn't nearly as high because Europeans have a better sense of where they come from," he said. "There may be other things they are interested in finding out about themselves, though."
Mittelman suggested that growth opportunities might lie outside of simply designing new DNA tests. "Right now, consumer genetics companies are interested in two things: how to get money so they can sustain their business and how to get more people to test so there is more data to bring value to everyone," he said. "To do that, companies have historically generated new tests or analysis tools," he continued. "But what else can you do to expand engagement without having to make yet another app?"
Mittelman and Insitome's Khan have started a new site called DNAGeeks.com that, among other things, offers customers t-shirts, called Haplotees, with their Y-DNA and mtDNA haplogroups printed on them as well as their migration pattern to promote genetic testing. And Mittelman pointed out that some travel agencies have considered developing itineraries for customers based on their ancestry results.
"What else can you do to expand the discussion without making another app?" he asked. "People need to look beyond testing, ancestry decomposition, and relatives matching," Mittelman said. "It's a wide-open space, and there are a lot of places to go. There is another layer of value you can add on top of consumer DNA testing."
Y and mtDNA
While industry players ponder the future of consumer genomics, the market for Y chromosome and mitochondrial DNA testing remains "non trivial," Wells noted. The Y chromosome, which is inherited from the father, and mtDNA, which is passed on from the mother, can provide insight into one's deep ancestry that the autosomal DNA tests used for ancestry decomposition applications can miss.
Y and mtDNA testing was the original ancestry market prior to the introduction of autosomal DNA testing roughly a decade ago. Yet demand for these tests continues, largely because the results, as opposed to regional ancestry, are precise. Y and mtDNA are "so clear, distinct, and precise that it is easy to explain to people what the relevance is," noted Khan. "You might quivel about how important that really is in the grand scheme of things, but you are not going to quivel about what the science is for that direct individual because it's a direct, phylogenetic lineage."
Roberta Estes, a genetic genealogist and author of the blog DNAeXplained, said that the success of autosomal testing services like AncestryDNA, 23andMe, and now Insitome, is also having a positive impact for companies like Houston, Texas-based Family Tree DNA that offer specific tests for Y and mtDNA, including Big Y, an NGS-based Y-chromosome direct paternal lineage test.
Family Tree DNA continued to innovate last year, upgrading its Y and mtDNA databases. The firm also began accepting data transfers from customers genotyped on the latest chips used by AncestryDNA and 23andMe. This has led to a boost in demand for the other kinds of tests that Family Tree DNA offers.
"As a project administrator for several projects at Family Tree DNA, I see people joining and taking new tests everyday," said Estes.  "Many people transfer their autosomal results from other vendors, and then realize there is more information to be had," she said. "So, today, autosomal and ethnicity [testing] is the draw card that gets people to stick their toe in the water, but there are other opportunities out there just waiting for them."
Family Tree DNA has also looked to distinguish itself in the market by posturing as a pure-play genetic genealogy company, unlike its competitors. CEO Bennett Greenspan said in a statement in December that the firm would not make its data available to outside parties, such as drug developers. "We could probably make a lot of money by selling the DNA data that we've been collecting over the years, but we feel that the only person that should have your DNA information is you," Greenspan said. "We don't believe that it should be sold, traded, or bartered."
While Family Tree DNA must contend with its competitors' marketing muscle, it has been thriving. Clayton Conder, director of marketing at the firm, noted that Family Tree DNA made several investments in its laboratory last year to meet demand. Specifically, the company acquired an Illumina Novaseq platform , added four iScans, and scaled the lab to be able to process 1.5 million microarrays annually. Conder noted that Family Tree DNA also increased headcount by 40 percent in 2017.