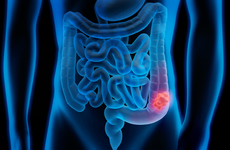 ORLANDO – An analysis involving more than 4,400 colorectal cancer patients treated at Memorial Sloan Kettering found that individuals with African ancestry were less likely to harbor known biomarkers that would allow them to receive personalized immunotherapy or targeted treatments.
The data, presented at the American Association for Cancer Research's annual meeting on Monday, "highlights the need to find alternative treatment strategies, and … find new targets for these patients, because they don't have molecular profiles qualifying them for these treatments," Henry Walch, a computational biologist at the Marie-Josée and Henry R. Kravis Center for Molecular Oncology at MSK, said at a press conference.
The analysis included 3,265 patients with European ancestry, 245 patients with African ancestry, 263 patients with East Asian ancestry, 89 patients with South Asian ancestry, and 15 patients with North American ancestry; 564 patients had mixed ancestry. After being tested on MSK's MSK-IMPACT next-generation sequencing cancer profiling assay, only 13.5 percent of patients of African ancestry had microsatellite instability (MSI-high) or high tumor mutation burden (TMB) compared to the 20 percent of patients with European ancestry.
Only 5.6 percent of patients with African ancestry had clinically actionable alterations compared to 11.2 percent of European ancestry patients. BRAF mutations, specifically, occurred in 1.8 percent of African ancestry patients versus 5 percent of European ancestry patients.
There are three immunotherapies approved for colorectal cancer patients with MSI-high and TMB-high tumors including Merck's Keytruda (pembrolizumab) and Bristol Myers Squibb's Opdivo (nivolumab) and Yervoy (ipilimumab). Patients with BRAF-mutant colorectal cancer, meanwhile, can be treated with Pfizer's Braftovi (encorafenib). Other targeted drugs available for colorectal cancer patients include VEGF inhibitors, EGFR inhibitors, and HER2 inhibitors.
Inequitable access to molecular testing is a documented factor limiting access to precision medicine. A 2020 paper found colorectal cancer patients who were older, male, or had Black non-Hispanic race or ethnicity were less likely to receive MSI and mismatch repair deficiency testing than other groups.
Overall, Black patients have a higher incidence of colorectal cancer and worse survival from the disease compared to their white counterparts. A 2023 study of colorectal cancer survival rates between 2004 and 2015 found African American race was significantly associated with worse survival, along with chronic kidney disease and a right-sided primary tumor. A 2019 analysis found the incidence of colorectal cancer was higher among Black patients with 12.2 per 100,000 Black individuals being diagnosed compared to 9.2 per 100,000 white individuals being diagnosed.
In the MSK study, African ancestry patients had shorter survival from time of diagnosis with a median overall survival of 45.7 months versus 67.1 months for European ancestry patients. Researchers also reported that APC alterations, which are associated with longer survival in European ancestry patients, showed no prognostic value for African ancestry patients.
In separate research presented at AACR on Monday, researchers further explored the molecular, immune, microbiome, and other differences between African American and European American patients with colorectal cancer. According to Jovanny Zabaleta, an associate professor at Louisiana State University Health Sciences Center, the findings suggest that African American patients' tumors have a different genetic profile than white patients' tumors.
"We found that African Americans have a higher level of mutation load compared to European Americans," Zabaleta said. Over a series of studies, his group also found differences between Black and white patients in terms of immune markers, the bacteria and viruses present in the microbiome, as well as in transcriptomics and methylation. "We have to start thinking bigger and start doing systems biology analysis so we can combine these factors [related to genomics, immunity, and the microbiome] and see how each modulate the other," he added.
Walch's group at MSK is continuing to analyze their cohort with the goal of layering in information about treatments, environmental exposures, lifestyle, and socioeconomic factors into future models. He emphasized that this analysis shows the importance of including racially diverse populations in cancer research and drug development studies.
"We need more diverse populations to find new targets. That's our hope," Walch said, adding that based on current data, doctors have fewer tools with which to treat patients of African ancestry. "This is a complex problem, and the genomic landscape is a small piece of a much larger puzzle."